Moscow Sees Saudi Drone Attack as an Opportunity
Publication: Eurasia Daily Monitor Volume: 16 Issue: 128
By: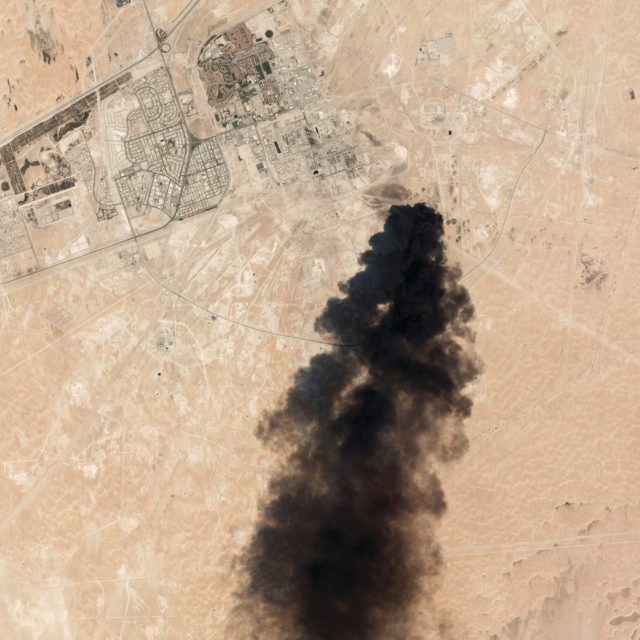 In an official statement, the Russian Ministry of Foreign Affairs denounced the September 14 multiple unmanned aerial vehicle (UAV) and cruise missile attacks on Saudi Arabia's main Abaqaiq oil processing facility and the Khurais oilfield that crippled Saudi oil production: "We strongly condemn attacks on nonmilitary targets and any actions that may destabilize the world oil market." At the same time, the foreign ministry statement echoed Tehran's official line of directly linking the UAV attack with the military conflict in Yemen, in which Saudi forces are involved. The statement quoted the Yemeni Houthi rebel claim of responsibility for the UAV attack, while condemning the United States for "attempts to blame Iran." Moscow called for a "thorough investigation" of the attack, while denouncing any military or economic sanctions pushback against Iran (Interfax, September 16).
Moscow sees itself today in a Cold War–style global standoff with Washington, and zero sum game rules seem to apply to everything: the US's woes are an opportunity for possible Russian gain, and any US enemy is a potential ally. Of course, the US is seen from Moscow as doing the same by trying to exploit any Russian weakness or problem for its own benefit. Iran is a close Russian partner in the Syrian war, providing sizable numbers of well–motivated infantry forces—various Iranian-led Shia militias—which have compensated for the inherent weakness of the Syrian ground forces loyal to President Bashar al-Assad and allowed the Russians to keep casualties relatively low by operating mostly from above against an opponent with little to no anti–aircraft capabilities. This week (September 16), at a summit with Iranian President Hassan Rouhani and his Turkish counterpart, Recep Tayyip Erdoğan, in Ankara, Turkey, President Vladimir Putin praised the Iranian role in "liquidating terrorism" in Syria, pacifying the country and "moving to a final political solution." Moscow has been supporting Iran's full membership in the Shanghai Cooperation Organization (SCO), and a free trade agreement with Iran is "practically ready for signing." In Ankara, Rouhani denounced US "hegemonism," declared that both Russia and Iran have achieved a "great victory in Syria," as well as hailed the growth of Russian-Iranian trade, including arms sales and nuclear cooperation (Militarynews.ru, September 16). According to Iran's leader, the two countries are developing a system to wire money transactions alternative to SWIFT that could allow Tehran to bypass US sanctions (Interfax, September 18).
No matter what evidence of possible Iranian involvement in the Saudi UAV attack may be produced, Moscow does not seem ready to undermine its well-established relations with Tehran. The Russian-backed pro-al-Assad forces' 2019 summer offensive against the Syrian opposition and Islamist fighters in Idlib province ran into serious problems because the Iranian-controlled militias took a neutral stand and refused to take part. Russian commanders were forced to deploy their own Special Operations (Spetsnaz) Forces and encountered some casualties; their advance was painstakingly slow despite heavy bombing by the Aerospace Forces (Vozdushno-Kosmicheskiye Sily— VKS) (see EDM, September 5). The consequences of offending Tehran and undermining the tacit alliance in Syria may be serious.
At the same time, Moscow has been seeking better relations and cooperation in different fields with Riyadh. As major oil producing and exporting countries, Russia and Saudi Arabia have been at the center of the so–called OPEC+ agreement to control global oil production, and they have managed to keep oil prices high. In addition to this joint oil price cartel action, Moscow and Riyadh have discussed for some years possible massive arms deals and potential Saudi investments in Russia. After Western sanctions imposed in 2014, Moscow has been seeking alternative sources of outside development money. Russia has been able to secure lucrative arms deals and investment contracts with other oil-rich Gulf countries, and there has been much expectation Saudi Arabia could bring in more. In 2017, it was announced Moscow had a deal with Riyadh to provide S-400 anti–aircraft missiles, but to date this has not been realized. Apparently, there were strings attached: Riyadh was ready to go ahead only if Moscow began to distance itself from Tehran and modify its unequivocal support for Syrian President al-Assad's regime—something Moscow was not ready to do.
At this week's press conference in Ankara Putin offered to help the Saudis to defend their territory "if their leadership makes the wise decision, like leaders of Iran and Turkey, to buy Russian S-300 or S-400 anti–aircraft missiles." Russian military experts advise the Saudis to consider purchasing Russian close-range Pantsir anti–aircraft systems to knock down incoming UAVs. Russia has already provided the Pantsir S-1 to a number of Gulf and Arab militaries (Interfax, September 18). According to the Interfax news agency, quoting a "top Russian defense ministry official, who asked not to mention his name," the US has provided the Saudis with some 88 Patriot anti–aircraft batteries, and there are, at present, three US destroyers in the Gulf with Aegis battle systems and interceptors; but they all failed to stop the UAV attack on Abaqaiq and Khurais. The Russian military source implied that the Patriot and Aegis systems are actually ineffective and not really ready to repel massive drone or cruise missile attacks in an actual combat situation. The Americans helped the Saudis create an expensive anti–aircraft defense system with constant radar surveillance, which turned out to be a dud, the source asserted(Militarynew.ru, September 19).
The Russian arms trading monopoly Rosoboronexport announced it will be doing its best to cash in on the Saudi UAV attack. At the upcoming Dubai Airshow, next November, Rosoboronexport will be promoting to Arab countries multiple Russian anti-UAV weapons systems. Billions of dollars are available to be earned for selling efficient anti-drone systems, according to Rosoboronexport (Interfax, September 18). Russia's course of future action seems clear as the US has fumbled big in the Middle East, failing to adequately support allies or deter foes. Trolling the presumed deficiencies of US-made armaments and militaries, Russia hopes to gain more influence and make more money on arms sales and on higher oil prices—while at the same time,trying to maintain the precarious balance of preserving working relations with Iran, the Arab states and Israel. Such a task is not for the faint of heart, but Putin's Russia apparently feels it is up to the challenge.