In Ulaanbaatar, Russian President Putin Celebrates Joint Soviet-Mongolian Victory on Eve of World War II
Publication: Eurasia Daily Monitor Volume: 16 Issue: 127
By: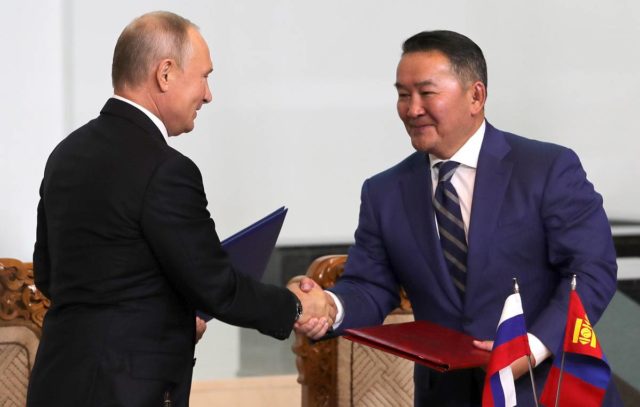 Russian President Vladimir Putin visited Mongolia on September 2–3 to celebrate the 80thanniversary of the Battle of Khalkhin Gol, also known as the Battle of Nomonhan (TASS, September 4). The armed encounter occurred between the Soviet-Mongolian military and the Japanese Kwantung Army in August–September 1939. In the short battle, the Soviet military lost 10,000 soldiers and Mongolia lost 1,000, compared to the Japanese Army's estimated losses of 60,000–70,000. This year's commemoration of the victorious battle began with an annual military exercise on Mongolian territory, involving over 1,000 personnel of the Russian Eastern Military District, followed by the first ever performance of the Alexandrov Ensemble of the Russian Armed Forces in Mongolia, as well as an acrobatic demonstration of the Russian Air Force in Ulaanbaatar. Coinciding with the memorial events, Russia's largest oil company invested over $10 million into redeveloping the Khalkhgol sum (district—second-level administrative subdivision of the country), featuring a new governor's office, a cultural center, schools, and a kindergarten (Montsame, September 5).
Prior to arriving in Mongolia, President Putin highlighted the importance of the Khalkhin Gol battle, which resulted in the Soviet Union signing a non-aggression treaty with Japan, forcing Tokyo to refocus its military efforts southward and dramatically changing the potential course of the Second World War in Southeast Asia and the Pacific. Having been sidelined from the commemoration of the outbreak of World War II in Warsaw, the Kremlin leader highlighted the importance of the Battle of Khalkhin Gol in disrupting Japanese war plans. In particular, he argued, the clash on Mongolian soil and its political consequences kept the Japanese from attacking the Soviet Union in 1941, thus allowing Moscow to concentrate its own resources on the war in Europe after the Nazi German invasion (Kremlin.ru, September 2).
During Putin's visit to Ulaanbaatar two weeks ago, Russia and Mongolia made the 1993 Treaty of Friendly Relations permanent and upgraded the 2005 bilateral Strategic Partnership agreement to a Comprehensive Strategic Partnership (News.mn, September 4). The Kremlin's intention is to increase its influence in Mongolia and react to its major strategic regional competitors, especially China. Ulaanbaatar and Beijing established a Strategic Partnership in 2011 but upgraded their relations to a Comprehensive Strategic Partnership during Chinese President Xi Jinping's visit in 2014, promising extensive economic and cultural cooperation (China Daily, August 21, 2014). Mongolia also declared a Strategic Partnership with Japan in 2010 (Kantei.go.jp, November 19, 2010) and, most recently, with the United States in July 2019 (State.gov, July 31, 2019), aiming to support Mongolia's democracy and economic development.
As Putin reiterated, when it comes to relations with neighboring Mongolia, Russia is keen to preserve its dominance in railroad development and energy supply (e.g., electricity and fuel), as well as bilateral defense ties (TASS, September 1). The renewed partnership promises to increase the frequency of intergovernmental talks and cultural exchanges, as well as small-scale defense collaboration. Responding to Mongolia's continued requests, Russia is still considering the importation of its livestock products.
However, views in Ulaanbaatar regarding closer relations with Russia are divided. The upgrade of the strategic partnership was definitely a highlight of Putin's recent visit. And Mongolia is, in fact, wary of Chinese economic dominance and the country's growing dependence on the Chinese market, infrastructure and funding (News.mn, September 4). Even so, many critical issues related to Russia remain unanswered.
First, the Eg River hydropower plant project was stalled by Russia's ecological concerns regarding Lake Baikal. Although the Mongolian government secured a $1 billion loan from China to build the plant, China is withholding the funds until a compromise is reached with Russia (Japan Times, July 11, 2016). The power plant is notably expected to reduce Mongolia's electricity imports from its northern neighbor.
Second, Russia has prevented intergovernmental discussions on transit tariffs and concessions for Mongolian goods, which many Mongolian businesses have wanted to see resolved by now. Instead, the Kremlin insists on Mongolia agreeing to sign a free trade agreement with the Moscow-led Eurasian Economic Commission (Udriin Sonin, September 10).
Third, the Kremlin is reluctant to support the construction of a natural gas transit pipeline between Russia and China across Mongolian territory, an issue that authorities in Ulaanbaatar have tried to raise for many years.
Finally, funding for the extension of the Mongolian railroad linking major mining deposits with Chinese ports and increasing the capacity of the existing trans-Mongolian railway remains in contention. Although Russia promised financing, it wants to maintain control over the project, since the joint railway is a strategic asset inherited by Mongolia from the Soviet era (see EDM, July 11).
Putin's recent visit highlights Mongolia's geopolitical significance to Russia, especially in checking its natural strategic competitor, China. Although Mongolia shares similar concerns about Chinese intentions and influence, its interests mostly lie in improving domestic infrastructure, reducing tariffs for the transit of goods and developing its energy sector. Russia, incontrast, seeks to protect its economic interests and maintain leverage over leaders in Ulaanbaatar. As such, to demonstrate its continued influence over the latter, Moscow can be expected to try to again pressure Ulaanbaatar into joining the Shanghai Cooperation Organization (SCO) during next year's summit in Chelyabinsk.