Moscow Strengthening its Energy Ties with China
Publication: Eurasia Daily Monitor Volume: 6 Issue: 89
By: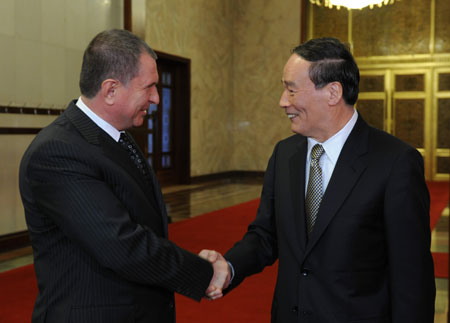 On April 21, Beijing and Moscow finalized an intergovernmental deal under which Russia will supply China with oil for 20 years in exchange for a $25 billion loan to Russia's state-run energy companies. Deputy Prime Minister Igor Sechin said the construction of a branch from the East Siberia Pacific Ocean (ESPO) oil pipeline to China could be finished ahead of schedule or before the end of 2010. He confirmed that Transneft has already started to build the branch. According to the intergovernmental agreement, the branch's construction started in April and will be completed by the end of 2010. The Chinese official media described the deal as "a major breakthrough" in bilateral relations (Xinhua, April 21).
As soon as the branch is completed, Russia will start supplying 300 million tons of oil to China in 20 years, Sechin explained. Russia could also consider raising the branch's capacity above 15 million tons annually, Sechin said (Interfax, ITAR-TASS, RIA-Novosti, April 21).
According to the deal, Russia's Rosneft and Transneft will receive a $25 billion loan from China secured by oil supplies of 15 million tons annually from Eastern Siberia for the next 20 years. The deal also involves the construction of the 67-kilometer pipeline spur of the Eastern Siberia Pacific Oil Pipeline (ESPO) to connect Skovorodino with China's border. On April 3, Rosneft's head Sergei Bogdanchikov, said the company expected Chinese loans to arrive in the second or third quarter of 2009. He also pledged to start funneling crude oil to China via the new pipeline in 2011 (Interfax, April 3).
Russian and Chinese companies tentatively agreed on the ESPO spur when then President Vladimir Putin visited China in March 2006. The ESPO first stage would have a total annual capacity of 30 million tons, rising to 80 million tons in the second stage. Transneft plans to finish the construction of the ESPO's first stage, Taishet-Skovorodino, by the end of 2009, and start the construction of the its second stage, Skovorodino-Kazmino, in December 2009.
On April 10, Rosneft and Transneft signed an agreement on oil supplies to China. According to the deal, Rosneft will sell oil to Transneft or its subsidiary for subsequent sales to China. The contract was part of a package of agreements designed to regulate crude exports to China (Interfax, April 13).
Russian companies also indicated plans to expand into China's lucrative market of oil products. On April 21, Rosneft's head Bogdanchikov, reiterated plans to cooperate with CNPC to build the 10 million tons per year $3 billion oil refinery in China. However, he dismissed speculation that Rosneft was mulling a second refinery project in China (Interfax, April 21).
The Russian authorities have been proudly showcasing their flagship Eastern energy project, the ESPO. On April 6, Prime Minister Vladimir Putin announced that the ESPO pipeline will help to secure stable markets for crude oil pumped at deposits in Eastern Siberia (Interfax, April 6-13). Moscow apparently views the ESPO as a tool designed to limit the country's dependence on Western energy consumers.
However, some Russian lawmakers have questioned the ESPO's economic viability. On March 23, Sergei Levchenko, deputy of the State Duma, the lower house of parliament, disclosed a letter he had sent on February 13 to the government. In that letter, Levchenko questioned the wisdom of the continued state funding of the ESPO project. The Transneft pipeline system's existing capacities are currently utilized at 80 percent, and this would decrease to 73 percent upon the completion of the ESPO, he argued. Levchenko also wrote that Russian oil production was declining due to the lack of new deposits, notably in Eastern Siberia. He also claimed the ESPO would remain uncompetitive, as its transit tariff was estimated at $103 per ton to recoup the huge expenses involved in building the pipeline (Interfax, March 23).
In an apparent response, on March 24 Russia's Natural Resources Minister Yuri Trutnev, told President Dmitry Medvedev that hydrocarbon deposits with reserves estimated at 1.8 billion tons had been discovered in Eastern Siberia. These reserves would suffice to fill the ESPO, Trutnev insisted (Interfax, March 24). On April 22, Russia's Federal Tariff Service said the ESPO transit tariff would not exceed $30 to $32 per ton (Interfax, April 22).
Meanwhile, as Russia kept selling more oil to China, its export earnings were going down in line with the weakening of international energy prices. In January-March 2009, Russia exported 3.28 million tons of crude to China or 5.8 percent up year-on-year. However, in the first quarter Russian crude supplies to China were 52.1 percent down in terms of value, according to Russian statistics. Overall, in January-March the bilateral trade dropped to $7.3 billion or 42 percent down year-on-year (Interfax, April 23).
Russian authorities appeared to realize that their energy strategy was adversely affected by the global economic downturn. On April 23, Sechin conceded that global energy demand was weakening amid the continued economic crisis. Falling energy prices undermine investments in the energy sector, hence threatening sustainability of energy production at current levels, he said (Interfax, April 23).
Nonetheless, Russia's long-term oil deal with China appeared to be based on the expectation of higher energy prices, which would justify the sizable costs of the ESPO construction. It remains to be seen whether in the near future these expectations will prove to be realistic or not.