Moscow-Tehran Oil and Gas Roadmap to Circumvent Sanctions on Iran
Publication: Eurasia Daily Monitor Volume: 7 Issue: 139
By: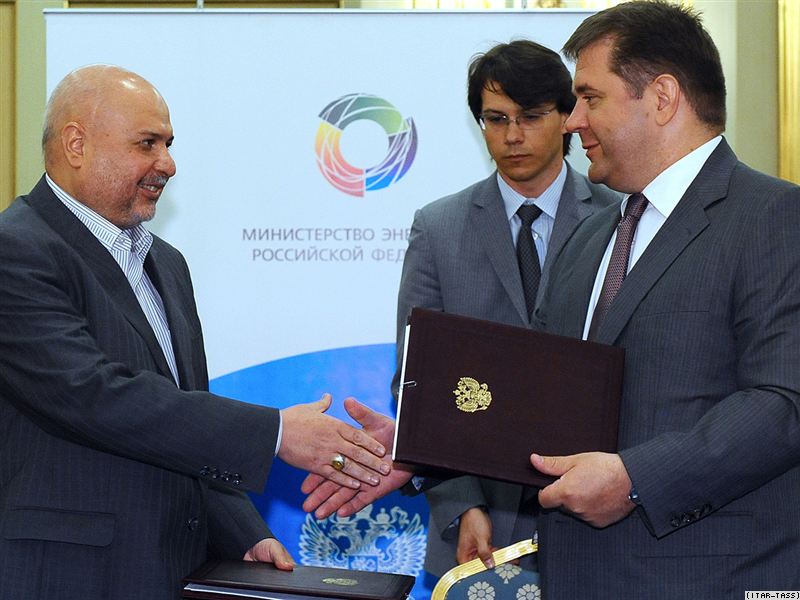 On July 14 in Moscow, Russian Energy Minister, Sergei Shmatko, and Iran's Oil Minister, Masoud Mirkazemi, announced ambitious plans for bilateral cooperation, short-term and long-term. If implemented, these would circumvent two sets of sanctions imposed (outside the UN Security Council) by the United States and other Western countries: sanctions against companies that supply gasoline and other refined oil products to Iran and against those that invest in Iran's energy sector.
Moscow hosted the Iranian delegation barely two weeks after the enactment of sanctions by the US, EU, and other Western governments against deliveries of oil products (most critically, gasoline) to Iran. The companies Shell, BP, and Total have already stopped such sales, with other Western companies certain to follow suit.
Shmatko, however, announced the opposite intention at the joint news conference with Mirkazemi in Moscow: "Russian companies are prepared to perform deliveries of petroleum products to Iran….The sanctions in no way affect cooperation between Russia and Iran" (Interfax, July 14).
These calculated words signal to Washington (as the main interested party) that Moscow reserves a free hand on this issue. Russia would decide for itself whether, or when and on what conditions, to comply with this set of sanctions or not.
The privately-owned Lukoil stopped delivering gasoline and other oil products to Iran in March-April 2010; and withdrew at the same time from a major Iranian oilfield project (see below), citing both existing and then-pending US sanctions (Dow-Jones, March 24). With assets and financial operations in the US, thus potentially exposed to US sanctions, and with a US company (Conoco-Phillips) among its shareholders, Lukoil has chosen to play it safe on Iran. However, this does not indicate Russian government endorsement of the sanctions.
The Kremlin-controlled Rosneft, Gazprom Neft, and Surgutneftegaz could hypothetically step in and supply refined oil products to Iran (Nezavisimaya Gazeta, July 15), whether directly or through intermediaries. Due to its shortage of refining capacities, Iran currently imports between one third and 40 percent of the gasoline daily consumed in the country. Iran's gasoline import requirements are roughly estimated at 100,000 barrels per day or 20 million liters daily, according to Russia's energy ministry and to Mirkazemi, respectively (Interfax, July 14; Vremya Novostey, July 15).
Gazprom Neft (Gazprom's oil subsidiary) is replacing Lukoil in the Anaran oilfield project in Iran; while Sibur (Gazprom-controlled petrochemicals concern, Russia's largest) has also expressed interest in Iranian projects. Aleksandr Dyukov, Chairman and CEO of Gazprom Neft and concurrently Chairman of Sibur (his connections with Vladimir Putin date back to the 1990's in St. Petersburg) participated in the Moscow meetings with Mirkazemi.
Iran had already declared its intention to remove Lukoil from the Anaran project in late 2009, allegedly for failing to meet contractual obligations on time (ITAR-TASS, July 17). In November 2009 (prior to Lukoil's withdrawal announcement), Gazprom Neft and the National Iranian Oil Company (NIOC) signed a memorandum of understanding on Gazprom Neft's entry into the Anaran project. On July 1, 2010, Gazprom Neft Vice-President Boris Zilbermints confirmed the intention to go ahead with this project, as part of the company's plan to increase oil extraction from 60 million tons at present to 100 million tons per year by 2020. Oil extraction in Cuba forms another part of the same plan (Interfax, Dow-Jones, July 1).
Anaran was originally a project of Norway's Statoil, with Lukoil as a minority stakeholder. Statoil withdrew in 2007 deferring to the US-led sanctions. Two of the project's four blocks, Azar and Shangul, have been explored by Statoil and are estimated to contain 2 billion barrels of oil.
This project's onshore location, adjacent to Iran's border with Iraq, is of particular interest to Gazprom Neft. Directly across that border, the same company plans to develop Iraq's Badrah oil field. There, GazpromNeft leads an international group that also includes South Korea's Kogas, Turkish Petroleum (TPAO), and the Malaysia-based Petronas.
Meanwhile, Gazprom Neft's parent company Gazprom is involved in developing the second and third phases of Iran's South Pars gas deposits. Total of France and Petronas are also partners with Gazprom in that project. US sanctions, however, have resulted in freezing South Pars development for the time being.
Gazprom is keenly interested in routing the vast resources of South Pars (more than 20 phases altogether) away from European markets, so as to prevent Iranian gas from competing with Gazprom in Europe. Thus, Gazprom encourages the proposed construction of an Iran-Pakistan-India gas pipeline (again contradicting Washington, which opposes Pakistan's participation in this project). Gazprom's policy on this issue is primarily guided by its long-term strategy for dominance in Europe. Its Asia business is subordinated to its European strategy. Within this framework, Gazprom's pipeline-construction subsidiary, StroyTransGaz, offers to build an Iran-Pakistan-India gas pipeline.
At their Moscow meeting, Shmatko and Mirkazemi signed a road-map agreement on joint oil and gas projects with a 30-year time-frame. The package of documents had been under discussion since 2008 and was updated during discussions on July 12-14 in Moscow. Again, according to Shmatko, "No sanctions can hinder us in cooperating in this sphere" (Nezavisimaya Gazeta, July 15).
The stated intentions include: joint development of oil and gas fields; sales of refined oil products and petrochemicals; natural gas transit, swapping, and marketing; creation of a joint bank, using the respective national currencies to finance joint ventures; and holding follow-up discussions on nuclear-generated electrical power. Joint ventures are envisaged both in Iran and in third countries. A round of talks on specific projects is intended for the fourth quarter of 2010 (Interfax, July 14; Russia Profile, IRNA, July 15; MEES, July 19).
Whether the Russian government and companies under its control would proceed to breach the US-led sanctions is far from a foregone conclusion (UN sanctions are a separate matter). For now, Moscow is signaling that it does not recognize those sanctions, reserving the right to ignore or circumvent them. Mirkazemi's invitation to Moscow and its timing are designed to catch Washington's attention and build bargaining leverage. Moscow will probably handle the issue of oil and gas cooperation with Iran as it handles the possible delivery of S-300 air defense systems, or its limited cooperation with Iran's nuclear development program. It will almost certainly seek US geopolitical quid-pro-quos in Eurasia, in return for limiting or desisting from oil and gas sector cooperation with Iran.