MOSCOW THWARTS JOINT PRESIDENTIAL DECLARATION ON TROOP WITHDRAWAL FROM GEORGIA
Publication: Eurasia Daily Monitor Volume: 2 Issue: 90
By: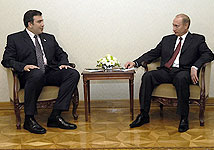 On May 6, the Russian government reneged on a recent, informal understanding between Ministers of Foreign Affairs Sergei Lavrov and Salome Zourabichvili regarding a timetable for the closure of Russian bases and withdrawal of troops from Georgia. That informal understanding had envisaged starting the withdrawal in 2005 and completing it by January 2008, with certain intermediate deadlines for the evacuation of weaponry and troops from specific bases.
Moscow's backtracking has thwarted the signing of a joint declaration on troop withdrawal by Presidents Vladimir Putin and Mikheil Saakashvili. Tentatively with signing tentatively planned for May 9, during the World War II anniversary celebrations in Moscow, the joint declaration was not meant to substitute for a bilateral agreement on troop withdrawal. However, it would have amounted to a political commitment by Russia and personally by its president — in front of world leaders assembled for the anniversary — to remove the Russian forces from Georgia. Russia's Ministry of Foreign Affairs, however, objected both to the 2008 final deadline and to the intermediate ones during the Lavrov-Zourabichvili negotiations in Moscow on May 6.
Although it was Lavrov who conveyed the refusal, the main share of the responsibility rests with Defense Minister Sergei Ivanov, and presumably with Putin for siding with his defense minister. Two days before the Lavrov-Zourabichvili meeting, the government mouthpiece Rossiiskaya gazeta carried an interview with Ivanov in which he claimed that at least four years are necessary to physically evacuate the Russian troops from Georgia; implied that the withdrawal period might begin no sooner than 2006; and declared unambiguously that Russian troops would not withdraw if "local people" block the roads in attempting to keep the Russian bases in place (Rossiiskaya gazeta, May 4). Ivanov's final remarks hinted that Moscow might decide to orchestrate unrest among Armenians in Akhalkalaki and Abkhaz in Gudauta to keep those bases in Russian hands — a tactic that Moscow has already used at Gudauta in 2001 and in Transnistria earlier.
Georgia's National Security Council decided on May 7 that negotiations would continue with a view to setting the deadline in early 2008 for completion of the Russian troop withdrawal. Tbilisi wants the evacuation of Russian forces to be finalized ahead of Georgia's parliamentary and presidential elections, which are due to be held in late 2008-early 2009, "so that the withdrawal or non-withdrawal of Russia's forces does not become part of the electoral campaign, and so that there is no Russian influence on internal political events," Zourabichvili explained (Rustavi-2 TV, May 6).
Both before the May 6 negotiation and in its wake, Saakashvili and other Georgian officials have declared that Georgian public opinion would not approve of a presidential visit to Moscow for the May 9 anniversary celebrations, unless the Russian side agrees to the withdrawal timetable that had been discussed prior to May 6. Saakashvili's attendance at the celebrations in Moscow might also be misinterpreted as a sign of acquiescence with an unacceptable situation.
Georgia's government and president are stressing that they would not dramatize the situation, would call for resuming negotiations in the very near future, and would only seek a diplomatic and legal solution, as distinct from one driven by public opinion. Meanwhile, Georgia reserves its right to implement the Parliament's March 10 resolution, which instructs the executive branch to take certain restrictive measures against Russia's military presence, if agreement on a "reasonable" withdrawal calendar is not reached by May 15. Noting that Russia's military presence in Georgia is unlawful, the Parliament's resolution requires: withholding entry visas to Russian military personnel, restricting the transport of personnel and cargoes for Russian bases, assessing the ecological damage from Russian bases with a view to demanding compensation, and other measures that would make the functioning of bases difficult and expensive to Russia.
(Civil Georgia, Interfax, May 6, 7, 8)