MOSCOW TO INCREASE NUCLEAR TIES WITH UZBEKISTAN
Publication: Eurasia Daily Monitor Volume: 3 Issue: 20
By: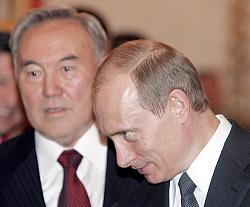 The five members of the Eurasian Economic Community (EEC) formally admitted Uzbekistan to the organization during its January 25 summit meeting in St. Petersburg. The EEC member states — Russia, Belarus, Kazakhstan, Kyrgyzstan, and Tajikistan — agreed to allow Uzbekistan to join the organization for both economic and security reasons.
"Uzbekistan has fully assumed the rights and responsibilities," of a member state, Russian President Vladimir Putin told a press conference after the meeting. Uzbekistan's participation will help the organization's efforts to create an integrated market and to cooperate in the energy sector, Putin added (Interfax, January 25).
Uzbekistan's entry is expected to expand the EEC market significantly. Uzbekistan, with 25 million people, is the most populous country in Central Asia.
Uzbekistan was welcomed into the EEC with optimistic official pronouncements. Kazakh President Nursultan Nazarbayev claimed that Uzbekistan's entry could help make the EEC one of the most influential organizations in the world. EEC Secretary-General Grigory Rapota said the accession of Uzbekistan would boost integration within the grouping and expand its market reach (RIA-Novosti, January 25).
Furthermore, the EEC indicated plans to accept more new members in the future. Belarus President Alexander Lukashenka predicted there would be new entries into the EEC. "As for the enlargement of the EEC…I am confident that it will happen," Lukashenka declared at the post-summit joint press conference of the EEC leaders. However, no new candidates for EEC membership were announced in St. Petersburg.
At the EEC summit, Russia also indicated plans to forge closer ties with Uzbekistan in nuclear energy. Known to have extensive uranium-ore reserves, Uzbekistan could give Russia "additional long-term opportunities" in nuclear energy, Putin pointed out. "Russia is firmly determined to widen cooperation within the EEC" to pursue global energy priorities (Interfax, January 25).
Meanwhile, Moscow lost little time in claiming some economic benefits from closer ties with Uzbekistan. On the sidelines of the St. Petersburg summit, Russia and Uzbekistan signed a series of agreements to develop oil and natural gas deposits in the Central Asian republic. Russian gas giant Gazprom and Uzbek officials pledged to sign major production sharing agreements, tentatively in the second half of 2006. Gazprom CEO Alexei Miller and Abdusal Azizov, the head of Uzbekistan's state-owned oil and gas company Uzbekneftegaz, also signed an agreement on joint exploration projects in Uzbekistan.
Speaking at a news conference after the summit, Uzbek President Islam Karimov said Gazprom had been allowed to explore some 34,000 square kilometers rich in hydrocarbon resources. He said Gazprom planned to invest $260 million in exploration, while investments in the project would total $1.5 billion. And now Gazprom appears to be aspiring to monopoly status in Uzbekistan. "Gas to be produced in Uzbekistan will be exported by Gazprom only," Miller added (RIA-Novosti, January 25).
After those remarks, the Russian media had few doubts that the Kremlin was the driving force behind Uzbekistan's accession into the EEC. Moscow had simultaneously enlarged the only successful pro-Russian alliance and also gained access to Uzbek resources, commented Nezavisimaya gazeta. Russia has registered the first concrete results following its support for Karimov after the Andijan events, while Karimov paid his debts, the daily wrote, referring to the energy agreements with Russia (Nezavisimaya gazeta, January 26).
Moscow also opted to sustain its voting and financial rights in the EEC despite the addition expansion. Following Uzbekistan's accession, Russian retained its 40% share in the EEC, noted Kommersant. Kazakhstan and Belarus reduced their shares by 5%, down to 15% each, and Kyrgyzstan and Tajikistan by 2.5%, down to 7.5% each, to allow Uzbekistan to have a 15% allotment (Kommersant, January 26).
Despite the predominantly economic agenda of the EEC, at least officially, President Putin said that security remained one of the grouping's top priorities. He also pledged to protect member states from "threats of international terrorism, trans-border crime, drug trafficking, and illegal migration." Putin added that maintaining the security and internal stability of the EEC member states would eventually generate economic progress (RIA-Novosti, January 25).
Uzbek President Karimov echoed Putin's reference to security. Uzbekistan joined the EEC to better address the security challenges caused by rapidly changing post-Soviet realities, Karimov said. He also made little secret where he expected security assistance to come from. "Uzbekistan sees its future in close cooperation with its neighbors, primarily Russia," Karimov said (Itar-Tass, January 25).
Russian officials indicated earlier that Russia's stronger ties with Uzbekistan could have security implications. As part of Uzbekistan's drift towards Moscow, Tashkent may also join the Collective Security Treaty Organization (CSTO). However, there was no talk of any Uzbek moves towards the CSTO during the St. Petersburg summit. Therefore, the security implications of Uzbekistan's entry into the EEC are not likely to become evident in the immediate future.