MOSCOW UNLEASHES A MOUNTAIN CHIEFTAIN AGAINST GEORGIA
Publication: Eurasia Daily Monitor Volume: 3 Issue: 143
By: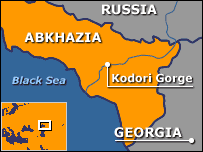 Russian authorities, having recently co-opted Kodori Gorge chieftain Emzar Kvitsiani, are now unleashing him against Georgia. The Georgian free mass media as well as Russia's unfree ones are amply disseminating his message. Televised reports show him flanked by armed men in uniform, some of them masked, during interviews and while moving in the gorge.
In daily inflammatory statements since July 23, Kvitsiani rejects Georgian authorities' jurisdiction over Kodori; threatens armed action against the authorities if they attempt to enter the gorge; demands changes to Georgia's cabinet of ministers; and calls for the formation of armed "resistance" groups in other parts of Georgia.
Kvitsiani's challenge is a Russian countermove to Georgian efforts to replace Russia's "peacekeeping" operations in Abkhazia and South Ossetia with international police missions. The Georgian parliament approved on July 18 a government-backed resolution on pursuing that goal as a matter of urgency (see EDM, July 20, 24).
At the tactical level, the unleashing of Kvitsiani aims to distract Georgia from tackling the Abkhazia and South Ossetia problems, in effect opening "another front" and forcing Tbilisi to deal with this issue at this time. The move dovetails with Russia's own attempts at military intimidation of Georgia, such as Defense Minister Sergei Ivanov's hints that ongoing military exercises in Russia's North Caucasus might involve emergency support for Russian "peacekeeping" troops in Georgia. Moreover, Kvitsiani's statements "ethnicize" his challenge to Tbilisi, trying to provoke clashes between the authorities and Kodori's Svan population, a Georgian ethnic subgroup.
At the strategic level, Kvitsiani's move seems planned as an element in Moscow's overall policy to destabilize Georgia (see EDM, May 30). Lacking genuine allies in Georgia, Moscow attempts to capitalize on grievances of specific local groups or to create local grievances where they did not previously exist. This strategy seeks to instigate chaos as a means toward an eventual regime-change-in-reverse.
This context explains Kvitsiani's seemingly incongruous appeals to inhabitants of Samegrelo and Kakheti to take up arms against Tbilisi's writ in the respective areas. Moscow periodically attempts to stir up trouble in Samegrelo using anything from aggrieved diehard Zviadists to an occasional Russia-friendly Mingrelian separatist to criminal groups on the run from the law; but these attempts always failed in Samegrelo for lack of support. In Kakheti, which is Georgia's principal wine-growing area, Moscow hopes to turn the population against the government by holding the latter responsible for Russia's recent embargo on Georgian wines. Moscow's propaganda on this issue carries a double message: To the world, it denies any political motivation behind the embargo; to Georgians generally and winegrowers specifically, the message clearly implies that they are being hit because of Georgia's "unfriendly" policy toward Russia.
At the same time, Kvitsiani's handlers are reaching out to opposition circles in Tbilisi by having him demand the dismissal of alleged "party-of-war" ministers — Defense Minister Irakli Okruashvili and Internal Affairs Minister Vano Merabishvili — from the Georgian government. Some opposition circles have uncritically accepted Moscow's "party-of-war" thesis some time ago. However, none other than Giorgi Khaindrava, who was released as state minister for conflict settlement on July 21 following disagreements with those ministers, unambiguously rejected the "party-of-war" thesis in interviews with Georgian and Russian media (Kommersant, July 22). Nevertheless, since any operation to dislodge Kvitsiani's detachment from Kodori would be within those two ministers' remit, Moscow would leap at the opportunity to blame the "party of war" for such a move.
The upper Kodori Gorge is the only part of Abkhazia's pre-1992 administrative territory not controlled by Russian-backed Abkhaz authorities. The gorge is mainly populated by Svans, and Kvitsiani himself is a Svan native of the Abkhaz-controlled Gulripshi district in the lower part of the gorge. Under the ceasefire agreement, Russian "peacekeepers" could patrol the upper Kodori Gorge but not set up permanent posts there. In 1998-2003, Kvitsiani was then-president Eduard Shevardnadze's representative in Kodori and commanded a 300-strong armed detachment, Monadire [Hunters], that resisted attempts by Russian troops to set up posts in the upper gorge. While temporarily successful, Shevardnadze's alliance with Kvitsiani exemplified the former president's ultimately fatal attempts to make deals with local chieftains where the state itself was too weak to assert its legitimate authority.
The Georgian government ordered the disbandment of the Monadire detachment and took it off the Defense Ministry's payroll in 2005, but did not attempt to disarm its members. Disarmament would in any case have been very problematic in this high-altitude area where many residents traditionally bear arms. Kvitsiani dropped out from public view for a time, then reappeared in Kodori, began receiving visits from Abkhaz and Russian emissaries, and has evidently been induced to change sides. He now demands that high-ranking members of Georgia's government and parliament come to Kodori for negotiations with him — a demand calculated to be unacceptable. Kvitsiani is too unsophisticated to calculate his moves very well. Clearly, his handlers are in charge.
(Kavkaz Press, RTR Russian Television, Rustavi-2 and Imedi televisions, Interfax, July 22-24)