Mujahid Dokubo-Asari: The Niger Delta's Ijaw Leader
Publication: Terrorism Monitor Volume: 5 Issue: 15
By: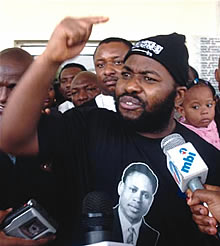 Among the restive Ijaw population in Nigeria's troubled, energy-rich delta region, one man stands alone as the most recognizable face of resistance: Mujahid Dokubo-Asari. Asari has been a central figure in the Ijaw cause, forming in late 2003 one of the delta's most notorious Ijaw militant groups, the Niger Delta People's Volunteer Force (NDPVF). Through this militant youth organization, Asari fought rival gangs, siphoned oil and gas from pipelines, destroyed energy infrastructure and declared an "all-out war" on the Nigerian state. Despite his arrest in September 2005, Asari continued to communicate with his followers, and he became an important symbolic figure for various Ijaw armed groups in the delta. These groups listed Asari's detention as one of their core grievances against the Nigerian state. On June 14, 2007, partially in an effort to pacify Ijaw demands, the newly-installed government of President Umaru Yar'Adua released Asari from prison. Since regaining his freedom, Asari has continued to play a role in the Ijaw struggle.
Background
Mujahid Dokubo-Asari was born Dokubo Melford Goodhead Junior to a middle class, Christian family in Buguma, Rivers State on June 1, 1964 (Vanguard [Port Harcourt], June 23). The son of a high court judge, Asari attended both primary and secondary school in the Rivers State capital of Port Harcourt, before studying law at the University of Calabar in Cross-Rivers State (BBC News, October 4, 2004). In his third year in 1990, however, he dropped out of the university due to tensions with the administration. After leaving the University of Calabar, Asari resumed his law studies at the Rivers State University of Science and Technology, yet he again dropped out for similar reasons (BBC News, October 4, 2004). It is not clear exactly when he converted to Islam, but most sources state that it occurred shortly before he left the University of Calabar, between 1988-1990. His decision to convert to Islam was a result of his growing political and social activism (Business Day Africa [Johannesburg], October 8, 2004). Asari explained that he found Islam to be a religion that helped him in his "agitation, because Islam accepts my role as somebody who should correct the ills of society and the fight against oppression even with my life" (allAfrica.com, July 29, 2005). Nevertheless, Asari has said that Islam does not have a role in the delta conflict because Muslims make up less than one percent of the Ijaw population (allAfrica.com, July 29, 2005) [1].
During the early 1990s, Asari traveled to Libya, along with a host of other countries, where he claimed to have received military and political training [2]. For the rest of the decade, he spent much of his time contesting elections. In 1992, Asari ran an unsuccessful election campaign for a seat in the Rivers State House of Assembly (Daily Independent [Lagos], June 21). In 1998, he tried to become the chairman of the Asari-Toru Local Government Area of Rivers State, yet again failed in his bid (Daily Independent, June 21). After these failed attempts, Asari joined the Ijaw Youth Council (IYC), a coalition of Ijaw youth groups and a key foundational block to the current violence in the delta.
The Ijaw Youth Council
Asari was involved in founding the IYC in 1998, and he became the organization's first vice president. The IYC was largely led by university-educated activists, and in December 1998 it released the famous Kaiama Declaration, which demanded control of the delta's energy resources [3]. The declaration soon stirred the entire Ijaw population, and more than 500 Ijaw communities supported it [4]. In 2001, Asari became president of the IYC. The factors surrounding his promotion are clouded, as it is alleged that the Rivers State governor at the time, Peter Odili, helped Asari secure the position (Daily Independent, June 21). Odili's motive was to split the IYC's leadership, which was led by Felix Tuodolo, in order to weaken the organization since he saw it as a threat to his power in Rivers State. Odili's assistance in securing him the leadership role in the IYC explains why Asari allegedly helped Odili's reelection campaign in Rivers State. Various reports maintain that Asari engaged in voter fraud on behalf of Odili and also intimidated the voting public and rival politicians [5]. Odili apparently compensated Asari by overlooking his energy theft activities.
During this period, however, Asari grew increasingly militant. His more radical agenda was at odds with the core leadership of the IYC, which led him to begin building a private militia organization that became known as the Niger Delta People's Volunteer Force (NDPVF) (Business Day Africa, October 8, 2004). Furthermore, after the 2003 elections, Asari rebuked Odili publicly, and reportedly ran an advertisement in Port Harcourt's newspapers accusing Odili of election fraud and of arming rival gangs against each other [6].
The Niger Delta People's Volunteer Force
Asari named the NDPVF after the 1960s-era Ijaw revolutionary Isaac Boro's Niger Delta Volunteer Force. He calls Boro his "role model" and has "decided to walk the path he has thronged" (The Beam News [Port Harcourt], May 30-June 4). It is not known when exactly the NDPVF was created, as Asari himself has said that the "date of the founding of the organization cannot be precise," yet the general time frame is in late 2003. For Asari, the creation of the NDPVF was an effort to achieve through force the demands issued in the Kaiama Declaration.
In order to fund the operations of the NDPVF, Asari and his men siphoned oil and gas from pipelines in the delta—an act that is locally known as "bunkering." Asari justified energy theft on the grounds that the resources belong to the people of the delta, rather than the federal government. "The people who own the oil have a right to take the oil which has been stolen from them by a small clique in Abuja for the advancement and betterment of that clique that siphons this money to foreign bank accounts in Europe and the United States and the Caribbean," he explained. As a result of this reality, Asari says, it is incorrect to label oil bunkering as theft since "the oil belongs to us. We're not stealing it. It is the Nigerian state stealing our oil from us" (IRIN, July 16, 2004).
Oil and gas bunkering remained the critical component behind Asari's and the NDPVF's acquisition of sophisticated arms to conduct their operations. Money earned through selling oil and gas on the black market was used to purchase arms from local and international arms dealers. In Nigeria, arms can be easily acquired through various domestic means, such as from Nigerian soldiers returning from peacekeeping missions in Sierra Leone and Liberia, or from criminal syndicates in the delta. Furthermore, arms can be acquired on the high seas during bunkering transactions. Shipping captains, for instance, often pay armed groups with arms and ammunition in exchange for stolen oil (Daily Trust [Abuja], May 7). Asari explained the ease with which his group acquired arms in 2004: "We are very close to international waters, and it's very easy to get weapons from ships" (IRIN, July 16, 2004). During 2004 and 2005, Asari and his men were regularly seen with Kalashnikovs and rocket-propelled grenades, cruising through the rivers and creeks of the delta in an armada of speed-boats with powerful outboard motors (IRIN, July 16, 2004).
Like most of the political-militant groups in the delta, the NDPVF drew its ranks from disaffected youth, and brought under its umbrella various youth confraternities, also known as cult groups. In late 2004, senior NDPVF members explained the process of how small confraternities and gangs would operate under the NDPVF's banner, keeping their separate leadership structures intact, yet surrendering command-and-control to the NDPVF. At its height, the NDPVF attacked energy infrastructure, rival gangs and siphoned oil and gas from pipelines.
Asari Becomes a Public Enemy
Odili and the government were threatened by Asari's creation of the NDPVF. By September 2004, the NDPVF had announced an "all-out war" against the Nigerian state, turning the former collaborators into enemies. In addition to directing the Nigerian security services at the NDPVF, Odili allegedly employed another delta militant, Ateke Tom, to use his private militia as part of the fight. Ateke Tom created the Niger Delta Vigilantes—which largely drew men from his cult gang known as the Icelanders (German)—and waged war against Asari's NDPVF. The two groups fought over territory and access to lucrative energy bunkering routes.
By late 2004, instability in the delta was rising rapidly, and, at the end of September, Asari's NDPVF issued an ultimatum to multinational energy companies to shut down their operations by October 1, otherwise their employees would become targets in a major guerrilla operation called Operation Locust Feast (IRIN, October 4, 2004). The announcement sparked panic among energy companies and caused the price of oil to shoot to a new record of $50 per barrel. As a result, the government of Olusegun Obasanjo was forced to recognize Asari's influence in the delta by inviting him and his rival, Ateke Tom, to Abuja in order to reach an agreement on the cessation of hostilities. A deal was reached on October 1 that was supposed to lead to the disbanding of their respective militia groups and their total disarmament as well as to keep them within the democratic process (Business Day Africa, October 8, 2004). Although some of the deal was implemented, it soon fell apart.
On September 20, 2005, Nigerian authorities arrested Asari on charges of treason and imprisoned him at the federal security services headquarters in Abuja. His arrest came after he issued persistent separatist rhetoric. Throughout his detention, Asari was rebellious, especially in public venues, such as during his various court hearings. In early 2007, for example, Asari threatened to kill Federal High Court Judge Peter Olayiwola (Daily Trust, February 13; Rhythm FM [Abuja], March 6). Furthermore, in the wake of his detention, violence in the delta actually escalated. It appears that the NDPVF fractured, and former fighters conducted attacks in the name of the Movement for the Emancipation of the Niger Delta (MEND) and other armed groups. There also appears to have been a rise in criminality, and the political ideology that previously characterized the struggle lost its prominence.
Asari's New Role in the Delta
On June 14, 2007, Asari was released from prison under the pretext of his deteriorating health from hypertension and diabetes (Agence France-Presse, June 14). Since his release, Asari has persisted in delivering harsh rhetoric against the Nigerian government. He has called for the arrest of former President Olusegun Obasanjo, vowing that he "will not rest the struggle until Obasanjo is brought to book. He has committed crimes against humanity" (Oyibosonline.com, July 19). Furthermore, he has argued that the Nigerian constitution will one day "surely crumble" (Vanguard, June 23). Nevertheless, he appears to have moderated his stance, and he has, at least publicly, disavowed the use of violence—which was likely the main condition for his release. Shortly after his release, for instance, Asari said, "I will not use any means that would be criminal…but I want to assure you that I will never give up this struggle" (Daily Independent, June 21).
He has also spoken out against the rise of criminality in the region that appears to be taking place outside the control of the more established political-militant groups. Upon his release, Asari stated, "We would try and work together to stop this act of brutality and banditry…something that we are not. We are fighting for justice; we should not do injustice to other people" (Daily Independent, June 21). Speaking specifically on the various kidnap-for-ransom schemes in the delta, Asari said that "hostage-taking is evil. It has brought easy wealth, laziness, criminality in our midst. It has destroyed the moral fabric of the Ijaw man" (Vanguard, June 23). He claims that the Ijaw have turned their "noble" struggle into "a conduit pipe leading to easy money" and valuable lives have been wasted "for the sole purpose of satisfying our insatiable greed" (Daily Champion, May 28). It is possible that some criminal gangs are concerned that Asari's return to the scene will pressure them to limit their more abusive—yet lucrative—activities, and resist conducting operations that discredit Ijaw grievances (Vanguard, June 23).
Furthermore, Asari has expressed tentative approval over the role of Goodluck Jonathan, Nigeria's new Ijaw vice president. "I am 100 percent in support of him if his activities will be in the interest of the Ijaw and Niger Delta people," Asari explained. "As I came out [from prison], I found out that Jonathan has overwhelming support among Ijaw people…Then who am I if I say I am an Ijaw leader to go against him? My own personal opinion in this issue does not matter" (Vanguard, June 23). Most recently, Asari has acted as an intermediary between the delta's underground political movement and the government. On July 20, for example, delta militants offered a cease-fire in exchange for a series of demands (Vanguard, July 20). Those terms were conveyed by Asari to President Umaru Yar'Adua in Abuja.
It is clear that Asari is hoping to preserve his role as a key ideological leader among the Ijaw and other delta inhabitants. The terms of his release preclude Asari from resuming his past militant activities, yet he maintains extensive contacts with delta militant groups, making him an asset to both the government and to the armed fighters. Since many of his former followers in the NDPVF are probably now operating under other armed factions, Asari's reach extends deep into the dizzying network of groups and sub-groups in the Niger Delta.
Notes
1. Despite some controversial statements, Asari has not tried to integrate Islam into the Niger Delta struggle. For instance, in an interview with allAfrica.com on July 29, 2005, Asari explained: "There's no room for implementation of Sharia in the Niger Delta because among the Ijaws, the Muslims are less than one percent and they do not have political control of the Ijaw people…As far as this land is concerned, Ijaw is not by rule Islamic…the issue of Sharia does not arise in Ijaw land." When asked whether the NDPVF shared the same ideology as Osama bin Laden, Asari replied: "Definitely not! My group is 99 percent made up of people who are not Muslims." According to Asari, the "killing of innocent, unharmed people" is not part of Ijaw beliefs and "no Ijaw man will commit 9/11."
2. "Fueling the Niger Delta Crisis," Africa Report No. 118, September 28, 2006.
3. Cyril Obi, The Changing Forms of Identity Politics in Nigeria under Economic Adjustment, Uppsala: Nordiska Afrikainstitutet, 2001.
4. Ibid.
5. "Fueling the Niger Delta Crisis," Africa Report No. 118, September 28, 2006.
6. Ibid.