Turkey's Dark War: Counter-Terrorism Strategies for the 21st Century
Publication: Terrorism Monitor Volume: 5 Issue: 14
By: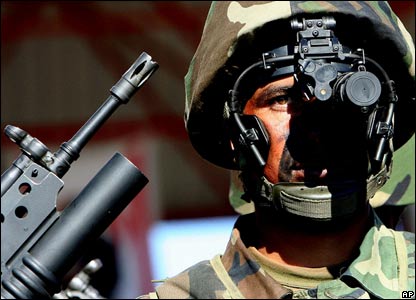 Turkey has experienced a long and painful history of terrorism. During nearly two decades of terrorist attacks and brutal fighting with the Kurdistan Workers' Party (PKK), some 35,000 lives were lost. At present, secular Turkey's moderate Islamist Justice and Development Party (AKP) government faces a resurgence of PKK terrorism as well as new threats from al-Qaeda. In their battle with PKK militants in southeastern Turkey, Turkish troops have suffered casualties almost daily from mines and roadside bombs. At the forefront of the counter-terrorist struggle is Turkey's General Staff, which sees itself as the protector of Turkey as a secular state. Recently, the General Staff has emphasized the need for Turkey to confront the rising threats from asymmetrical groups, a challenge it refers to as the "Dark War."
The role that Turkey's generals play in the country's political life is unfamiliar to most Western states. The generals give speeches suggesting directions for public policy, call for politicians to be prosecuted, robustly defend the nation's international reputation and persecute any perceived deviation from official Kemalism—the secular political and social movement created in the 1920s by General Mustafa Kemal Ataturk as a nationalist response to the implosion of the Ottoman Empire. Opinion polls consistently reveal that the Turkish military remains the most trusted element in Turkish public life, despite a history of coups and political interventions. Experiencing 45 different governments since 1946, many Turks view the military as a powerful force for national stability.
The General Staff's Criticism of Western Views on Terrorism
In a May 31 address at the Istanbul War Academy, Turkey's chief of staff, General Yasar Buyukanit, referred to the paradigms of the Cold War as having been replaced in the 21st century with those of a "Dark War," in which security forces address asymmetrical threats not just through military efforts but in cooperation with "legal, economic, political, sociological and psychological elements."
Buyukanit's view is that the war on terrorism of Turkey's NATO defense partners has become dangerously focused on "religious terrorism," to the exclusion of all other sources of terrorism. Especially alarming in Turkey's eyes is "ethnic-nationalist" terrorism of the sort generated by the PKK. The Turkish government has called for greater coordination and cooperation, including a policy of "try or extradite" for fugitive or self-exiled terrorist suspects being harbored by Turkey's European allies. According to Foreign Minister Abdullah Gul, "Freedom of speech of terrorists or shadow organizations must not be used against the right to live of innocents" (Anatolia News Agency, June 14).
The Turkish General Staff fears that Washington harbors intentions of splitting the predominantly Kurdish southeast from the rest of Turkey, a fundamental violation of the Kemalist doctrine of territorial integrity. General Buyukanit is fond of warning that the Turkish armed forces are ready to fight "anyone" intending to divide Turkey. Allegations of U.S. arms shipments to the PKK and the violation of Turkish air space by American F-16 warplanes have sparked suspicions regarding Washington's aims in northern Iraq. Within the officer corps, there is some sympathy for Russian authoritarianism, and, as trust in Washington declines, a number of Vladimir Putin's most virulent anti-American remarks have found their way to official Turkish military websites. The growing discomfort of the General Staff with the Western military alliance reflects public opinion in the wake of uncertainty over the real goals of the U.S. "Middle East Project" and French and German obstruction of Turkey's European Union candidacy.
There is a tendency in Turkish political thought to equate opposition to the Kemalist state with "terrorism," whether of a material or psychological kind. The sensitivity of the General Staff to this inclination was demonstrated when a NATO military college displayed a U.S.-produced map of the "New Middle East" last year, showing a diminished Turkey side-by-side a newly independent "Kurdistan." General Buyukanit discussed the matter personally with then-U.S. Chairman of the Joint Chiefs of Staff Peter Pace and received an official apology (Today's Zaman, September 29, 2006).
General Buyukanit is not averse to addressing the Islamist government through the media, reminding the Turkish public that the armed forces are ready to eradicate terrorism when or if the order is issued by the National Assembly. In the past, the Turkish armed forces have been accused of taking extraordinary measures to repress Kurdish nationalism, including torture, civilian massacres, mass displacements and "false-flag" operations designed to discredit the PKK. The General Staff has used its own website to urge a popular mobilization of the people against terrorism, most likely in an attempt to put pressure on the AKP government and the United States (Milliyet, June 9). Since then, the funerals of "martyred" servicemen killed in eastern Turkey have become scenes of political protest, with demonstrators chanting anti-PKK slogans while abusing government ministers who dared to attend (Anatolia News Agency, June 11).
Turkey's political leaders are in agreement with Buyukanit over the "misleading" religious approach to terrorism. Responding to a May 23 bombing in Istanbul that killed six and wounded more than 100, Prime Minister Recep Tayyip Erdogan affirmed, "Terror has no religion, ethnicity, homeland or nation" (Anatolia News Agency, May 23). Parliamentary Speaker Bulent Arinc has denounced the "Clash of Civilizations" approach to terrorism that dominates the debate in North America. He says, "We believe terrorism does not have a nation, language or religion and does not have values to which it can be faithful. That is why we are against using religious, ethnic or regional adjectives in definitions of terrorist organizations or terrorism. We are thinking differently from many countries on this issue" (Anatolia News Agency, June 14). The government has received support from Turkey's religious establishment; according to Ali Bardakoglu, the head of Turkey's Religious Affairs Directorate-General, "No religion can approve violence and terrorism" (Anatolia News Agency, June 14).
Deputy chief of the General Staff, General Ergin Saygun, also rejects the concept of "Islamic terror," explaining that "the West sees almost two billion Muslims as potential terrorists, and this emerges as the biggest obstacle before cooperation…Terrorism is fed by separatist and ethnic movements. And, terrorism which is fed by these sources is threatening global security as much as other types of terrorism." General Saygun also issued a warning directed at Turkey's NATO partners, saying, "Those who tolerate terrorism will definitely be harmed by it one day" (Anatolia News Agency, June 1). Foreign Minister Abdullah Gul notes that while democracy should not become a victim of the war on terrorism, "democracy and democratization are not enough to obliterate terrorism" (Anatolia News Agency, June 14). According to Buyukanit, international cooperation on terrorism issues is hindered by an inability to agree on just what constitutes a terrorist act (Anatolia News Agency, July 3).
In addition to the threat from PKK militants, there are signs that al-Qaeda militants are preparing new strikes in Turkey. Eleven al-Qaeda suspects were arrested in Istanbul on May 30, while a further 23 suspects were arrested in the northwestern city of Bursa on June 20 (Anatolia News Agency, May 30, June 20). Interestingly, this is a threat shared by Iraqi Kurdistan, which is increasingly under attack from al-Qaeda terrorists being forced out of central Iraq by the current U.S. offensive. The field commander of al-Qaeda forces in the Hamrin Mountains near Kirkuk is said to be a Kurd named Aso Kirkuki (Aso [Baghdad], June 4). Gunmen of the Kurdish Ansar al-Islam movement have also been reported in the mountains, while others are allegedly assisting al-Qaeda in Mosul and Kirkuk (Chawder [Sulaymaniyya], May 28; Awene [Sulaymaniyya], May 15). Terrorist bombings occurred in May in Erbil, Makhmur and elsewhere, all apparently targeting offices belonging to Massoud Barzani's Kurdistan Democratic Party (al-Sharq al-Awsat, May 15). Five al-Qaeda members are awaiting execution in Erbil for attacks carried out in 2005 (Awene [Sulaymaniyya], May 22).
Security Challenges Complicated by Upcoming Elections
Internally, Turkey's approach to the "Kurdish problem" is immeasurably complicated by the presidential and parliamentary elections coming later this year. There are indications that the Kurdish question is being used as part of a power struggle between the secular Kemalist generals and Erdogan's AKP.
Prime Minister Erdogan has challenged the United States to match its anti-terrorist rhetoric with action. He asserted, "Turkey from now on expects action instead of empty words. Turkey has always met the requirements of strategic partnership. However, they [the United States] have not assumed their responsibilities yet" (Anatolia News Agency, June 7). The prime minister has suggested a joint Turkish-American-Iraqi operation against the PKK as an alternative to a unilateral Turkish offensive. Lately, Erdogan appears to be backing off from a Turkish attack on northern Iraq in favor of dealing with PKK terrorists within Turkey first. The turnabout suggests that the government's tough rhetoric on Iraq was at least partly designed to provoke a U.S.-Iraqi intervention against the PKK. Erdogan continues to face strong public pressure to take action against Kurdish insurgents and terrorists. Protests that he cannot act without receiving an official request from the General Staff do not enhance the prime minister's reputation for decisiveness (Hurriyet, May 26).
If Turkey cannot find satisfaction in its dealings with the United States, a new Turkey-Syria-Russia-Iran axis might emerge to challenge U.S.-Israeli power in the region. With Iran's Revolutionary Guards engaged in fierce fighting with Kurdish militants on the Iranian/north Iraqi border, the Kurdish insurgency is resulting in shared ground for Turkish and Iranian security interests. For the United States, it is important to retain access to Turkey's Incirlik airbase for operations in Iraq as well as any projected attack on nuclear facilities in Iran. As General Buyukanit's "Dark War" diverges from U.S. interests in the Middle East, security relations between these two powerful NATO partners will continue to deteriorate. A U.S.-Turkish confrontation over northern Iraq would have immediate consequences for the entire balance of power in the region.