Mustafa Cemilev Denies Russian Allegations of Crimean Tatars Recruiting Fighters for the Islamic State
Publication: Eurasia Daily Monitor Volume: 12 Issue: 197
By: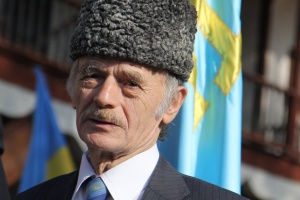 In recent months, a debate arose about the formation of a Muslim Battalion in Ukraine (see EDM, September 5). This was soon followed, in the Russian media, by rumors about the Crimean Tatar leadership's alleged links with the Islamic State (IS). On October 5, 2015, the head of the State Committee of the Crimean government for International Relations and Deported Citizens, Zaur Smirnov, claimed that after the March 2014 Crimean referendum, radical Islamists fled the peninsula and relocated to the Ukrainian mainland, where they immediately started forming local cells to spread their ideology (RIA Novosti, October 9). And just days after Smirnov's comments, on October 9, Crimea's Deputy Prime Minister Ruslan Balbek alleged that the leadership of the Mejlis (the representative body of the Crimean Tatars in Ukraine) had begun recruiting volunteers to join the Islamic State. According to Balbek, the goal was to have these IS militants later return to Ukraine and then join the Ukrainian Muslim Battalion. Once back in Ukraine, these former IS fighters could capitalize on their experience fighting in the Middle East to help the government in Kyiv recapture Crimea. Balbek specifically accused long-time Crimean Tatar leader Mustafa Cemilev of such subversive activities because he is purportedly surrounded by these particular radical groups in mainland Ukraine (Zona.media, October 9).
In an interview with the Crimean news agency QHA, Cemilev denounced all allegations of the Crimean Tatar leadership's recruitment efforts on behalf of the Islamic State. And he denied any plans to benefit from returning IS militants' combat experience in a future Ukrainian Muslim Battalion in order to destabilize Crimea. "These could not be further than the truth. Lies work well in conflicts; one small lie ignites like a small twig, which then spreads like wild fire" he stated (QHA, October 23).
According to Cemilev, in the midst of the Syrian war, a handful of Crimean Tatars were interested in going to Syria, but the Crimean Tatar leadership repeatedly reminded them not to violate Ukrainian laws. "Because the opposition in Syria is made of diverse forces with different ideologies and we do not know who represents what, we reiterated to them that Syria was not their cause and that there was no need to become involved in this war," said Cemilev. "In any case, only a handful of Crimean Tatars—approximately 30, mostly members of Hizb ut-Tahrir [HuT]—went to Syria, but none of them joined ISIS [Islamic State of Iraq and Syria—another common, though former name for the Islamic State]. We know for sure that they are definitely not aligned with ISIS. In fact, they are fighting alongside forces that are opposed to ISIS," Cemilev affirmed (QHA, October 23). It is worth noting that HuT believes in establishing a global Caliphate first and then launching an army, whereas IS is a regional Islamic organization with state-like structures and an already existing army (Idil P. Izmirli, "Fragmented Islam and Inter-Ethnic Conflict in Crimea," George Mason University, January 13, 2013)
When it comes to the Muslim Battalion, Cemilev stated that the idea first came out of conversations with young Crimean Tatars who want to serve in the Ukrainian Army but hesitate to do so because the Army uses pork and pork products in their rations and meals. Second, "there is no Muslim Chaplain/Imam in the Ukrainian Armed Forces, and I doubt that they will hire one for a handful of Crimean Tatar soldiers," Cemilev argued. "There was a need for some sort of a battalion to reinforce Ukrainian presence in the Kherson region and to protect Crimean Tatars who had to move out of Crimea to this region after the annexation. When we brought these issues to the President of Ukraine [Petro Poroshenko], he authorized the formation of a Muslim Battalion within the Ukrainian Army, fully subordinated to the Ukrainian Defense Ministry. Again, this had nothing to do with ISIS or radical Islam," he noted (QHA, October 23).
Over the course of last two weeks, this author carried out her own interviews with individuals in Ukraine. And the vast majority of Crimean Tatars also deny such charges of any connections to the Islamic State. At present, they are solely focused on their peninsular homeland's return to Ukraine and the national territorial autonomy that was promised to them by Foreign Minister Pavlo Klimkin during the Second World Congress of Crimean Tatars (Nv.ua, August 1). Because of their religious affiliation—Islam—however, they believe they inevitably become prey to such rumors aimed to discredit their Crimean Tatar leadership. Russians see the Mejlis gaining greater support and respect not only in Ukraine (on October 13, Cemilev received an award from Mikheil Saakashvili, the governor of Odesa region), but also in Europe and the United States (as illustrated by the several peace medals and grants Cemilev received in the past two years). To discredit Cemilev's reputation and the Crimean Tatar leadership's nonviolent conflict resolution strategies (see EDM, October 2), pro-Russian media invents these types of rumors to construct a space for a directed disinformation campaign. It remains to be seen if this assault of untruths may be a prelude to further crackdowns on Crimean Tatars living under Russian occupation—particularly considering the ongoing economic blockade of the peninsula, spearheaded by the Crimean Tatars themselves.