Nabucco Investment Decision Postponed
Publication: Eurasia Daily Monitor Volume: 6 Issue: 210
By: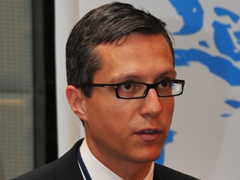 On November 11 the Austrian OMV-led Nabucco management announced that the investment decision on the project will be postponed, from early 2010 to the fourth quarter of that year. There is no clear explanation for this sudden change.
Only seven days earlier, the same Vienna office had sounded confident that the project was advancing on schedule. According to OMV and Nabucco spokesman Christian Dolezal on November 4, "construction work will start in 2011 and, as things now stand, the first gas will flow in 2014" (www.news.Az, November 4). In that spokesman's interview, and also in its newsletter circulated in early November, the Austrian-led Nabucco management mentions "detailed discussions" ongoing with the European Investment Bank (EIB), European Bank for Reconstruction and Development (EBRD), the United States Export-Import Bank (EXIM), and other lending institutions; as well as discussions in prospect with the U.S. International Finance Corporation (IFC), Hermes, and SACE (Nabucco Newsletter, November 2009).
If the level of investor confidence is truly such as to necessitate postponing the decision by one year, the reasons behind this remain unexplained publicly by the project company or by the European Commission, which strongly backs the Nabucco project.
One obvious confidence-undermining factor is Turkey's AKP government, which blocks the westbound route for Azerbaijani gas, the main source of supply for Nabucco's first stage. After almost two years of obstruction, and despite signing the inter-governmental agreement with the European partners in July, Ankara seems entrenched in its refusal to sign a transit agreement for Azerbaijani gas to Europe.
Ankara's position on this issue seems irrational at first sight, given the AKP government's ambition to turn Turkey into an energy transportation corridor on a colossal scale. Its strategy, however, relies mainly on Russia (and, as a more distant prospect, Iran) to fulfill the AKP's grand ambition. Prime Minister Recep Tayyip Erdogan's government is in discussions with the Kremlin on building the South Stream, Blue Stream Two, Samsun-Ceyhan, and other gas and oil pipelines in Turkey or through Turkish waters. Ankara even favors using part of Nabucco's capacity to carry Gazprom's gas to Europe.
Compared with the Russian projects (grandiose on paper), Nabucco with Azerbaijani gas may seem a small currency of exchange to the AKP government. Indeed, the government is using Nabucco as a bargaining chip in the negotiations with the European Union on the Cyprus issue and on Turkish accession to the E.U.
E.U. officials (and some U.S. counterparts) routinely tell the AKP government how crucial its cooperation is to Europe's energy security and other major Western goals. That flattering language does not appear conditional on Ankara's actual performance on Nabucco and other issues. It inspires the AKP government to entertain an exalted view of its importance to Europe and overplay its hand.
Nabucco may indeed look expendable –or a tradable card– to Turkey, and not fully convincing from upstream to downstream, unless clearly integrated into the broader framework of the Southern Corridor project for Central Asian gas to Europe.
Azerbaijan has presciently advocated that integrated Caspian-Central Asian strategy for years. The European Commission has clearly set this policy in its November 2008 communication on energy security strategy. However, this message has not been articulated with the necessary consistency and clarity by E.U. officials and Nabucco project management in recent months. Nabucco's appeal can fade, if promoted as a self-contained project without explicit links to the comprehensive Caspian-Central Asian gas strategy.
The proposed White Stream pipeline on the seabed of the Black Sea is a component of the Southern Corridor plan. White Stream can provide a transportation solution for future Turkmen gas –via Azerbaijan and Georgia– to Europe, circumventing Turkey. It does not rival the Turkish overland transport solution, but can significantly supplement it. E.U. funding for White Stream's feasibility study can signal that gas producer and consumer countries would not be pressured by a Turkish transportation monopoly. Diversification of gas transportation routes is a policy as valid in the Black Sea basin as elsewhere (EDM, October 30).
A deceptive appearance of progress on Gazprom's South Stream has contributed to the recent spell of Nabucco skepticism. Slovenia is about to sign up for South Stream while Croatia is seriously considering the possibility (this would require Russia to enlist local support for ousting Hungarian MOL from Croatia). Routing South Stream through Slovenia would implicitly put Austria under some pressure to join.
All this seems to make Vienna nervous again. On November 11 Chancellor Werner Faymann held talks with Russian Prime Minister Vladimir Putin in Moscow on the possibility of Austria joining South Stream. At the concluding news conference, Putin declared that both Russia and Austria are convinced of South Stream's merits and have agreed to complete an agreement on Austria joining the project (Interfax, NTV, November 11).
On that same day, the Austrian OMV-led Nabucco management surprisingly announced by e-mail to mass media the postponement of an investment decision on the Nabucco project.