Nabucco Pipeline, Azerbaijan's Shah Deniz Field Require Synchronized Development
Publication: Eurasia Daily Monitor Volume: 7 Issue: 164
By: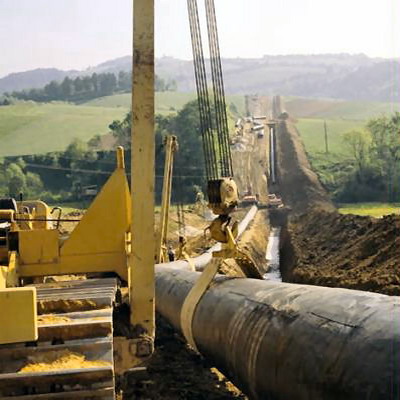 Russia seems to have lost its lobbying battle for South Stream and against Nabucco in Europe (EDM, July 13, 14, August 3). At present, Moscow seeks as a last resort to negate the availability of gas supplies to the Nabucco project in the Caspian basin.
Prime Minister, Vladimir Putin, summed up this official line during the recent Valdai Club meeting in Russia. He claimed that the Nabucco project lacks guaranteed supplies (and Russia would "not contribute any volumes"); that Nabucco cannot fully count on Azerbaijan since the latter has signed a supply agreement with Gazprom; and a dispute over the delimitation of the Caspian seabed would block the transportation of Turkmen gas to Azerbaijan en route to Europe. In their acrimonious tone as well as in content, Putin's remarks sounded like arguments of despair (www.premier.gov.ru, September 6; Interfax, September 7).
Azerbaijan is the existential supply source for the Nabucco project. Russia seeks to increase its imports of Azerbaijani gas to the maximum possible extent, so as to reduce the volumes available to Nabucco. During President Dmitry Medvedev's recent visit to that country, Gazprom signed an agreement to purchase 2 billion cubic meters (bcm) of gas from Azerbaijan's State Oil Company (SOCAR) in 2011 (up from the 0.5 bcm first agreed in October 2009, then 1 bcm during 2010). The agreement, moreover, does not set any quantitative limit on annual deliveries from Azerbaijan to Russia. Also during Medvedev's visit, Gazprom CEO, Aleksei Miller, signaled his readiness to acquire a stake in Phase Two of development at Shah Deniz, the offshore field in Azerbaijan that constitutes the main supply source for the first phase of the Nabucco project (Vedomosti, September 6).
However, Gazprom is falling short of those disruptive goals. Its agreements on gas import from Azerbaijan are valid for one year at a time. Azerbaijan remains free to redirect its gas export volumes from Russia in a westward direction, choosing the most advantageous pricing and transportation terms, as soon as the Nabucco pipeline becomes operational. Russia has no means at present to induce or coerce the Shah Deniz consortium into accepting Gazprom as a stakeholder in Phase Two of development.
That consortium includes BP and Norway's Statoil with stakes of 25.5 percent each; Azerbaijan's SOCAR, Russian Lukoil, French Total, and the National Iranian Oil Company, with stakes of 10 percent each; and Turkish Petroleum with 9 percent. The distribution of votes precludes any possibility that the steering committee would willingly allow Gazprom into the consortium.
Phase Two is envisaged to produce some 16 bcm annually from 2016 onward, at an investment cost of $20 billion for the duration of the project, assuming an investment decision by 2011. These expectations had formed prior to the three major financial institutions' recent announcement about funding the Nabucco project (Massive Funding In Prospect For Nabucco Pipeline Construction, EDM, September 14). That announcement should in turn stimulate the long-awaited investment decision by the Shah Deniz consortium.
Commercial operator Statoil has recently invited potential customers to hold bilateral talks on gas supplies from Shah Deniz Phase Two. The invitees include consortiums and companies involved in three projects: Nabucco, the Interconnector Turkey-Greece-Italy (ITGI), and the Trans-Adriatic Pipeline (TAP, in which Statoil itself is one of the stakeholders, and which runs through the same three countries as ITGI).
The Nabucco consortium expects 8 to 10 bcm of Azeri gas per year for Nabucco's first stage. Azerbaijan counts on Shah Deniz Phase Two to supply the bulk of that volume, opening the way for Turkmen gas in the second stage of the Nabucco project.
These plans, however, could be derailed if the Shah Deniz Phase Two production is broken up among several pipeline projects. Of those three under consideration, only Nabucco at 31 bcm, and bound for Central Europe, has strategic significance, both in its own right and as the mainstay of the EU-planned Southern Corridor. The ITGI and TAP, potential components of the Corridor, are far smaller in their projected capacities, and running toward southern Italy. They are interesting business propositions for the companies involved, but cannot significantly contribute to the diversification of supplies to Europe, unless supplementing a Nabucco that operates at its full projected capacity.
All these potential components of the Southern Corridor (also including the proposed White Stream) are needed to maximize transportation capacity for Central Asian gas to Europe, thus stimulating investments in gas field development. However, these pipeline projects become suboptimal or even redundant if they end up competing against each other, over limited volumes of Azeri gas. The financial institutions' choice to support Nabucco reflects awareness of this project's strategic value.
Putin's latest claims notwithstanding, Turkmenistan is quietly moving closer to a transportation solution for feeding the Nabucco pipeline via Azerbaijan. There is no serious indication that Ashgabat would invoke the disagreement on seabed delimitation to impede a trans-Caspian link. On the contrary, Turkmenistan initiated in early 2010 an East-West pipeline across its territory, from the gas fields in the country's east to the Caspian shore. Planned to carry 30 bcm annually from 2015 onward, this project reflects intentions to sell that volume of gas (in addition to offshore volumes) at Turkmenistan's western border, when a trans-Caspian outlet opens up.
This would not only enable the Nabucco pipeline to operate at maximum capacity, but would also contribute decisively to turning the EU-planned Southern Corridor into a reality. On the other hand, European failure to seize this opportunity would cause Ashgabat to desist from its East-West pipeline project; or redirect those volumes, partly or fully, to Russia (via the northbound Caspian coastal pipeline that Russia proposes to enlarge) or other non-European destinations.
German RWE, Hungarian MOL, and Austrian OMV are Nabucco stakeholders seeking to procure gas volumes from Iraq's Kurdistan Region. Last year, MOL and OMV acquired stakes of 10 percent each in the Pearl Petroleum consortium, which develops gas fields in that region of Iraq. The privately owned, Sharjah-based Dana Gas is the operating company in that consortium.
Last month, RWE signed an agreement with the Kurdish regional government for development of gas deposits and transportation infrastructure. This can open the way for gas supplies from the Kurdish region to Europe via Turkey and the Nabucco pipeline. RWE aims to conclude an agreement on such supplies. Iraq's central government in Baghdad is raising legal and fiscal objections. For their part, Kurdish regional authorities declare that they would share the export revenue with the central government in accordance with national and regional legislation (RWE press release, Dow Jones, August 27; Upstreamonline, August 30).
While volumes, timetables, and other conditions for gas supplies from this part of Iraq are yet to be clarified, it seems that the Kurdish region can contribute significant inputs into the Nabucco project. Last month the consortium decided to proceed with construction of two feeder lines on Turkish territory: one from the Georgian border and the other from the Iraqi border, for gas supplies originating in the Caspian basin and in Iraq's Kurdistan region, respectively. Thus, the Nabucco project's supply outlook is taking a more definite shape, along with the funding outlook.