Nalyvaychenko Becomes Ukrainian Security Chief After Two Years in Legal Limbo
Publication: Eurasia Daily Monitor Volume: 6 Issue: 47
By: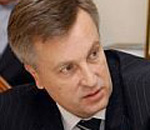 The Ukrainian parliament on March 6 approved President Viktor Yushchenko's nomination for Security Service of Ukraine (SBU) chief, Valentyn Nalyvaychenko. Yushchenko's choice was backed by 230 votes in the 450-seat unicameral body. Nalyvaychenko was supported by a coalition of Prime Minister Yulia Tymoshenko's bloc (BYT), Parliament Speaker Volodymyr Lytvyn's bloc, and the pro-Tymoshenko wing of Our Ukraine-People's Self-Defense (NUNS), as well as its pro-Yushchenko wing (Ukrainska Pravda, March 6).
This was a surprise vote decided by the BYT, which changed its mind overnight after threatening to reject Nalyvaychenko. He had been rejected by parliament several times in the past; but since Yushchenko was adamant, Nalyvaychenko headed the SBU as acting chief since December 2006 when parliament approved the dismissal of his predecessor, Ihor Drizhchany. It was probably Nalyvaychenko's unclear status that made him especially loyal to Yushchenko who could have dismissed him as acting chief of the SBU at any time, without consulting either Tymoshenko or parliament.
Unlike his predecessor Leonid Kuchma, who had all the law-enforcement agencies under his control, Yushchenko, weakened by the constitutional reform of 2004-2006, can rely only on the SBU. The police are supervised by Tymoshenko's ally Interior Minister Yury Lutsenko, while Prosecutor General Oleksandr Medvedko and especially his deputies gravitate toward the Party of Regions. In addition, the Supreme Court is chaired by Vasyl Onopenko, another Tymoshenko ally.
By legitimizing Nalyvaychenko's status, Tymoshenko should make him more institutionally independent from Yushchenko. It is interesting that Yushchenko withdrew Nalyvaychenko's nomination on January 18 after submitting it to parliament on January 16 (UNIAN, March 5). First Deputy Prime Minister Oleksandr Turchynov, who is Tymoshenko's right-hand man, opined that Yushchenko had recalled the nomination "in order to have a powerless person and not to have an officially appointed head of the SBU, as the SBU head should be appointed and dismissed by parliament" (Ukrainska Pravda, March 4).
Yushchenko submitted Nalyvaychenko's nomination again on March 5, a day after the SBU had stormed the premises of the Naftohaz Ukrainy national oil and gas company and arrested customs official Taras Shepitko for giving Naftohaz customs clearing for gas that had earlier belonged to RosUkrEnergo. Tymoshenko protested against the arrest and the search, which she alleged were organized to defend the interests of RosUkrEnergo's co-owner Dmytro Firtash (Interfax-Ukraine, March 4; see EDM, March 6). Russia's Gazprom, which owns 50 percent of RosUkrEnergo's shares, authorized Naftohaz to take that gas from underground storage facilities in lieu of payment for gas transit in 2009, according to Tymoshenko. Firtash, however, insists that the gas belongs to RosUkrEnergo and is destined for consumers in the European Union. President Yushchenko backed the SBU's actions.
The raid on Naftohaz was apparently conducted when Nalyvaychenko was away from Kyiv. It was supervised by first deputy SBU chief Valery Khoroshkovskyi, an opponent of Tymoshenko's and reportedly a partner of Firtash in the media business. Simultaneously with approving Nalyvaychenko, parliament passed a motion urging Yushchenko to dismiss Khoroshkovskyi for the raid and for arresting Shepitko (Interfax-Ukraine, March 6). Shepitko was later released, and the BYT explained its support for Nalyvaychenko's nomination by the role he apparently played in Shepitko's release (Ukrainski Novyny, March 6).
BYT caucus leader Ivan Kyrylenko said, "We gave Nalyvaychenko a chance, and we believe that as the legitimate head of the SBU he will be fully controlled by and report to parliament." NUNS deputy Yury Karmazin offered a different explanation for the BYT's change of heart. According to Karmazin, Yushchenko was considering appointing Khoroshkovskyi as acting SBU chief instead of Nalyvaychenko, so by appointing Nalyvaychenko parliament prevented the appointment of a hard-liner (Delo, March 10). Another NUNS deputy, Ksenia Lyapyna, an ally of Yushchenko's, suggested that the BYT had changed its mind about Nalyvaychenko because during its search at Naftohaz the SBU apparently found certain documents compromising Tymoshenko's government (www.liga.net, March 6).
It has been made clear to Nalyvaychenko that he could lose his post if he does not distance himself from Yushchenko. In addition to requesting that Nalyvaychenko dismiss Khoroshkovskyi, parliament also advised him to change his personnel policy in general (Ukrainska Pravda, March 6). Oleksandr Skybynetsky, a former SBU deputy chief and current BYT deputy, gave more specific advice, saying that Nalyvaychenko should hire people from the BYT. Nalyvaychenko is expected to report on his personnel policy on March 17, and it is not ruled out that parliament will dismiss him immediately if he does not heed Skybynetsky's recommendation (Delo, March 10). The BYT is already prepared for that. Just several hours after his appointment, four BYT deputies who ostentatiously did not vote for Nalyvaychenko submitted a motion to parliament calling for his dismissal (Ukrainska Pravda, March 6).
Before coming to the SBU, Nalyvaychenko had been a diplomat. He served at the Ukrainian Embassy to Finland in the mid-1990s, was Consul-General in Washington, D.C., from 2001 to 2003, and then served as Ambassador to Belarus. It is interesting that in his official biography Nalyvaychenko does not mention the fact that he graduated from the KGB school in Moscow in the early 1990s (Ukrainska Pravda, March 6; Segodnya, March 10). Speaking in an interview with Ukrainska Pravda on February 17, he admitted to having been "the last Ukrainian to be trained there."