National People's Congress: Premier Li Keqiang Sidesteps Xi's Economic Approach, Focuses on Reviving Modest Growth
Publication: China Brief Volume: 23 Issue: 5
By: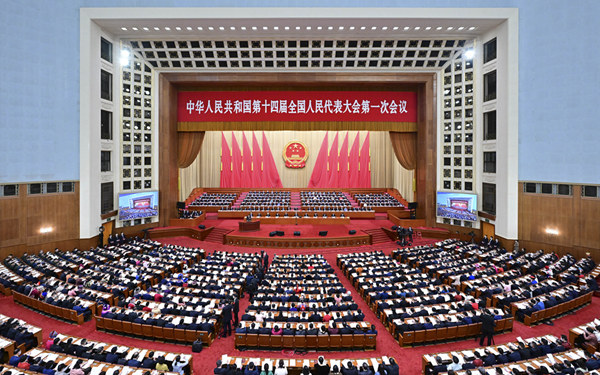 On Sunday, Premier Li Keqiang presented his final Government Work Report (Report) to the National People's Congress (NPC) laying out broad economic goals while largely steering clear of President Xi Jinping's quasi-Maoist approach to the economy (People's Daily, March 5). As he prepares to retire after a decade as premier, Li Keqiang set a relatively realistic target of "around 5 percent" GDP growth for this year. The leader of the now-decimated Communist Youth League faction of the Chinese Communist Party (CCP), however, has failed to provide convincing evidence that even relatively modest improvements in consumer spending, foreign investment, infrastructure and real estate investment could be attained.
Push to Revive Foreign Investment, Domestic Consumption  
Li has, however, demonstrated an eagerness to reassure multinational businesses and investors and has largely steered clear of the quasi-Maoist concepts advocated by President Xi during last October's 20th Party Congress and subsequent Politburo meetings (China Brief, October 24, 2022). The most significant point raised by Premier Li reflected relatively moderate cadres' anxiety to lure back multinational firms and factories that are leaving the People's Republic of China (PRC) for neighboring countries such as Vietnam, Thailand, Bangladesh and Sri Lanka.
Li claimed that China would up the ante in "intensifying efforts to attract [and] utilize foreign investment" (NPC, March 5; People's Daily, March 5). He cited the 21 free trade zones that the PRC has opened since 2020. However, earlier pledges about special dispensations for multinationals based in these zones—such as fewer constraints on capital-account movements in and out of the country—have not been honored. Nor did Li mention additional business incentives for foreign investment in his Report.
As domestic consumption has now become the most important locomotive of growth, Li pulled out all the stops to encourage China's 400 million-strong middle class to spend more on new apartments, electric cars and other big-ticket items. However, both land and apartment sales have hit record lows since early 2022 (Caixin Global, July 7, 2022). Although banks have been instructed to lend more money to overleveraged conglomerates such as Evergrande, the funds would mostly be used to complete unfinished apartments that have already been sold. After all, Li reminded all debt-ridden sectors and companies that "financial hazards and instability" must be avoided. While the official central government deficit is just 3 percent of GDP—a rate that will be maintained this year— the "total social debt" sustained by different levels of government, state and private-sector firms as well, as households, has exceeded 300 percent of GDP since 2020 (Nikkei Asia, December 7, 2022; South China Morning Post [SCMP], May 19, 2020).
Moreover, consumers are also reluctant to spend due to poor social welfare and medical benefits, the full extent of which was exposed during the three-year anti-pandemic campaign. Last month, some 10,000 senior citizens in several cities organized demonstrations in frustration over their monthly health-insurance payouts being cut in half (New York Times Chinese Edition, February 24; BBC Chinese, February 21). The official media has disclosed that in ten years' time, the government's pension payment deficit alone could reach 10 trillion yuan [about $1.44 trillion] (Netease, August 15, 2022). While Li committed to raising social security funds, he merely mentioned that the population covered by old-age government benefits had reached 1.05 billion as of last year (Xinhua, January 22).
Innovation Nation?
In the area of manufacturing, Li reiterated the PRC's prioritization of "indigenous innovation" in cutting-edge technology, particularly in view of the need to reduce dependence on foreign countries for key components such as microchips. Although state media has boasted that R&D spending in China exceeds three trillion yuan (about $433 billion), rendering the country second only to the U.S. in scientific and technological research (People's Daily, February 24; Gov.cn, January 23), Li offered no concrete details on how the PRC plans to weather sanctions imposed by the U.S. and its European and Asian allies that limit the export of advanced technologies to Chinese firms.
Li reiterated the government's support for non-state-owned firms, particularly those in the advanced technology sectors. "[The government] will push forward the healthy development on private-sector enterprises, and abolish different types of hidden barriers … so as to uphold the legal rights of entrepreneurs," the Report said. Yet the outgoing head of government has made no guarantees that the recent crackdown on private conglomerates will be halted. The Xi Jinping administration has levied heavy fines on technology giants for "monopolistic and anti-market" behavior. Several bosses of big financial and tech firms, such as Bao Fan, Chairman of the investment bank China Renaissance have recently been hauled away for investigation over questionable deals (Asia Financial, February 28; Cn.baaghitv.com, February 17).
In view of the relatively large number of labor and other social disturbances in the country, Li emphasized the importance of "development with security" in his report. A key economic goal is to reduce unemployment. Li pledged that around 12 million new jobs would be created in the cities this year. The Report, however, admitted that in 2022, unemployment benefits were extended to more than 10 million people and that 67 million "members of low-income groups" received unspecified "price subsidies." As unemployment among the key, age 16-24 demographic rose to 17.3 percent in January, compared to 16.7 percent a month earlier, the goal of reducing the jobless rate is daunting (Ceicdata.com, March 1; Statista.com, January 17).
Continuing Emphasis on Security
The part of Li's Report that touches on international affairs seemed geared toward reassuring the U.S. and its allies that China would tamp down its "wolf warrior" diplomacy. No provocative statements were made against either the U.S. or other long-standing competitors such as Japan. Li reiterated the government's determination to forge a "community of common destiny." It was also revealed at the NPC that the official budget for the People's Liberation Army (PLA) is just over 1.5 trillion yuan (approximately $216 billion), which is a relatively modest 7.2 percent year-on-year increase (There is general agreement among Western military analysts that a substantial discrepancy exists between actual PLA spending and the budget unveiled at each year's NPC) (SCMP, March 5; Economic Times, March 5). At the same time, official Chinese media have enthusiastically reported on U.S. Secretary of Commerce Gina Raimondo possibly visiting Beijing soon (Global Times, March 4; The Paper, March 3). It was equally significant that the Report's Taiwan section included no new threats of military aggression. Premier Li warned that resolute measures would be taken to oppose "Taiwan independence, but emphasized "advancing economic and cultural exchanges and cooperation [and] improving systems and policies that contribute to our Taiwan compatriots."
Despite the Report's almost complete omission of Xi's favorite economic and political precepts such as "internal circulation," "self-reliance," "waging struggle" and implementing a "new development pattern," Li stated the imperative of heeding the instructions of "party core" Xi as well as Xi Jinping Thought on Socialism with Chinese Characteristics for a New Era more than a dozen times. This appears to anticipate another major theme of this year's NPC and the Chinese People's Political Consultative Conference, which is a momentous restructuring of the central CCP and government units, wherein party organs absorb more central government functions with President Xi arrogating unprecedented powers to himself.
In the run-up to the NPC, widespread rumors circulated in the Hong Kong media that the Ministry of Public Security and the Ministry of State Security, as well as other intelligence and anti-terrorism units previously under the central government apparatus, could be folded into a newly created CCP unit called the Zhongyang neiwuweiyuanhui;中央内务委员会 (Central Commission for Internal Affairs) (Radio Free Asia, February 23; Ming Pao, February 23). Although this all-powerful, KGB-like surveillance and policing agency has not materialized, the newly published State Council restructuring plan includes the creation of a National Data Bureau that would centralize control of the CCP's vast collection of data, including the personal information that consumers have provided to private IT and fintech conglomerates, thereby further enhancing the government's capacity for surveillance and monitoring of the citizenry. Also significant in the State Council overhaul is plans for the creation of a Zhongyang kejiweiyuanhui; 中央科技委员会(Central Science and Technology Commission; CSTC) within the party apparatus to centralize the CCP's leadership over indigenous innovation in key tech fields. The Central Government's Ministry of Science and Technology (MOST) will be reorganized to become the implementation arm for implementing decisions made by the CSTC (Xinhua, March 7; China Daily, March 7). Other restructuring of governmental units includes the establishment of a National Financial Regulatory Commission, which would broaden and strengthen the supervisory functions of the China Banking and Insurance Regulatory Commission and the China Security Regulatory Commission. These two existing regulatory bodies are expected to be either phased out or reduced in importance later this year (Xinhua, March 8).
Conclusion
These efforts to further enhance party and government oversight over tech and IT firms, as well as the flow of state and private capital into companies ranging from logistics concerns to property developers, seem to go against Premier Li Keqiang's famous advocacy for decreasing party and state dominance over the economy (SCIO.gov.cn, June 26, 2019; Xinhua, March 15, 2017). However, this NPC session will witness the departure of relatively reform-minded and Western-educated cadres —and the ascendency of party apparatchiks who have earned President Xi's total trust. Nevertheless, Xi's cronies, who dominate both the Politburo and the Politburo Standing Committee, which is China's highest de facto decision-making body, seemingly did not provide much input into either the economic programs outlined in the Report or the small-group deliberations within the NPC. Since his emergence as number two in the party hierarchy and premier-designate last October, former Shanghai Party Secretary Li Qiang has remained largely quiet on financial and economic matters, which are the primary responsibilities of the head of the State Council or Central Government.
There are worries about whether Xi's new incoming economic team, which includes He Lifeng, the vice premier-designate in charge of finance, as well as the likely new governor of the People's Bank of China (PBoC), veteran banker Zhu Hexin, is sufficiently competent to manage complex monetary and fiscal policies as well as international economics (Centralbanking.com, February 24; SCMP, February 1). After all, the outgoing vice-premier in charge of finance Liu He and retiring PBoC Governor Yi Gang both spent years studying in the U.S. and are experts on issues such as international finance. He, a long-time apparatchik in Fujian Province who has enjoyed a long working relationship with Xi, will also be in charge of handling potentially nettlesome trade negotiations with the U.S. Although some have argued that vesting overwhelming authority in President Xi could expedite decision-making and policy implementation, doubts remain as to whether the new team can rise to the challenge of tackling the severe and multifarious problems that now face China.
Dr. Willy Wo-Lap Lam is a Senior Fellow at The Jamestown Foundation and a regular contributor to China Brief. He is an Adjunct Professor in the History Department and Master's Program in Global Political Economy at the Chinese University of Hong Kong. He is the author of six books on China, including Chinese Politics in the Era of Xi Jinping (2015). His latest book, The Fight for China's Future, was released by Routledge Publishing in 2020.
Editor's Note: This article was updated on March 8 to reflect the State Council restructuring plan introduced at the NPC on the same day.