NATO CREATES CYBER DEFENSE CENTER IN ESTONIA
Publication: Eurasia Daily Monitor Volume: 5 Issue: 93
By: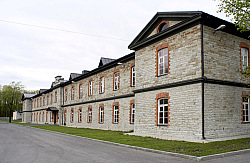 On May 15 in Brussels, top military commanders from seven NATO countries and the Allied Command Transformation signed an agreement to create a Cooperative Cyber Defense Center. The center is to be located in Tallinn as an acknowledgement of Estonia's role in launching this initiative a year ago.
The armed forces' commanders of Estonia, Latvia, Lithuania, the inspector general of Germany's armed forces, and the chiefs of staff of Italy, Spain, and Slovakia, as well as U.S. General James Mattis, Supreme Allied Commander of Transformation, signed the agreement. A number of other NATO member countries are expected to join the center in the coming months.
The center will conduct research and training on cyber warfare, develop NATO standards and capabilities for cyber defense, and provide expert advice on a regular basis as well as in emergencies. It shall reach full operational capability in the second half of 2008 with a staff of 30, half of them from the founding countries and half from other NATO member countries. Staffing is expected to increase when other allied countries join the center.
Estonia is among the leading European countries in terms of Internet usage on the private and public levels, including e-governance. The country was targeted by massive cyber attacks in late April and early May 2007, when local Russian youth gangs rampaged through Tallinn and other Estonian towns. Ostensibly provoked by the Estonian government's decision to transfer a Soviet Army monument from downtown Tallinn to a cemetery out of town, the riots were openly encouraged by Russian state television channels, while cyber attacks wrought havoc on Estonia's Internet systems. Most of those attacks were traced to servers in Russia, including servers used by the presidential administration there, while some attacks were blamed on unidentified though sophisticated hackers (see EDM, April 27, May 1, 2, 3, 7, 8).
Estonia had proposed the creation of a "cyber excellence center" in Tallinn as far back as 2003, prior to the country's official accession to NATO. The alliance's summit in November 2006 in Riga listed possible cyber attacks among the asymmetric threats to the common security and acknowledged the need for programs to protect information systems over the long term. The cyber attacks on Estonia in 2007 highlighted for the first time the potential vulnerability of NATO countries, their institutions and societies, and even NATO itself to disruption or penetration of their information and communications systems.
Estonia's proposals for a NATO cyber excellence center received strong support from the alliance's Secretary-General "Jaap" de Hoop Scheffer. NATO completed an assessment of the situation, partly in light of Estonia's experience, in October 2007, and approved a NATO policy on cyber defense in January 2008. NATO's summit communiqué in Bucharest in April announced NATO's readiness to "provide a capability to assist allied nations, upon request, to counter a cyber attack" (Summit press release, April 4).
Those steps led directly to the agreements just signed on establishing the Cyber Defense Center in Tallinn. The goal of NATO policy and the center is to assist allied countries as needed in protecting their critical communication and information networks. Such assistance and protection will extend to public and non-encrypted networks as well as to encrypted ones. The center will promote the sharing of the best practices in this area throughout NATO, so as to avoid duplication or fragmentation of national efforts in this regard.
Prior to the attacks on Estonia, the alliance was protecting NATO's own, encrypted systems against possible cyber attacks. It launched a NATO Cyber Defense Program at the alliance's Prague summit in 2002 and created a two-phased NATO Computer Incident Response Capability, which has since then been brought to full operational capability. This Capability plays a central role in responding to any cyber aggression against the alliance. In early 2008 NATO's Military Committee agreed on a Cyber Defense Concept and created a Cyber Defense Management Authority, for protection across all NATO systems. In addition, this authority can support any NATO country at its request to defend against cyber attacks.
The Cyber Defense Center in Tallinn is one of 10 accredited Excellence Centers for training on technically sophisticated aspects of NATO operations. Funded nationally or multi-nationally, these centers are closely linked with Allied Command Transformation and promote the alliance-approved transformation goals (BNS, May 14; www.act.nato.int, www.nato/issues/cyber_defense, accessed April 15; EDM, April 27, May 1, 2, 3, 7, 8).