NATO's Steadfast Jazz 2013 Exercise: One Step Toward Fully Credible Common Defense in the Baltic Region
Publication: Eurasia Daily Monitor Volume: 10 Issue: 203
By: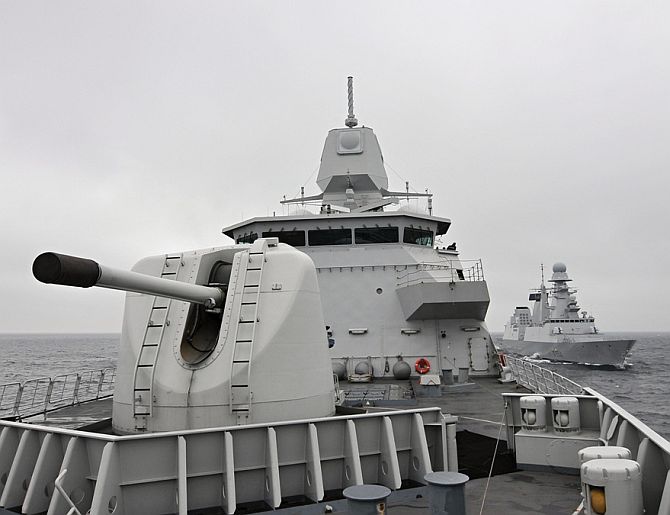 Steadfast Jazz 2013, the North Atlantic Treaty Organization's (NATO) exercise just held in the three Baltic States and Poland (see accompanying article), marks the start of rebalancing the Alliance's missions: from an disproportionate concentration on distant, low-intensity though resource-absorbing, and politically ineffective wars (epitomized by those in Afghanistan and Libya), NATO is now refocusing on its core task of guaranteeing the common defense of its member countries. That core task must involve realistic exercises on NATO territory.
The exercise, held from November 2 to November 9 under an Article Five scenario (repelling a conventional-force aggression from the northeast) has helped to fully reassure Poland and the Baltic States of NATO's readiness to defend their territories in any contingency. The governments and militaries of Estonia, Latvia and Lithuania are duly appreciative of the value of this type of exercise being held for the first time in the Baltic States. Their participation in the ten-year-long Afghanistan mission from beginning to end has earned them an extra title to consideration of the requirements for defense of their territories as part of NATO.
In the wake of Steadfast Jazz 2013, multiple official statements from Tallinn, Riga and Vilnius highlight the following points: the holding of this exercise shows NATO's resolve to prepare realistically for the defense of its entire territory; it demonstrates the Alliance's commitment to defend the three Baltic States and Poland against any external threat; it confirms the Baltic States' full integration into the Alliance; it adds more credibility to NATO's security guarantees in the event of an aggression, and it substantiates confidence in those guarantees in the Baltic region.
At the same time, the three Baltic governments underscore that this region does not constitute a singular case in terms of challenges and potential threats to security in the NATO area. Neither does the Alliance singularize the Baltic region in such terms. NATO is committed to guaranteeing the security of all member countries and it plans to hold realistic exercises in various parts of the NATO area, e.g., on the Iberian peninsula next year (BNS, November 2–11).
On NATO's behalf, Secretary-General Anders Fogh Rasmussen declared during the exercise just held that its message is twofold: it signals to "any country with bad intentions" that NATO is ready to defend its member states in the Baltic region, and it reassures these member states by the same token that they will be defended in any contingency. Rasmussen carefully remarked that Steadfast Jazz 2013 was not a response to the Zapad 2013 exercises, held in September by Russia and Belarus in the vicinity of the Baltic States. According to Rasmussen, both Zapad and Steadfast Jazz were attended by invited observers from the other side. Such transparency is important, and NATO will discuss further transparency measures with Russia in the NATO-Russia Council (nato.int, BNS, November 6, 7).
For all its positive effects and corresponding reception in the Baltic region, Steadfast Jazz 2013 displayed certain shortfalls that need to be addressed in a follow-up process by the NATO Response Force (NRF) and the Alliance writ large.
NATO's biggest militaries sent only token personnel and hardware to this NRF exercise. A detailed, country-by-country breakdown of the 6,000 participating troops cannot easily be ascertained. But according to some NATO sources, the United States sent only 160 troops; the United Kingdom one mine-hunting vessel; and Germany one mine-hunting vessel, two helicopters and one transport plane with a total of 55 troops (https://www.bundeswehr-journal.de/2013/gewachsene-verteidigungsgemeinschaft-uebt-fuer-die-zukunft-steadfast-jazz-2013/). France, which is scheduled to command the NRF's land component in 2014, sent more than 1,000 troops to this exercise; and host country Poland provided by far the largest share of troops, vessels and planes. A more balanced breakdown and more significant contributions from NATO's strongest militaries would have increased the value of this exercise.
In Steadfast Jazz 2013, Poland hosted the troop exercises including the live-fire phase, while Latvia hosted the command post exercise; and all three Baltic States hosted the logistical exercise, similarly at the staff level. NATO will need to dispel any notion that the Baltic States are out of bounds for full-fledged troop exercises. The imbalances in troop contributions by Allies and troop presence in the host countries during this year's exercise can be rectified in follow-up iterations.
The Baltic States and Poland have long called for a more entrenched, more visible NATO presence in this region. This can take the form of holding joint exercises on realistic scenarios on a regular basis, as well as pre-positioning military equipment for use in exercises and in any contingencies. Steadfast Jazz 2013 ought to mark the start of a continuous process.
NATO maintains an air policing mission consisting of a total of four interceptor planes, stationed at Zokniai airport in Lithuania and covering all three Baltic States (their air space is NATO air space). Allied countries take turns at four-month intervals providing the four fighter planes and the crews. The three Baltic States have no air forces of their own, but they contribute to the costs of NATO's air policing mission. Meanwhile, Estonia has modernized its Amari airport and proposes a rotational arrangement between Zokniai and Amari. This situation has led to some unnecessary controversy, which could easily be avoided by adding a few interceptor planes to NATO's air policing mission and using both airports. Surely NATO Allies could muster more than four interceptors for this air policing mission, particularly considering recent intrusions of Russian military planes into the air space of neighboring countries in the Baltic region.