Nazarbayev Signals Kazakhstan's OSCE Priorities
Publication: Eurasia Daily Monitor Volume: 6 Issue: 100
By: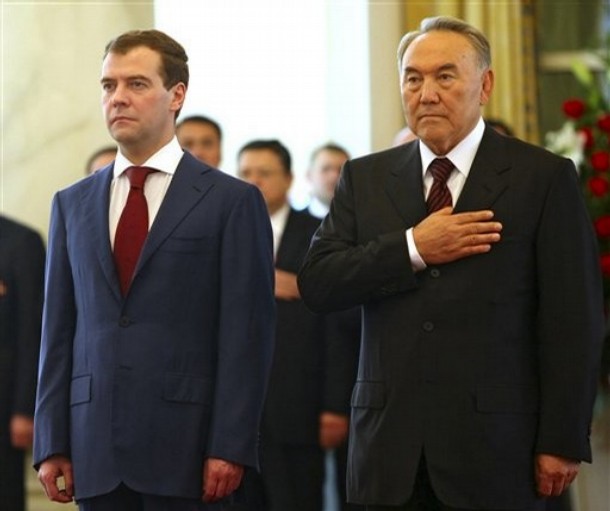 On May 21 Kazakhstan's President Nursultan Nazarbayev characterized the country's forthcoming chairmanship of the Organization for Security and Cooperation in Europe (OSCE) as a vital part of its interest in pursuing integration with Europe. Having entered the OSCE troika this year (alongside Finland and Greece), preparations are now well advanced for chairing the organization. However, the assertion that the underlying emphasis is pro-European might be the clearest indication yet that the country plans to deepen its Western emphasis within its strategic planning. Astana wants to be regarded as a reliable and stable energy provider to Europe. "Consistently carrying out political, social and economic reforms, our country is actively developing mutually beneficial cooperation with the European Union. Kazakhstan's application for the OSCE presidency has been determined exactly by the choice for further integration with Europe," Nazarbayev stated (Interfax, May 21).
In the context of the global financial crisis, he explained that "new approaches" were required to deal with promoting the understand between East and West, strengthening security, highlighting the need to further enhance the key areas of the OSCE's mission (humanitarian, economic and environmental as well as the political-military spheres). His statement to the parliament in Astana linked these ideas to his "Path to Europe" road-map for Kazakhstan's OSCE chairmanship.
The parliamentary speaker Kasymzhomart Tokayev, underscored this approach, saying that Astana favored a "step-by-step" transformation of the organization's activities. "Kazakhstan sees the OSCE presidency as a good opportunity to give a new breath to collaboration between the OSCE member countries on a wide range of issues," he suggested. The country will prioritize combating terrorism, drug and human trafficking, arms smuggling and contribute actively to the re-building of Afghanistan. Tokayev also repudiated the idea that new dividing lines are emerging within Eurasia, unequivocally asserting that the Kazakh government wants this vast area to be denoted by competition, strong security and economic prosperity. He reaffirmed that Kazakhstan will prove to be a reliable energy partner for Europe, noting that this aspect of cooperation remains a significant factor in binding together their long-term interests. He further highlighted that Nazarbayev favored drafting a Eurasian treaty on sustainable energy supplies (Interfax, May 21).
While Nazarbayev's statement was given to the parliament, Russian Prime Minister Vladimir Putin held extensive talks in Astana with his Kazakh counterpart Karim Masimov. The talks examined ways of countering the negative impact of the global economic crisis, including mechanisms on joint action. Putin explained that both sides agreed to enhance their cooperation based on the set of measures outlined in the joint action plans for 2009-10. This includes joint research and space exploration, energy sector as well as military and security cooperation (ITAR-TASS, May 21).
Masimov told Putin that Astana is particularly proud of the high levels of bilateral trade, which have reached approximately $20 billion annually. Putin told a press conference following the meeting that he was in no doubt about the strength and durability of the strategic partnership. He admitted that there were problems, but both countries had developed especially close relations within the areas of energy and space exploration. A total of six bilateral agreements were signed, ranging from transportation to plans to launch a Kazakh communications satellite (KazSat-2), after the first effort had failed in 2008 (ITAR-TASS, May 21).
One of the main topics on the agenda related to the detail on forming a customs union between Russia, Kazakhstan and Belarus. "We believe that we must use to the maximum the benefits and potential of integration to increase our joint investment and trade projects," Putin said. The prime ministers of Belarus, Kazakhstan and Russia will meet in Moscow on June 9 to further discuss the creation of the customs union (ITAR-TASS, May 21).
Putin referred to Kazakhstan as one of Russia's key economic partners. In 2008 trade between the two countries increased by around 19 percent compared with 2007, reaching $19.7 billion, he said. This year bilateral trade is expected to exceed $20 billion. The overall current level of Russian investment in the Kazakh economy exceeds $7 billion. Putin also discussed measures to enhance counter-terrorism, combat drug trafficking and resolve regional and international issues. In this context he suggested that their cooperation will markedly increase. It also appears that Kazakhstan's forthcoming chairmanship of the OSCE is on Putin's mind: "Good opportunities for joint actions will come in 2010 when Russia chairs the CIS and Kazakhstan the OSCE," he said (Interfax, ITAR-TASS, May 21).
Arguably, Moscow perceives Kazakhstan's influential position within the OSCE as an opportunity to further its own agenda, while Astana is free to conduct "pro-Western" policies. This complexity reflects the genuine strength of their existing strategic partnership. For instance, senior officers within Kazakhstan' armed forces told Jamestown that they felt "proud for Russia" over its military operation in Georgia in August 2008, arguing that had they not responded as they did the country might have been internationally humiliated. Nevertheless, while these views are welcome in Russia, the Kazakh government has avoided openly supporting Moscow's unilateral recognition of the "independence" of Abkhazia or South Ossetia. Defense Minister Daniyal Akhmetov maintains monthly contact with his Russian counterpart Anatoliy Serdyukov -another indication of the defense and security relationship between Russia and Kazakhstan being the closest within the former Soviet Union. However, the security thinking within the Russian elite, encapsulated in Putin's linkage of Russia chairing the CIS, while Kazakhstan does so within the OSCE, avoids viewing these developments as distinct -either from their close bilateral relationship or from the customs union currently in formation.
As Nazarbayev balances these conflicting and challenging factors, it is evident that he believes the OSCE to be a means through which the country will achieve greater European integration. The highly ambitious nature of the Kazakh ruling elite might be best understood by comparing the "Path to Europe" initiative with Peter the Great and his foundation of St. Petersburg as a "window on Europe."