NDN 'Reverse Transit,' Uzbekistan and the Failure of Western Grand Strategy (Part One)
Publication: Eurasia Daily Monitor Volume: 10 Issue: 56
By: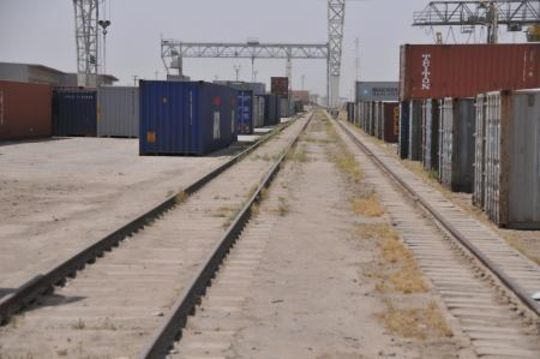 Over the past several years, countries participating in the International Security Assistance Force (ISAF) in Afghanistan diversified their air and ground lines of communications (LOCs) to transport mostly non-lethal equipment and supplies to Afghanistan through the Northern Distribution Network (NDN). Since then, individual North Atlantic Treaty Organization (NATO) members and Central Asian governments have been advancing their own visions of how this may benefit the local economies. The United States has gone so far as to link the NDN to the idea of creating a Modern Silk Road. Washington argues that the spins-offs from shipping supplies by air and overland bulk containers to NATO forces in Afghanistan via the NDN will inevitably stimulate a myriad of commercial breakthroughs, contributing to a natural economic integration of Central Asia with world markets. These aspirations and high ideals have thus far failed to meet local expectations or lay the basis for future economic prosperity as a knock-on impact from the NDN (see EDM, February 1; June 5, 2012).
NDN dynamics have raised the profile of some of the Central Asian states over others among Western governmental planning staffs concerned with finding cost-effective alternatives to the Pakistan supply route (PAKLOC). Arguably the "strategic" imperative for the NDN was linked to the initial strain on the PAKLOC from Taliban attacks and increasingly troubled US-Pakistani ties. However the Barack Obama administration's policy to surge forces in Afghanistan by 30,000 drove not only the search for a viable NDN but also the "reset" policy with Russia; Washington understood that Russian cooperation would be vital in securing overland transit from the Baltic Sea ports to Afghanistan through Central Asia. These NDN routes also placed Uzbekistan at the heart of this process. While a Kazakhstan-Kyrgyzstan-Tajikistan (KKT) spur is an important segment of the NDN, it remains closed during winter and the vast bulk of shipments pass overland through Uzbekistan, reaching Afghanistan via Termez (Connections, Summer, 2011).
NDN trans-shipments to Afghanistan were furthered since 2009 by two additional factors: the vision in Washington of populating Central Asia with transportation hubs that would interconnect the region and help realize its grand scheme to foster a Modern Silk Road, as well as increasing the volume of local purchases to facilitate this process and bolster local trade. Although the US Congress and the Department of Defense (DoD) actively encouraged local sourcing for some products using the NDN, the facts indicate that all parties are disappointed by underperformance (http://www.opensocietyfoundations.org/sites/default/files/new-silk-road-northern-distribution-network-20121019.pdf).
The NDN also ran a spur through the South Caucasus, and consequently, while the sums spent on local purchases spiked, Uzbekistan had to compete with alternative suppliers. According to a report in 2011, of the $40 million Washington had spent on local goods since 2010 using the NDN, 51 percent was purchased in Kazakhstan, 39 percent in Georgia and only 9 percent in Uzbekistan (US Senate Committee on Foreign Relations, December 19, 2011). Uzbekistani officials could not conceal their disappointment at the apparent inconsistency of the country's strategic importance within the NDN and a relatively low economic dividend.
This reality, in fact, is rooted in purchasing preferences in Washington; DoD payments for goods including construction materials or office supplies are concluded on delivery, whereas Uzbekistani companies insist on payment on order. Consequently, to date Uzbekistan has reaped a minimal economic harvest from the NDN, and the US planners' dreams of an economic boom based upon flourishing roadside shops, restaurants and other outlets springing up in the wake of the NDN fell victim to local bribery, corruption and a predictable tale of kickbacks (CSIS, Washington, October 24, 2012).
Today, a crucial factor for Western planners is the ability to use the NDN as the preferred route to facilitate the huge logistical effort involved in the withdrawal of military hardware and equipment from Afghanistan. But the main deciding issue will be simply how cost-effective the route proves compared to alternative trans-shipment methods for bulk containers. One illustration of the cost-efficiency driver in NDN reverse-transit planning relates to the NATO logistical hub in Ulyanovsk, Russia. Defense experts told The Moscow Times in February 2013 that shipping a container from Afghanistan through Ulyanovsk costs 50,000 euros ($64,000), while dispatching the same load via Termez costs only 30,000 euros ($38,500) (The Moscow Times, February 21).
NATO is not planning or conducting a complete withdrawal of military forces from Afghanistan; the drawdown is geared toward marking a transition from combat operations requiring larger force deployments in ISAF to a training-based mission and reducing the total NATO forces to up to 12,000. By December 2012, the 28 NATO members and eight partner countries agreed to support the post-2014 NATO role in Afghanistan (Pajhwok Afghan News, December 5, 2012). These forces would complete the transition to NATO's role change in Afghanistan being mainly one of security assistance training and capacity building. Individual North Atlantic alliance members are likely to deploy special forces and air power assets to boost the anti-terrorist capabilities of the Afghan National Army and Police. An additional issue that frequently seems unclear in some reporting on the NDN and reverse-transit arrangements stems from whether military hardware is included in such movements. In fact, military hardware is to be sent through the NDN with the caveat that hardware such as armored personnel carriers have their guns removed, etc., prior to sending the shell through the NDN (author discussions with NATO officials).
Washington had hoped to use the NDN to boost local economies and promote regional integration. However, these plans were derailed by the realities of the Central Asian governments' corrupt ties to domestic traders and a panoply of regime enrichment schemes. Moreover, the aspiration of turning the NDN into an economic driver has suffered an additional blow. President Obama's policy of drawing down US military forces and NATO's contribution to stabilizing Afghanistan will, by 2014, de facto cap the process of economic development, which was to be linked to the expansion of the NDN routes in the region.