New Appointments in the Ukrainian Military: Occasion for Restrained Optimism?
Publication: Eurasia Daily Monitor Volume: 18 Issue: 132
By: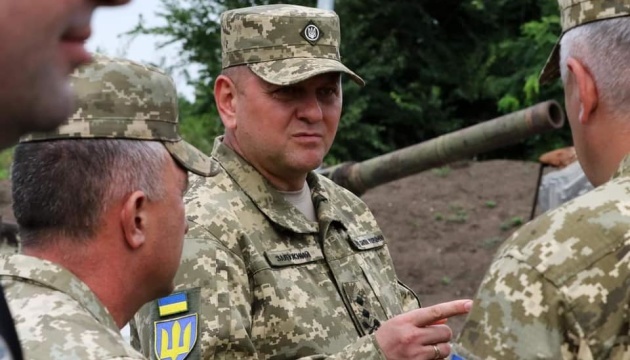 From August 9 to 13, the Armed Forces of Ukraine (AFU) conducted large-scale military exercises in the southern part of the country, including on Zmiinyi ("Serpent") Island, off the coast of Odesa Oblast (Zsu.gov.ua, August 9). The key difference in these latest maneuvers was that they were carried out under newly appointed top commanders.
In late July 2021, Ukraine witnessed the beginning of a major shakeup in the security and defense sphere. First, President Volodymyr Zelenskyy picked a new chairperson of the Foreign Intelligence Service of Ukraine (SZRU), Oleksandr Lytvynenko, who previously served as the director of the Institute for Strategic Studies (Szru.gov.ua, July 26). And over the next couple of days, several top officers of the Security Service of Ukraine (SSU) were fired (Ukrainska Pravda, July 26).
But the most dramatic personnel changes—at least from the military's point of view—started on July 27. In one day, Zelenskyy replaced the highest commanders of the Armed Forces. Namely, Colonel General Ruslan Khomchak was dismissed from his position as the AFU's commander-in-chief (President.gov.ua, July 27). In a Facebook post, Khomchak defended himself, claiming that his ability to carry out reforms was undermined by the war effort as well as internal resistance and attempts to discredit him and other commanders (Facebook.com/GeneralStaff.ua, July 27). Presidential spokesperson Serhiy Nikiforov contended that Zelenskyy does not doubt Khomchak's patriotism but has been frustrated by the lack of synergy between the Ministry of Defense and the General Staff (Ukrainian Military Pages, July 27). With the next order, Khomchak was appointed first deputy of the National Security and Defense Council (NSDC) Secretariat (President.gov.ua, July 27)—but depending on the management style of any particular NSDC secretary, this position can be rather symbolic, without real power.
Also on July 27, Major General Valeriy Zaluzhny was appointed to replace Khomchak as the next AFU commander-in-chief (President.gov.ua, July 27). Prior to taking on this role, Zaluzhny headed Operative Command "Pivnich" (Nord) (2019–2021), led the AFU Joint Operative Staff (2018), was head of the staff of Operative Command "Zahid" (West) (2017), and commanded the 51st Separate Mechanized Brigade (2009–2012). Zaluzhny graduated with honors from the National Academy of Defense in 2007. In 2014, he deployed to the Donbas war zone in Donetsk Oblast as deputy commander of Sector "C," and he fought in Debaltseve (BBC News—Ukrainian service, July 27).
Despite the long history of conflicts between the Ministry of Defense and the General Staff, along with a litany of chronic problems within the Armed Forces (see Jamestown.org, July 16), the wave of firings and appointments came as a surprise to most domestic experts. Still, right away, the staffing upheaval was mostly positively received by both society and former and present military officers (Tyzhden, July 28). Roman Donik, a renowned Ukrainian volunteer, sees Gen. Zaluzhny as a systematic and experienced officer, with a strong will for reforms (Facebook.com/skitalec, July 30).
The reshuffles did not stop there. On July 28, the president dismissed Lieutenant General Serhiy Korniychuk as chief of the General Staff (President.gov.ua, July 28) and instead appointed Major General Serhiy Shaptala, a Hero of Ukraine and former commander of Operative Command "Zahid" (West). Additionally, the AFU received a new commander of the Medical Forces (Colonel Tetiana Ostashchenko), commander of the Ukrainian Air Assault Forces (Colonel Maksym "Mike" Mirgorodskiy—previously, the commander of the 95th Air Assault Brigade, one of the famous heroes of the defense of Donetsk Airport), a deputy commander-in-chief of the AFU (Lieutenant General Yevhen Moisyuk), and commander of the Ukrainian Air Forces (Major General Mykola Oleschyuk).
Questions remain about when the current minister of defense, Andriy Taran, may be dismissed. Some experts, like Kyrilo Danylchenko, think Taran is only being retained while preparations are underway for the upcoming (August 24) military parade (Facebook.com, August 10). Earlier, on July 21, the Cabinet of Ministers dismissed three deputy defense ministers (Ukrinform, July 22).
In an interview with this author, on August 11, former Ukrainian chief of the General Staff, Army General (ret.) Viktor Muzhenko, proposed several reasons behind this swell of reappointments: a perceived decline in the prestige of military service as well as the slowing of defense sector reforms, including problems with the delivery of new weapons in particular. Muzhenko recalled that back in 2019, following the presidential elections, many talented and experienced officers—that is, those who fought in 2014–2015 and had strong views on the direction of the AFU—were fired or found themselves appointed to third-tier positions. That fact negatively impacted morale. But the recent top-level shakeups are now bringing back those worthy officers with significant combat experience. "They fought not only on maps in offices but on the real front lines, they fought for independence and shed blood for Ukraine," he underlined. On the other hand, he stressed that such a large number of simultaneous appointments can temporarily disrupt the command-and-control system—a particularly critical concern during wartime.
According to Muzhenko, information is scarce regarding the developing security situation around Ukraine over the next weeks or months. He pointed to the recent Russian military drills in annexed Crimea and the Zapad 2021 operational-strategic exercise, which will start in September, as possible signals of growing threat to Ukraine. In his opinion, even Ukrainian Independence Day (August 24) could see some Russian provocations, as has happened before. Therefore, he argued, while the new AFU commanders could help jumpstart Ukrainian military reforms, they will simultaneously need to keep the above-mentioned security risks in mind.
Moreover, Gen. Muzhenko warned, the multiple high-level appointments recently made could result in some unintended delays to the career development of other officers, demotivating them. In a few years, all this could result to a period of staffing uncertainty, which makes the planning process even more complicated in the current political situation in Ukraine.
At the same time, the former chief of the General Staff posited, the Ukrainian government needs to keep in mind that every active step by Kyiv could trigger reactions and countermeasures not only from the self-proclaimed "separatist" Donetsk and Luhansk "people's republics" but also the Russian Armed Forces. That could prove a challenge for new commanders suddenly tasked with operating on a higher level.
Last but not least is the ability of newly appointed commanders to stay independent in their decisions, mostly from political authorities. This will be particularly important when it comes to the AFU's new commander-in-chief, Major General Zaluzhny, whose position requires him to communicate more with politicians and have a deeper understanding of the situation at the strategic level. Despite warm reviews and the positive reception regarding his appointment, only time will show how Zaluzhny will meet all of these challenges.