NEW CHARGES AGAINST KHODORKOVSKY: ARE THE SILOVIKI DRAWING A LINE?
Publication: Eurasia Daily Monitor Volume: 5 Issue: 127
By: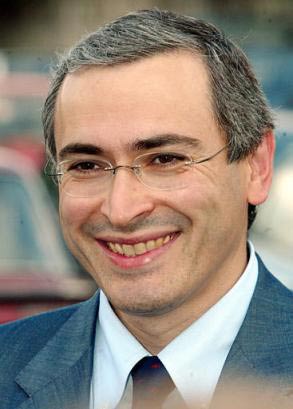 The Investigative Committee of the Prosecutor General's Office has filed new charges against former Yukos chief Mikhail Khodorkovsky, who, like his former business partner Platon Lebedev, is currently serving an eight-year sentence for fraud and tax evasion. The new charges could add 15 years to Khodorkovsky's prison sentence. The Investigative Committee claims that Khodorkovsky and Lebedev "embezzled nearly 350 million tons of oil and laundered 487 billion rubles ($20.7 billion) [as well as] $4.7 billion." Khodorkovsky's lawyer, Yury Shmidt, told Moscow Times that in filing the new charges, the prosecutors simply rewrote the multibillion-dollar embezzlement and money laundering charges brought against Khodorkovsky in February 2007. "Bringing the [February 2007 case] to trial is something that has not yet been decided, because they have not gotten direct instructions from the Kremlin," Schmidt said (Moscow Times, July 2).
Khodorkovsky's international lawyer Robert Amsterdam told Reuters that the new charges, like the old ones, were "absurd." "This buys them time and while we have not completed a review of the charges, they seem similar, if not identical," he told the news agency. "This is an entirely political case and it can only be resolved at a political level." Amsterdam also told Reuters that he had had no indications of President Dmitry Medvedev's views toward Khodorkovsky (Reuters, June 30).
In a joint press conference with German Chancellor Angela Merkel in Berlin on June 5, Medvedev said that Russian law provided "a procedure for pardoning someone, to which any citizen convicted of a crime (including Khodorkovsky) can resort, as well as other procedures that exist with regard to criminal law enforcement" (see EDM, June 9). Many observers viewed Medvedev's comments as evidence that he was looking for a way to pardon or amnesty Khodorkovsky and that a "thaw" in Russia's domestic politics might be in the offing. Vedomosti reported late last month that Khodorkovsky could be freed next year along with 50,000 other Russian prison inmates if the State Duma approved a proposal by Pavel Krasheninnikov, who heads the Duma's civil, criminal and administrative law committee, to consider a day in pretrial detention equal to a day and a half or two days imprisonment. Krasheninnikov told the newspaper that the move would be tantamount to a large-scale amnesty. Vedomosti noted that Khodorkovsky's eight-year term for tax evasion and fraud, which he has been serving since 2005, could expire in 2009 if Krasheninnikov's amendments were passed and he was cleared of new charges (Vedomosti, RIA-Novosti, June 24).
The new accusations put a question mark over Khodorkovsky's possible early release and, more broadly, over Medvedev's declared intention to reform Russia's judicial system. Khodorkovsky said in a statement posted on his lawyers' website that the new accusations meant "the law enforcement agencies do not hope to create an independent judicial system" (Moscow Times, July 2). Khodorkovsky was also quoted as telling investigators who questioned him at a Siberian jail in connection with the new charges that the new allegations lacked the substance required for consideration by a court. "The investigators have repeated the same absurdity about me stealing the entire Yukos oil output during six years," he said (AP, July 1). Lebedev, who was also questioned by investigators, likewise rejected the new accusations (Kommersant, July 2).
Some observers believe the new accusations do not necessarily mean that Khodorkovsky will not be released from prison. "To all appearances, Khodorkovsky's fate, as before, is being decided at the highest echelons of power," the Izbrannoe website wrote. "The variant most convenient for the Kremlin would be public repentance by the oligarch and a subsequent pardon with certain secret conditions, for example, [Khodorkovsky's] renunciation of political activity or litigation over seized property" (www.izbrannoe.ru, July 1).
Other observers, however, suggested that the new charges were engineered by siloviki hard-liners in order to scuttle any possibility for Khodorkovsky's early release–or perhaps, release at any time–and, more broadly, to dampen expectations for a political "thaw." Indeed, the new charges could be viewed as a direct response to Khodorkovsky: just days after Medvedev was inaugurated as Russia's new president, Khodorkovsky publicly accused Igor Sechin, the erstwhile deputy Kremlin chief of staff and putative leader of the siloviki hard-liners, of having engineered his arrest and the seizure of his oil company, Yukos, and of being behind both the old and the new accusations against him (The Sunday Times, May 18). Sechin is now serving as a deputy prime minister in the cabinet of Prime Minister Vladimir Putin.
The new accusations "can be regarded as an attempt by part of the 'Putin elite' to strengthen a hard line toward Khodorkovsky in answer to the expectations that the former Yukos head will be freed," wrote Tatyana Stanovaya in an analysis for the politkom.ru website. "Russian society is being given to understand that indulgences, even if they have a place, will not change the situation cardinally and that Khodorkovsky will, under any alignment, remain in detention" (www.politcom.ru, July 1).
Konstantin Remchukov, editor-in-chief of Nezavisimaya gazeta, said that the new accusations against Khodorkovsky were an attempt to pour cold water on the "euphoria" felt in Russia's "liberal circles" after Pavel Krasheninnikov suggested that Khodorkovsky could be freed as part of an amnesty. "Because if these feelings are left uncooled, then perhaps other stupid feelings–about a thaw, about the winds really changing, about a warming–might begin to grow" (Ekho Moskvy radio, July 1).