New Chinese Pipeline Proposal: Implications in Central Asia, Afghanistan and Beyond
Publication: Eurasia Daily Monitor Volume: 9 Issue: 116
By: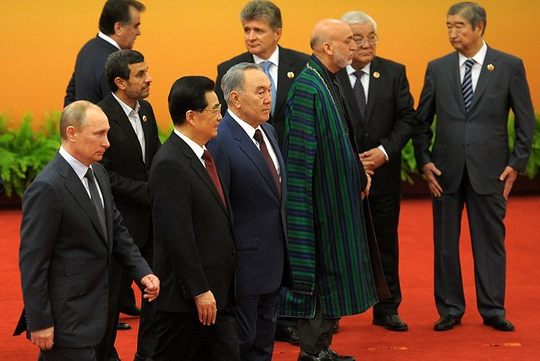 Beijing has initiated discussions with Kabul over a new transit pipeline for Turkmenistani gas, passing through Afghanistan's north and Tajikistan to China (see EDM June 19). The proposal's potential ramifications are far-reaching under any of the possible scenarios.
• Implications for Afghanistan post-2014:
A transit pipeline to China via Afghanistan's north would be consistent with a scenario of informal division of the country into a Taliban-dominated south and an anti-Taliban north, post-2014. In that event, a Chinese-built pipeline passing through the north could supply Kabul, but not the Pashtun heartland. By contrast, the US-backed Turkmenistan-Afghanistan-Pakistan-India (TAPI) project is consistent with US goals to preserve Afghanistan's unity, or at least achieve a modus vivendi between the south and north. The TAPI pipeline's Afghan section would run for the most part through the unstable Herat, Helmand, Kandahar and other Pashtun-majority territories. Beijing's pipeline proposal, however, avoids Pashtun-majority areas. President Hamid Karzai's consent to this proposal signifies diminishing confidence in the TAPI project and a hedge against its possible failure in Karzai's own Pashtun homeland. It also reflects the tensions in Karzai's overall relations with Washington and may be viewed as a Karzai pushback.
• Implications for US policy:
Washington has promoted the TAPI project not only (or mainly) on economic merits, but also as an all-Afghan state-building project, or at least an incentive to inter-Afghan cooperation. It has also incorporated this decade-old project into the recent US plan for a "New Silk Road" (along a north-south axis), involving transportation routes and energy transmission lines from Central Asia to the Indian subcontinent via Afghanistan (see Central Asia, Afghanistan and the New Silk Road Conference Report, The Jamestown Foundation, November 14, 2011). The United States, however, no longer seems to be in a position to finance TAPI, let alone the overall "Silk Road" plan. TAPI itself has only received partial funding commitments from the Asian Development Bank; whereas, the US now supports TAPI only politically. Afghan instability deters international oil companies from joining the TAPI project. Recent talking points for US officials seem to demote the New Silk Road from a strategy to a vision. The overall plan becomes moot in the event of continuing warfare in Afghanistan's south or an informal division of the country. In that case, the Chinese-proposed pipeline in the north would look comparatively safer than TAPI, and the financial backing would appear stronger for Beijing's project than for Washington's.
• Implications for Pakistan:
The proposed Turkmenistan-northern Afghanistan-Tajikistan-China pipeline would not only exclude India but would also bypass Pakistan, while undercutting the TAPI project. Facing severe shortages of natural gas and electricity in the years immediately ahead, Pakistan had pinned some of its hopes on TAPI. Following the Chinese-Afghan announcements of the new project, Pakistan responded in almost anguished terms. On one front, President Asif Ali Zardari, Petroleum and Natural Resources Minister Asim Hussein and Foreign Secretary Jalil Abbas Jilani told Beijing publicly that TAPI is "crucial" and "essential" to Pakistan. On another front, Pakistan seeks to reactivate the Iran-Pakistan-India (IPI) pipeline project for Iranian gas, thereby further aggravating Pakistan's relations with Washington. During the Shanghai Cooperation Organization's (SCO) summit in Beijing, the Pakistanis approached Iran's president Mahmoud Ahmadinejad with a view to resuming the IPI project, assured Iran that Pakistani territory would never be used for hostile actions of any kind against Iran, and asked Beijing to again consider financing the IPI pipeline's Pakistani section on credit (APA [Associated Press of Pakistan], June 7; Pakobserver.net, June 9; The Nation, June 11).
• Implications for Russia's natural gas exports:
An additional pipeline for Turkmenistani gas to China (even the prospect of such a pipeline) further undermines Russia's bargaining position on Siberian gas supplies to China. The Kremlin proposes to export up to 68 billion cubic meters (bcm) of gas annually to China on a long-term basis. Whether Russia can muster that full volume seems doubtful, unless Gazprom manipulatively reduces exports to Europe. Meanwhile, low-priced Turkmenistani gas depresses the asking price for Russian gas on the Chinese market. Turkmenistan's gas is low-priced in China because Beijing financed the Turkmenistan-China pipeline and deducts the amortization costs from the purchase price of Turkmenistani gas, pending recovery of Beijing's investment. Since 2009, Moscow not only lost control over the bulk of Turkmenistan's gas, but also lost Chinese market opportunities when Turkmen gas started flowing to China. During the SCO's summit in Beijing on June 6-8, Russian President Vladimir Putin again sought a price agreement with the Chinese side, to no avail. That deadlock makes it difficult for Gazprom to play off European and Chinese importers against each other (Interfax, June 8).
• Implications for China-India competition over resources:
Under Beijing's proposal, Turkmenistani gas would flow eastward to China via Afghanistan, instead of southward to India via Afghanistan and Pakistan as TAPI envisages. If the Chinese-proposed pipeline becomes the first to start construction, it could result in cutting off India from access to Turkmenistan's gas in the foreseeable future.
• Implications for the Central Asian transit countries:
From China's standpoint, building a Turkmenistan-northern Afghanistan-Tajikistan-China pipeline may be seen as a diversification of transportation routes (albeit from the same Turkmenistani resource base), avoiding total dependence on the existing Turkmenistan-Uzbekistan-Kazakhstan route. The proposed pipeline would bypass Uzbekistan and Kazakhstan. Nevertheless, Uzbekistan and Kazakhstan are scheduled to increase their limited gas inputs into the existing Turkmenistan-China pipeline. During the SCO summit in Beijing, president Hu Jintao approached Kyrgyzstani President Almazbek Atambayev with a proposal to build a branch-off from Kazakhstan's section of the transit pipeline into Kyrgyzstan and onward to China; apparently, a further route-diversification move (AKIpress, June 6). The newly proposed pipeline, if built, would also supply Turkmenistani gas to Tajikistan as a new transit country, freeing the latter from its heavy dependence on Uzbekistan's gas (or Uzbekistani transit of Turkmenistani gas to Tajikistan). However, there is no public evidence of Chinese-Tajikistani discussions on this pipeline, even as Beijing is discussing its proposal with Ashgabat, Kabul and Bishkek on a bilateral basis in each case.