New Details Emerge on the Repression of Journalists and Rights Activists in the North Caucasus
Publication: Eurasia Daily Monitor Volume: 8 Issue: 171
By: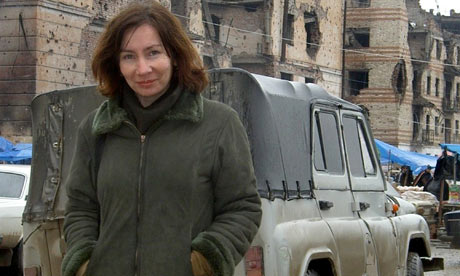 On September 14 in Moscow, rights activists held a press conference on the theme "The North Caucasus: Journalists and Human Rights Activists under Threat." The head of European Division of the international organization Reporters Without Borders, Johann Beer, stated that freedom of press in the North Caucasus had diminished since the group's previous visit to the region two years ago. At that time, Reporters Without Borders designated Chechnya's ruler Ramzan Kadyrov and Russian Prime Minister Vladimir Putin as "press enemies," along with the presidents of Sudan and Rwanda (www.kavkaz-uzel.ru, September 15).
During Reporters Without Borders' most recent visit, two aides to the head of Dagestan Magomedsalam Magomedov told representatives of the group that Dagestan's independent press was "supporting the Islamic radicals." In the view of Reporters Without Borders, the press in Dagestan is highly politicized, so any criticism that comes from the media is immediately dismissed by the government as "extremism," given that the government regards the media as an ideological weapon. According to Beer, 12 journalists have been killed in Dagestan since 2000, but no one has ever been arrested or charged with these crimes, even though the authorities know the people who could be interrogated on these murders. Dagestani journalists are more concerned about the government's obstruction of their work, than even about their own safety. Independent print media have to pay steep prices for circulation, while government sponsored print media are circulated under much more favorable conditions (www.kavkaz-uzel.ru, September 15).
The situation in Chechnya and Ingushetia is far more dire than in Dagestan, and Beer expressed bewilderment over how journalists could work under such conditions. Reporters Without Borders visited the newspaper Groznensky Rabochy in Grozny, which is touted as independent by the region's government. Groznensky Rabochy did not have Kadyrov's portrait on its front page and is sold for money, unlike other media outlets in the republic, according to Beer. However, all Chechen journalists are subordinate to Kadyrov that brings the benefit of safety for them, the price for this is that they have to write in the uniform way only about positive developments in the republic or be critical on the orders from Kadyrov's government. Journalists in Chechnya were afraid to talk to Reporters Without Borders and asked not to be named when they did, behavior that Beer attributed to a "climate of fear" in this territory. Beer contended that Grozny is becoming a beautiful city, but that a "scary reality is hidden behind this façade." The Reporters Without Borders representatives were "astounded" by Kadyrov press secretary's response when they told him about the Chechen journalists' fear. "If journalists are afraid to cover any topics in Chechnya, they are cowards and they should become taxi drivers" (www.kavkaz-uzel.ru, September 15).
The fear felt by Chechen journalists and human rights activists is not unfounded. On July 15, 2009, Chechen rights activist and journalist Natalya Estemirova was abducted in Grozny and found dead in neighboring Ingushetia. On August 11 that same year, the rights activist couple Zarema Sadullaeva and Alik Dzhabrailov were arrested in Grozny and found dead the next day. Neither of these two crimes has been solved.
At the press conference in Moscow, Memorial human rights center board member Aleksandr Cherkasov stated that an independent investigation of Estemirova's murder, using DNA tests, had disproved the official version that an insurgent named Alkhazur Bashaev had killed Estemirova. Official investigators now admit the possibility that Chechen police may have murdered the rights activist. On September 9, the rights activists filed a complaint about the absence of progress in Estemirova's murder investigation with the European Court of Human Rights in Strasbourg. Cherkasov said he hoped that attitudes in Russian government circles would change, thereby allowing investigators to carry out their mission properly (www.kavkaz-uzel.ru, September 15).
The murders of Sadullaeva and Dzhabrailov may provide some clues to what happened to Estemirova. One of those who arrested the couple left his cell phone number behind. When investigators contacted him, he said he was from the Federal Security Service (FSB) and was "too high up" to be reached by them. Investigators identified two Chechen policemen who participated in Sadullaeva and Dzhabrailov's kidnapping, which was apparently portrayed as an "arrest". Both these policemen were reportedly later killed in action in Chechnya's mountains. Kadyrov reportedly provided some support for this investigation, but stopped short of concluding it (www.kavkaz-uzel.ru, September 15).
It appears that Kadyrov did not sanction Sadullaeva and Dzhabrailov's killing and this prompted him to partially support an investigation. No information is available on whether actually Kadyrov helped the investigation of Natalya Estemirova's murder. During his testimony in a Moscow court this past April against his opponent Oleg Orlov of Memorial, Kadyrov once again called Natalya Estemirova a human rights activist "without honor, dignity and conscience" (https://www.bbc.co.uk/russian/russia/2011/04/110428_kadyrov_orlov_libel.shtml). Even such self-exposures, however, do not seem to undermine Kadyrov's positions, as he comfortably remains above Russian laws.
Rights activists also offered another glimpse into the mechanism of kidnappings in Chechnya. On December 11, 2009, Islam Umarpashaev was arrested by Chechen policemen in his home in Grozny and could not be found afterwards (www.kavkaz-uzel.ru, January 27, 2010). The Russian Committee Against Torture filed an urgent complaint with the European Court of Human Rights in Strasbourg, but on February 24, 2010, the Russian authorities responded they could not find Umarpashaev. On April 8, 2010, however, Umarpashaev was released (www.kavkaz-uzel.ru, April 12, 2010).
Even though he was asked by the Chechen officials to pretend he had spent several months traveling in neighboring Dagestan, Umarpashaev decided to break his silence after his evacuation from Chechnya. He stated that he had been kept for several months at a base of the Chechen special police (OMON), who chained him to a heating battery, gave him food and drink, but did not allow him to shave. Cherkasov believes that people who disappear like Umarpashaev did are deliberately allowed to grow a beard and then are executed and dumped in forested areas to appear as if they were insurgents (www.kavkaz-uzel.ru, September 15).
The reports by rights activists clearly indicate how closely the issues of freedom of the press are related to the state of human rights. As the rights record of the government worsens, the government also inevitably lashes out at the press to curb the spread of information. If press freedom has been further limited in the North Caucasus during the past two years, the authorities' human rights record is probably also in decline.