Upcoming Presidential Election Highlights Kyrgyzstan's North-South Divide
Publication: Eurasia Daily Monitor Volume: 8 Issue: 171
By: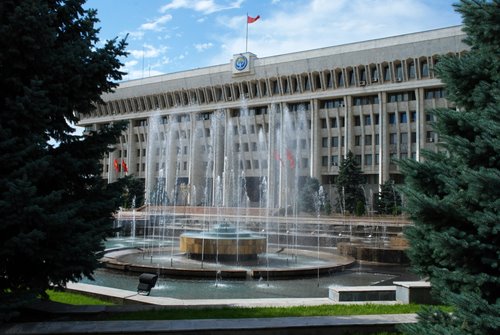 As Kyrgyzstan's presidential election approaches, potential frontrunners are emerging. On September 14, reportedly 32 candidates registered with the Central Elections Commission to run on October 30 (www.24.kg). This is 50 candidates less than one month ago when over 80 hopefuls announced their presidential ambitions. The number is set to decrease further, as candidates take the Kyrgyz language exam.
For the first time in Kyrgyzstan's history the outcome of the election is unpredictable. According to recent opinion polls, Prime Minister Almazbek Atambayev is the clear frontrunner. However, he does not have enough support to win the election outright in the first round. In August, Atambayev was popular among 31 percent of voters, with his largest support coming from the northern parts of the country (https://m-vector.com/upload/news/electoralresearch.pdf). Atambayev is also the only candidate to have secured at least 10 percent support in all seven oblasts.
The leader of the Ata-Jurt Party, Kamchybek Tashiyev, widely popular in southern Kyrgyzstan, is in second place in the polls at 11 percent. He is closely followed by another "southern" candidate – Adakhan Madumarov, the leader of Butun Kyrgyzstan Party with support of nine percent. Both hope to reach the second round and constitute a serious challenge to each other. Tashiyev is mostly popular in Jalalabad, while Madumarov's stronghold is Osh oblast.
Should there be a second round of voting, the competition will clearly be between a candidate from the north – Atambayev and one of the two leaders from the south, highlighting the contentious divide between the northern and southern political factions. Competition along these lines will help candidates to mobilize crowds of locals as part of their political campaigning. Last year, Madumarov gathered crowds in central Osh for several days after he failed to win seats in parliament by a slim margin.
In Bishkek, Tashiyev has a reputation of being a nationalist who wants to return to a presidential system, while Atambayev is often viewed as a de facto winner. Tashiyev has been trying to break his image as a nationalist, but warns of potential destabilization in the country caused by the north-south divide (www.sayasat.kg, September 14).
By contrast, Atambayev positions himself as someone who needs to challenge this divide and unite the country. "We will hold responsible anyone who wants to split the country," Atambayev said during Independence Day celebrations in August. Atambayev's opponents and NGO leaders have accused him of using his position to prevail over other candidates (www.knews.kg, September 13). His decision to raise salaries for teachers and his promises to boost economic growth over the next few years are seen as forming part of his election campaign. In response to growing criticism Atambayev agreed to delegate his prime ministerial responsibilities to his deputy, Omurbek Babanov, during the election campaign.
Leading candidates are yet to compete for support among ethnic Uzbeks who constitute up to 40 percent of the Osh electorate. Most ethnic Uzbeks interviewed by Jamestown have not yet decided which candidate they will support. Some say that none of the candidates represent their interests. Since Tashiyev and Madumarov are unpopular among ethnic minorities, Atambayev and other "northern" candidates could potentially win over ethnic Uzbek support.
Meanwhile, unable to calm internal divisions within his Ar-Namys party, the formerly popular Felix Kulov has lost the party's leadership. Kulov was able to win in the parliamentary elections last year largely due to support among ethnic Uzbeks in the country's south. Ar-Namys and its leaders are no longer popular among Kyrgyzstan's ethnic minorities and are unable to join the ruling coalition (www.akipress.kg, September 13).
A number of other candidates, including Omurbek Tekebayev (Ata-Meken), Tursunbayev Bakir uulu (Erkin Kyrgyzstan), and Nariman Tuleev (April 7 Youth Movement) also hope to reduce Atambayev's share of the vote in various parts of the country. Similar to the parliamentary elections last year, the 2011 presidential election will be fairly transparent and well monitored by international observers. This might be the first election in Central Asia where the frontrunner will not be able to secure a landslide victory, something all regional leaders prefer to see instead of a fraudulent election.
However neither Atambayev, nor his key opponents, seem ready to adopt a similarly transparent approach after the elections. It is widely expected in Kyrgyzstan that the next president will try to centralize power in his own hands.