New Europol Report Warns of Lone Actors and Analyzes Decrease in Terrorism in 2020
Publication: Terrorism Monitor Volume: 19 Issue: 15
By: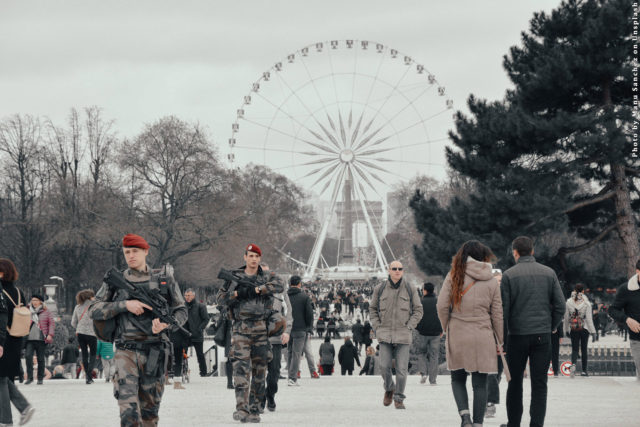 In late June, Abdirahman Jibril A, a 24-year-old Somali migrant legally residing in Germany, walked barefoot into a Woolworth shop in the center of Würzburg, Bavaria asking for the kitchenware department. Once there, he took a large kitchen knife and started attacking people. When he was finally brought down by police and pedestrians, he had murdered three people and injured seven others.
The attack came only a week after the European Union Agency for Law Enforcement Cooperation (Europol) had launched its latest annual report, which highlighted that lone actor terrorism of this sort is the sharp end of the threat Europe faces. Most worrying for Europol chief, Catherine de Bolle, was the fact that "more jihadist terrorist attacks were completed than thwarted during 2020." While absolute numbers of such attacks remain low at 15 attacks recorded over the year, the lone actor threat remains a critical gap in European counterterrorism.
Comparing the Attackers in Würzburg and France
At time of writing, details around the Würzburg attacker were lacking. Authorities in Germany seemed divided between whether he was a terrorist or suffering from some sort of mental crisis at the time of the attack. While he was reported as having shouted "Allahu Akhbar" during the attack, authorities appear not to have concluded that he consumed much jihadist or other radical material prior to the attack. Discussions with family members have also not clarified the extent of his radicalization (tagesspiegel, July 15). Some reports indicated a history of serious mental issues, including hearing voices and believing himself to be followed by the authorities (Welt, July 2). The attack seems part of a pattern of incidents highlighted in the Europol report whereby "some lone attackers in 2020 again displayed a combination of extremist ideology and mental health issues. This made it difficult at times to distinguish between terrorist attacks and violence caused by mental health problems."
In some cases, authorities have gone so far as to blame COVID-19 for attacks. The Europol report mentions, "At an individual level, there is a risk that the situation created by the pandemic could be an additional stress factor for radicalized individuals with mental health problems. As a result, lone actors might turn to violence sooner than they would have done under different circumstances." French authorities in particular have suggested that two cases almost exactly a year apart reflect this trend, with mental strain pushing individuals previously not known to authorities to launch extremist attacks.
The first attack in Romans-sur-Isère came just as lockdowns were starting in France in April 2020 and was conducted by a Sudanese migrant who murdered two people and injured five others waiting in a shop. He was found to have extremist material, though ultimately he was placed into a secure mental health unit (lemonde.com, May 11). Almost exactly a year later, a Tunisian man who had lived in France for several years attacked staff at a police station in Rambouillet, leading to one death. This attacker was as unknown to authorities as the man in Romans-sur-Isère and was listening to extremist material at the time of his attack. He was shouting "Allahu Akhbar" during his attack before being killed by police. Authorities are still unclear about his radicalization process, although indicators, including his online activity, appear to suggest it may have in part been triggered by COVID-19 lockdowns (lexpress.fr, April 25).
Diminishing Mainstream Jihadism and Right- and Left-Wing Terrorism?
Notwithstanding the attacks in Würzburg and France, the Europol report is notable for highlighting the more mainstream jihadist activity that might have been expected has not materialized. The report mentions that few people sought to travel to foreign terrorist battlefields in the past year, and downplayed the criminal-terrorism nexus. It stated, "In the EU, there is little evidence of systematic cooperation between criminals and terrorists…The nexus between crime and jihadist terrorism mainly manifested itself through financing sources as well as within prisons."
The report highlighted that a third of the attacks identified during the reporting year involved individuals who had previous criminal charges for terrorism offences. However, it downplayed the link, stating that "recidivism among terrorism convicts in Europe is relatively low." A lingering sense of threat from the western Balkans is felt throughout the report, however, as the successful Vienna attacker in November 2020 revealed a terrorist network linked to Islamic State (IS) and the Middle East (Terrorism Monitor, December 3, 2020).
Beyond violent Islamists, the report also discussed extreme right-wing terrorism as a threat, although reported numbers are relatively low. The report, for example, identified one successful extreme right-wing attack in Hanau, Germany in February 2020 (dw.com, February 20, 2020). However, it made the point that while that shooter was clearly racist, it was unclear the degree to which he was connected to any other networks.  The report also highlighted three other disrupted attacks in Belgium, Germany, and France, the growing trajectory right wing extremist youths, and the importance of online communities for this contingent (brusselstimes.com, July 28, 2020; euronews.com, January 28, 2020; francebleu.fr, May 29, 2020).
Also notable is that Europol reported that there were more actual attacks on the far-left and anarchist side of the coin than from right-wing extremists, although the former did not result in any fatalities. According to the report, some 24 attacks were reported in Italy, with another one disrupted in France. An example of the incidents in Italy was a parcel bomb sent to Giuseppe Pasini, the leader of the Brescia industry association and Chair of local Steelmaker Feralpi Group in September 2020 (Giornale di Brescia, September 23, 2020).
More recently, Italian authorities noted an increase in anarchist violence directed at authorities and COVID-19 response centers, television transmitters, ATMs, and other public defacements (Panorama, April 21). This reflects Europol reporting in 2019 where more than 20 incidents were recorded in Italy, as well as in Spain and Greece, and a broader trend in Europe whereby left-wing/anarchist groups tend to be more active in southern European countries (Europol, June 2020). While for the most part they are involved in letter bomb and firebombing campaigns that cause damage to property rather than life, the Council of the European Union held a discussion on July 7, 2021 to examine whether the seeming escalation of the threat required a greater focus from a higher level (Council of the European Union, July 1).
Conclusion
The overall narrative from Europol reporting is that terrorist threats in Europe are down, though the agency hesitates to say this is a result of lowered activity and speculates that the downturn might be linked to COVID-19-related restrictions. It states, "This decrease, however, is not necessarily linked to decreased terrorist activities. The UK cautioned that the decline in terrorism-related arrests and convictions can also be attributed to the operational changes necessary under government restrictions imposed in March 2020, as a result of the COVID-19 pandemic."
Published in the middle of 2021, it is notable that the trends highlighted in the report for 2020 appear to have carried forward. Thus far, few violent Islamist attacks have taken place in Europe, and those that have taken place are similar to the Würzburg attack, including an incident in Vetlanda, Sweden in March, another stabber in Dresden, Germany days after the Würzburg attack, and a former terrorist offender who attacked a police officer in France in May (politico.eu, March 4; tagesspiegel.de, July 6; France24.com, May 28). All were identified in reporting as individuals ideologically inspired and troubled. Meanwhile, the case in May of Jurgen Conings in Belgium, who tried to kill a virologist before dying while in hiding in the wilderness, highlighted the danger on the far right (politico.eu, June 20). Isolated individuals launching one-man terrorist campaigns appear to be the sharp end of the terrorist threat in Europe for the moment.