U.S. Troops to Combat al-Shabaab in Kenya Amid Mandera County's Security Crisis
Publication: Terrorism Monitor Volume: 19 Issue: 15
By: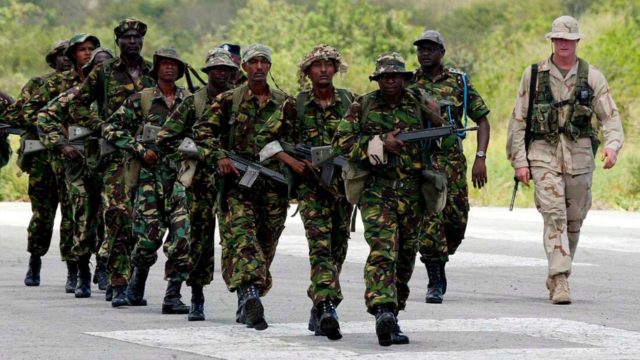 Kenya's battle against al-Shabaab will receive a boost from U.S. forces after President Joseph R. Biden approved the deployment of special operation troops to the country. The soldiers are expected to join forces with Kenyan forces in countering al-Qaeda's affiliate in East Africa, al-Shabaab, which continues to threaten the country's peace and security (Daily Nation, June 13). The presence of the troops is expected to end or hamper the frequent al-Shabaab raids on Kenya's northeastern and coastal regions, which have been rising.
Al-Shabaab's Ascendance in Northeastern Kenya
Although al-Shabaab has been targeting security forces and civilians in Somalia, it has also carried out both low- and high-level attacks in Kenya since Kenyan troops entered Somalia in 2011 to fight the group. The small-scale attacks have continued inside Kenya, even though the country maintains 3,500 soldiers in Somalia as part of African Union Mission in Somalia (AMISOM) troops. The most notable al-Shabaab large-scale attacks have occurred in Nairobi, including the Westgate Shopping Mall in 2013 and the DusitD2 Complex in 2019. However, in 2015, an attack on northeastern Kenya's Garissa University College also left at least 148 people dead (Garowe Online, June 13).
More recently, al-Shabaab has intensified attacks in northeastern Kenya. Bearing the brunt of the violence is Mandera County, where public transport buses, security forces, and private citizens have become targets. Local officials fear that the government's failure to improve security means handing the region to al-Shabaab (Africannews, February 10). At least three people were killed on June 21 when the militants struck Jabibar area of Mandera in the latest attack. In a separate incident, the attackers also burned down a truck after kidnapping a crew which was constructing a road in Mandera South. Less than two weeks earlier, on June 9, at least three people were also killed when a Kenya Wildlife Service Vehicle hit an improvised explosive device (IED) in the Qoqay area of Takaba, Mandera. (The Star, June 21). Two days prior, on June 7, the militants further ambushed two buses traveling to Mandera, killing at least two people and injuring 10 other passengers (Nation, June 7).
In the Boni Forest area in the northeastern coastal county of Lamu, al-Shabaab militants on May 18 further killed seven security officers in Baure area near the border with Somalia. The officers were part of a contingent patrolling area and died when an IED struck their transport vehicle (Nation, May 18). The forest, which straddles the Kenya–Somalia border, has been a hideout for al-Shabaab members. From these hideouts deep in the forest, the militant group has launched attacks targeting security teams on patrol. As a result of the militants' increasing attacks on road transport, security installations, and civilians near Boni Forest, the government in 2015 launched Operation Linda Boni. The multi-security agency operation aimed at flushing out the militants from the forest, but it did not achieve lasting effects (The Star, June 5).
Role of U.S. Troops in Kenya
The U.S. troops are expected to support Kenyan security forces in the northeastern and coastal regions of Kenya, where al-Shabaab frequently attacks. The size of the force has not been made public, but it comes months after former U.S. President Donald Trump withdrew around 700 troops from Somalia, who were helping African Union soldiers fight al-Shabaab (Garowe Online, June 13). In Kenya, the troops will conduct counterterrorism operations, as well as advise, assist, and accompany Kenyan troops on their operations. Current President Biden has announced that the United States has already conducted a small number of airstrikes against al-Shabaab in Somalia under his presidency and is prepared to carry out more, but whether any will target the militant group in Kenyan territory remains uncertain (Kenyans.co.ke, June 13).
The airstrikes referenced by Biden occurred in July, when the U.S. Air Force conducted two drone strikes against al-Shabaab. On July 20, U.S. Africa Command (AFRICOM) carried out the first of the airstrikes against al-Shabaab in Galkayo, north of Qeycad. The drone strikes supported Somali Special Forces known as Danab, which have been fighting al-Shabaab north of Galkayo city (Garowe Online, July 24). Three days later, on July 23, drone strikes hit members of the militant group in Qeycad, Galmudug Province, which is approximately 310 miles north of the capital, Mogadishu (The Citizen, July 24).
Besides northeastern Kenya bases, al-Shabaab still controls large swathes of rural central and southern Somalia. The current Somali administration has been accused of failing to tackle the jihadists. However, a new administration is expected to soon come to power in Somalia. After months of deadlock, Somali politicians finally agreed to hold elections in October. The country is using a complex, indirect parliamentary and presidential election model. Special delegates, chosen by clan elders, will choose lower house members of parliament, while senators are nominated by state presidents and then endorsed by the local legislature (Africanews, June 30).
President Mohammed Abdullahi Mohammed (a.k.a Farmaajo) is accused of failing to tame al-Shabaab and may not be re-elected. Indeed, Somali elections have never resulted in the reelection of a sitting president or returned a former president since the country's civil war began in 1991 (The East African, July 5). Either way, the leader who takes the helm will be expected to achieve greater results in defeating al-Shabaab.
Conclusion
Boosting Kenyan efforts in the battle against al-Shabaab is crucial to the region's fight against terrorism. In the past, U.S. airstrikes targeting the militant group's leaders have somewhat disrupted its activities and reduced its threat. However, al-Shabaab continues to be resilient. As a result, U.S. forces' counterterrorism operations, as well as advising, assisting, and supporting Kenyan troops' operations has become necessary.