New Kyrgyz Prime Minister Faces Tough Balancing Act
Publication: Eurasia Daily Monitor Volume: 12 Issue: 85
By: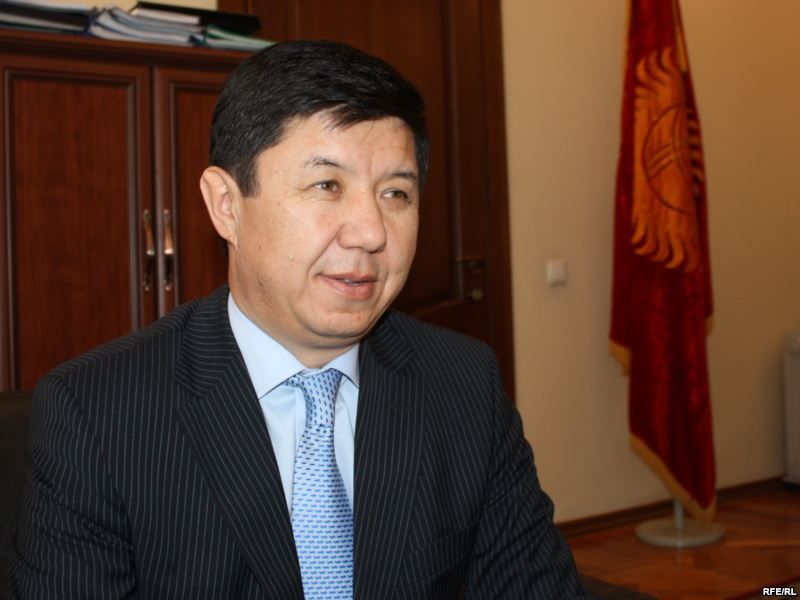 On May 2, Kyrgyzstan's President Almazbek Atambayev appointed a new prime minister—the Central Asian republic's 27th since it became a sovereign state in 1991—Temir Sariyev, who had previously served as economy minister after Atambayev's election to the presidency in December 2011. Earlier, on April 23, Prime Minister Dzhoomart Otorbayev, who was chosen to lead the country's government thirteen months before, in March 2014, had submitted his resignation to the parliament. "I leave you the freedom to select a more decisive head of the cabinet. There are surely suitable candidates in our country," he told members of parliament (MP) at the time of his departure. It is still unclear whether his successor will be able to demonstrate the necessary decisiveness on key issues of turbulent Kyrgyzstani politics. But he already faces at least two strategic dilemmas: the situation around the Kumtor Gold Mine and Kyrgyzstan's accession to the Russia-led Eurasian Economic Union (EEU) (24kg.org, Rus.azattyk.org, May 2; Vb.kg, April 23).
In early April, MPs heavily criticized the government for failing to reach a compromise with Canadian mining company Centerra Gold in which Kyrgyzaltyn, a Kyrgyzstani firm fully owned by the state, has a 32.7-percent stake. In turn, Centerra Gold owns the capital of Kumtor Operating Company (KOC), which has been developing the country's largest mining asset, the Kumtor Gold Mine, since the mid-1990s. Last year, gold production from Kumtor accounted for 7.4 percent of Kyrgyzstan's GDP. It has historically been and remains a major source of income for both the central government and the authorities of Issyk-Kul province, via the Issyk-Kul Regional Development Fund. For two years, the government had intended to create a 50/50 joint venture with Centerra, with a view to operating Kumtor on equal terms. But it has recently abandoned this plan in favor of increasing the number of Kyrgyzstani representatives on Centerra's board of directors (Vedomosti.ru, April 23; Vb.kg, April 15; Kloop.kg, April 9).
However, the parliament's initial condition for the continuation of talks with the Canadians was that should the joint venture not be established by April 1, 2015, Centerra's license would be revoked. Furthermore, all production facilities—already built and maintained by KOC and worth millions of dollars—were to be expropriated in case the bilateral talks turned out to be unsuccessful. Former prime minister Otorbayev even had to fight off calls for nationalization on behalf of his own political party, Ata Meken, whose chairman, Omurbek Tekebayev, had repeatedly said in the past that it was the only plausible solution to resolve the long-standing international litigation. "When such issues as Kumtor are at stake, we must show our collective strength and resolve," Tekebayev warned in February 2015 (Vb.kg, June 20, 2014; Sputnik.kg, February 26, 2015).
Yet, while Otorbayev eventually stepped down less than two weeks after the parliament vetoed the government's proposal to discard the nationalization scenario as "unrealistic," this idea is no longer seriously considered by anyone in Bishkek. In fact, as Kyrgyzaltyn CEO Kylychbek Shakirov reminded on April 17, Kyrgyzstan's position within Centerra Gold has become so vulnerable over time that any similar step would forever bury the last hope for a durable compromise agreement. In October 2014, the Supreme Court of Ontario already froze close to 75 percent of Kyrgyzaltyn's stock in the Canadian miner after lawsuits were filed by Canada's Stans Energy Corporation as well as a major construction company from Turkey and a Latvian banker with regard to other investment disputes, some of them as old as 1992 (Vb.kg, April 17, 2015; Arch.24.kg, October 15, 2014).
As for Kyrgyzstan-EEU talks, the new prime minister said, on May 4, that the government had approved two accession protocols that remain for the time being the last stumbling blocks on Kyrgyzstan's road to officially joining the Moscow-dominated integration organization. It was initially foreseen by last year's intergovernmental agreement that Bishkek would join the EEU on May 1, 2015, provided that by then these protocols would have been duly ratified by the Kyrgyzstani parliament, as well as the parliaments of Russia, Kazakhstan, Belarus and Armenia. Two separate issues arose, however: In particular, Bishkek requested that preferential customs duties be preserved for certain goods imported into Kyrgyzstan from China for the implementation of joint infrastructure projects. Second, Kyrgyzstan's authorities insist that its agricultural produce not be subjected to additional quality audits within the EEU, in order to ensure the complete freedom of movement of such goods in line with the Union's founding treaty of May 2014 (Kyrtag.kg, May 5; Mir24.tv, May 4; Kursiv.kz, April 27).
While both protocols are likely to pass ratification in the EEU member states' parliaments, the Sariyev government still has to prove to the ruling coalition and the public at large that Kyrgyzstan's membership is beneficial for the economy. With the next parliamentary elections looming large in fall 2015, the Central Asian country may once again enter a cycle of instability as various political forces vie for legitimacy and power. The present coalition, comprised of three parties (Ata Meken, Ar Namys and the social-democrats), is likely to seek electoral victory on the basis of its pro-Russian discourse, having earlier obtained price concessions on natural gas imports by Gazprom (Kabarlar.org, September 8, 2014). The same holds true for the next presidential election in late 2017, in which the incumbent is prohibited from running again by the 2010 Constitution. Atambayev is, therefore, likely to consider both Kumtor and EEU membership as key elements of his personal legacy, which he still needs to preserve in a highly volatile political environment.