New Moldovan Government Handing Control Over Security Services to Pro-Russian President Dodon
Publication: Eurasia Daily Monitor Volume: 16 Issue: 92
By: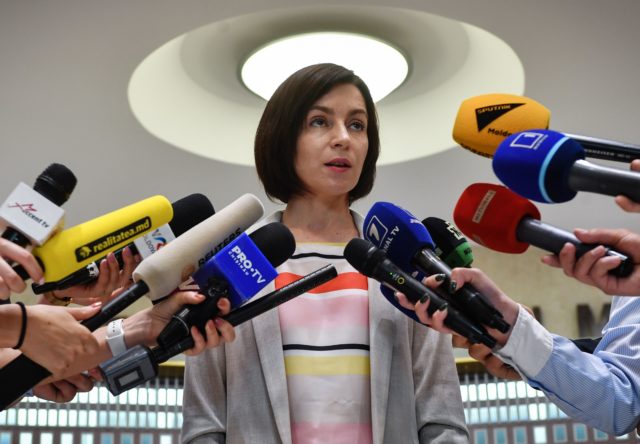 Moldova is hosting (on June 24) a European Parliament delegation led by David McAllister, the chair of the Foreign Affairs Committee. The European visitors aim to "take stock of the political situation in Moldova and exchange views with the country's new government" (David-mcallister.de, June 21). And indeed, there are multiple matters to take stock of, given a number of alarming recent developments in Moldova. This diplomatic visit comes, arguably, on the heels of the most severe political crisis in the history of the Republic of Moldova, which was defused only after the involvement of Moldova's Western development partners (see EDM, June 10, 21).
In particular, the Democratic Party of Moldova (PDM), ruled by the tycoon Vlad Plahotniuc, refused for several days to transfer power to a new parliamentary majority, until the United States' ambassador to Moldova, Dereck J. Hogan, reportedly paid a 15-minute visit to the Democrats' headquarters (Unimedia, June 14). The reaction of PDM was swift: a few hours later, their government resigned and they announced themselves in opposition.
The European Parliament delegation visit coincides with another diplomatic tour of Moldova by Dmitry Kozak, the Russian deputy prime minister and special representative of the Russian president for economic relations with Moldova (Deschide.md, June 21). Moreover, following his trip to the United States last week, Moldova's new Foreign Minister Nicu Popescu announced that a US delegation is expected to visit Chisinau during the coming week. Its goal will be to assess priority areas for further cooperation between the two countries (Facebook.com/NicuPopescuMAE, June 21).
A similar visit by representatives of the US, the European Union and Russia during the first week of June had ended Moldova's three-month-long political deadlock and led to the emergence of the self-proclaimed "anti-oligarchic" coalition between the pro-Western ACUM and the Russia-friendly Socialist Party of Moldovan President Igor Dodon (see EDM, June 10). This continuous attention from the US and the EU is likely driven by Western policymakers' desire to understand the true nature of the Moldovan political chimera that paved the way for a government, formed of both pro-European and pro-Russian parties. A recent EU foreign and defense ministers' meeting in Luxembourg expressed cautious support for the peaceful and democratic transfer of power in Chisinau, though suggested the situation still looked volatile (Deschide.md, June 18). These concerns are strengthened by Russian President Vladimir Putin's statements earlier this month that he supported the pro-Russian "President Dodon and his new coalition partners in their efforts to liberate [Moldova] of these… people that usurped power" (Kremlin.ru, June 13).
Genuine reasons to worry exist. The pro-European ACUM bloc is yielding to President Dodon (and the Socialist Party he controls) the full command over the Ministry of Defense, the Transnistrian conflict negotiations portfolio, and the Security and Intelligence Service (SIS)—the country's only intelligence agency. In a most alarming development, the ACUM members of parliament have been trying to mislead the public through national media interviews, claiming that a new bill on the intelligence service will not give Dodon control over the SIS. They selectively presented to the public only one of the planned adjustments—that the president was to propose to the parliament the head of the intelligence service—while failing to reveal a few other critical changes (Unimedia.md, June 19). In particular, the Moldovan head of state will now legally acquire new powers to "coordinate the activities of the SIS" and to directly nominate the SIS deputy chief (Parlament.md, June 17). Given that the ACUM has a numerically junior position in new parliamentary coalition with the pro-Russian Socialist Party (26 votes out of 61 in a 101-large legislature), the adoption of this draft law will, practically, give full control over the national intelligence service to President Dodon. This would bring under his command all statecraft tools dealing with foreign threats. That is a high-risk scenario, particularly considering that Dodon was filmed recently, via hidden camera, admitting that he receives some $700,000 in monthly payments from top Russian officials to fund his Socialist Party (Deschide.md, June 9).
Both inside Moldova and internationally, there is a powerful push to portray the incumbent coalition as pragmatic, anti-oligarchic and defying geopolitics for the benefit of all citizens. Many leading US and European media outlets have featured rosy stories about Moldovan democracy having won, usually quoting either self-interested ACUM bloc members or local experts who support them. More recently, members of both halves of the new ruling coalition have called for putting aside their geopolitical differences and focusing on de-oligarchization and economic development (Europalibera.org, June 17). In itself, the idea seems constructive and may be perceived in Western democracies as a sign of political maturity in Chisinau.
Yet, an important detail is going unnoticed. Moldovan society's division into pro-Western and pro-Russian supporters is the result of Russia's decades-long anti-Western influence operations in the country as well as the Kremlin's continuous pressure to transform Moldova into a Russian satellite. These policy preferences of the Russian governing elites have not changed. For instance, Russia continues to defy Moldova's sovereignty and its government by conducting military exercises in its breakaway Transnistrian region (Timpul.md, June 14). The Kremlin's response to ongoing anti-Russian protests in Georgia, by banning commercial flights to and from Georgia, is another confirmation of its heavy-handed and revisionist foreign policy in the post-Soviet space (Deutsche Welle, June 22).
To avoid the strategic disaster of Russia finally succeeding in implementing its designs in Moldova, it will be necessary to restrain President Dodon and his Socialist Party—not empower them. US and EU support in this regard will be essential. First, Western policymakers will need to avoid fantasy scenarios about the supposedly benign designs of Russia and its Moldovan proxy, the Socialists. Second, the West will have to engage with the ACUM bloc to create mechanisms to make it more difficult for President Dodon to weaken Moldova's defense and national security institutions. The latter task may prove particularly pressing considering that the ACUM-led government does not even mention defense and security in its recently posted governance strategy.