New Presidential Envoy Visits Chechnya
Publication: North Caucasus Weekly Volume: 9 Issue: 21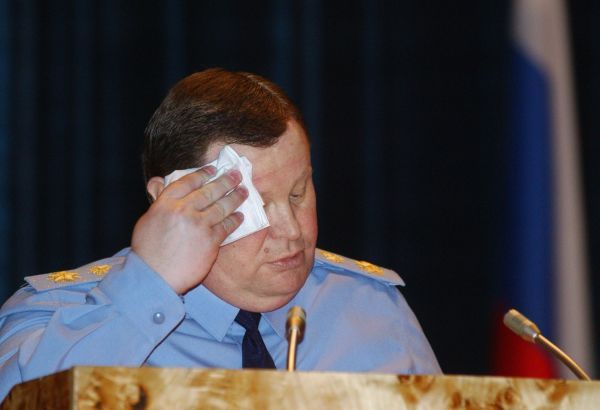 Vladimir Ustinov, the new presidential envoy to the Southern Federal District, arrived May 28 in Chechnya on an official visit, Kavkazky Uzel reported. According to the press service of the Chechen president and government, Chechen President Ramzan Kadyrov accompanied Ustinov to the Kadyrovs' native village, Tsentoroi, where they visited the grave of Kadyrov's father, Akhmad Kadyrov, who was Chechnya's president from October 2003 until he was assassinated in May 2004. Ustinov was scheduled to visit schools, hospitals and objects under construction.
Interfax quoted Ustinov as telling a group of generals with whom he met in Tsentoroi that representatives of the security forces and law-enforcement agencies who are deployed in Chechnya should work closely with the republic's religious authorities. "I believe that you in your work need to receive the blessings of the mufti of Chechnya, representatives of Orthodox Christians, to cooperate closely and consult with them," he said. "In that case the people will support you even more and your work will be more successful. The country's leadership is devoting special attention to that approach toward work. I believe that the military and law-enforcement organs will only gain if they are in constant communication with the clergy." According to Interfax, one of Chechnya's best known and respected religious figures, Khozhakhmed Kadyrov, expressed hope that Ustinov in his new post "will give aid and assistance to the republic's rebirth and give the region the attention it needs."
Meanwhile, a group of relatives of people who have been abducted held a demonstration in Grozny on May 29 near the building that houses the offices of Chechnya's human rights ombudsman. According to Kavkazky Uzel, ten women and a man held up signs with photographs of their missing young family members, with one of the demonstrators holding up a sign reading: "Return our sons!"
"The authorized representative of the [Russian] president in the Southern Federal District, Vladimir Ustinov, is currently in the republic on a visit," one of the demonstrators told Kavkazky Uzel. "I would like him to know that there is such a serious problem in our republic as disappeared and kidnapped citizens, so that not only the local authorities, but also the federal authorities will start to work actively in this direction and finally tell us what happened to our children. Where are they? Who abducted them, and why? Where are they now? If they are no longer alive, then let them at least say where their graves are located or give us their remains for burial according to our customs."
According to Kavkazky Uzel, following his arrival in Chechnya on May 28, Ustinov promised to do everything possible to determine the fate of those who disappeared in Chechnya during the military campaigns in the republic. "Missing people, if they are alive, need to be searched for," the website quoted Ustinov as saying. "I assure you that we will do everything possible to help citizens in searching for their missing relatives." During his tenure as Russia's Prosecutor General, Ustinov urged a policy of detaining family members of terrorists involved in hostage taking (Chechnya Weekly, May 16).
Meanwhile, Amnesty International made specific mention of the North Caucasus and Chechnya in a special memo on human rights in Russia sent to President Dmitry Medvedev and timed to coincide with the human rights group's annual global report. The Associated Press reported on May 28 that the memo stated that abuses continue to plague Chechnya and surrounding regions in the North Caucasus, where police and government forces have allegedly tortured and abducted civilians. "'Confessions' extracted under torture from those alleged to be members of armed groups have been used as evidence in trials in the North Caucasus which fail to meet international standards of fairness resulting in long-term imprisonment," the memo stated.