New Standoff Between Kyrgyzstan and Uzbekistan
Publication: Eurasia Daily Monitor Volume: 13 Issue: 146
By: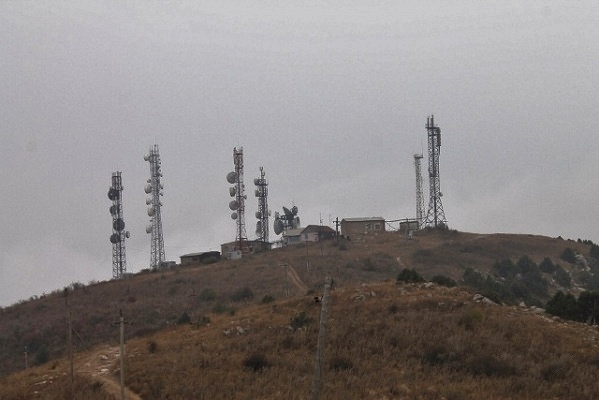 Kyrgyzstan and Uzbekistan became embroiled in a fresh standoff over the disputed mountain Ungar-Too, located on the border. The latest incident once more highlighted the need for rapid and radical efforts to improve bilateral relations and eliminate tensions between the two neighboring countries. On August 24, two helicopters from Uzbekistan landed on the contested mountain, on top of which Kyrgyzstan has a large TV and radio transmitter. Uzbekistani police officers detained four citizens of the Kyrgyz Republic who were working there (Kloop,kg, August 24, 2016). These workers were held in custody at Uzbekistan's Yangi Kurgan police station. The event sparked a new wave of escalation in bilateral relations. Already, in March of this year, the situation reached a particularly dangerous level, when both sides deployed heavily armed personnel to this contested border region (see EDM, March 31).
Prime Minister of Kyrgyzstan Sooronbay Jeenbekov met with his counterpart from Uzbekistan, Shavkat Mirziyaev, in Samarkand, immediately after the funeral of Islam Karimov (held on September 3). The two men discussed the border issue, and Jeenbekov reportedly returned to Bishkek in a positive mood, saying that Tashkent is ready for constructive dialogue and calling on both governments to coordinate and intensify their work (Kabar.kg, September 5).
On September 8, after two weeks of negotiations, the detained Kyrgyzstani citizens were released. Nevertheless, 20 Uzbekistani police officers remain deployed to the disputed border area (Sputnik.kg, September 9). According to Kyrgyz media reports, Uzbekistan is demanding access to the Kasan-Say (Orto-Tokoy) water reservoir and to resume electricity shipments that were cut off by Kyrgyzstan's government in March 2016, during the previous standoff (Akipress.org, Azattyk, kg, September, 9).
Just one week earlier, another incident happened at the Kasan-Say (Orto Tokoi) reservoir, when Kyrgyzstani border guards arrested a police officer from Uzbekistan for illegally crossing the border. Tashkent called this incident a kidnapping and demanded the police officer's release (Nezavisimaya Gazeta, August 25).
The Kasan-Say water reservoir, built during the Soviet period, in 1954, in Kyrgyzstan's Ala-buka district, is today a major source of conflict between the two countries. Though located 13 kilometers inside Kyrgyzstan's territory, Kasan-Say has been operated and de facto controlled by Uzbekistan for over two decades. Central Asian's most populous republic, with around 27.6 million people, Uzbekistan is a down-stream country that suffers constant water shortages. As such, it has retained control over the reservoir since the collapse of the Soviet Union. However, Kyrgyzstan only recently began raising this issue. Notably, Bishkek points to a 1992 agreement, signed just after the collapse of the Soviet Union by all five Central Asian states, which stipulates that all objects built during the Soviet era should pass directly under the control of the country on whose territory the object is located (24.kg, March 23).
Kurbanbay Iskandarov, Kyrgyzstan's special representative on border issues, has noted that Uzbekistan swiftly implemented the 1992 agreement, and took control of all objects and facilities built on its territory—even those used by the Kyrgyz Soviet Socialist Republic in Soviet times. "But Kyrgyzstan did not do the same. We delayed this issue, careful not to damage relations with [our] neighbors. And now when we decided to return the objects that were previously in use in other countries, it has become the reason of Uzbekistan's discontent. We returned the Orto-­Tokoy reservoir, which is called Kasansay in Uzbekistan. It was not even a border object. It is located within the country. There should not be any questions here. But the protection of the reservoir is still carried out by Uzbekistan. Previously, there were military personnel; recently they were replaced by the usual guards," Iskandarov admitted (BBC—Kyrgyz service, March 23).
Meanwhile, tensions between local people in the border region is escalating as well. About 55 Uzbek families live near the Kasan-Say reservoir and work there, while Kyrgyz local people think that the Uzbeks occupy Kyrgyzstani territory and have not been paying compensation or taxes. According to the KyrTag news agency, an official document exists that proves the reservoir was built by the Soviet Union with Soviet funds. Uzbekistan occupies 750 hectares of Kyrgyzstani territory in order to exploit the reservoir, but Tashkent has never compensated the Kyrgyz government for use of this territory. Discontent has been growing among local residents as to why there is a shortage of freely available territory in this area for building homes while, at the same time, Uzbekistan pays nothing. Some locals have even urged Kyrgyzstan's officials to oust the Uzbek people from the reservoir's territory and allow Kyrgyz to occupy their places (KyrTag, October 25, 2013).
In 2011, Kyrgyzstan's government and parliament adopted several resolutions on the appropriation of objects or infrastructure located on Kyrgyzstani territory that is being operated by other countries. As a result, in 2013, Bishkek took control of the Katta-Tuz oil field in Leylek district, which was being operated by Tajikistan. Following a series of localized clashes involving border guards, Tajikistan's authorities ultimately abandoned the area and recognized Kyrgyzstan's sovereignty over this territory. However, many experts argue that Uzbekistan will not be so quick to do the same, because it has declared its own rights to some of these objects (Ozodi.org, March 30).
Karimov's death could revitalize the two countries' bilateral relations. Yet, although many politicians urged Kyrgyzstan's president to travel to Samarkand to attend Karimov's funeral and meet with his possible successors, Almazbek Atambaev decided to stay home and meet with American actor Steven Seagal, who arrived in Bishkek for the World Nomad Games. Kyrgyzstani parliamentarian Omurbek Tekebaev heavily criticized President Atambaev for not taking the opportunity to be a forward-looking leader. "This is a diplomatic mistake," Tekebaev asserted, "There will be a new president of Uzbekistan with whom we should resolve all conflicts. [Atambaev's] visit would be a good start for the future bilateral relationship" (Azattk.kg, September 2).
On September 9, the Social Democratic Party of Kyrgyzstan's (SDPK, the party of President Atambaev) parliamentary faction discussed this issue behind closed doors (Kloop.kg, September 9). To date, however, there has been no clear progress in the negotiations. The confrontation between the two neighboring states and limited diplomatic exchanges routinely negatively affect the lives of ordinary people living in the border areas. The unmarked sections of the border, including around Kyrgyzstan's two enclaves and two exclaves, continue to be a source of violent incidents. And while the situation is tense, the two Central Asian governments have been slow to resolve their shared disputes.