Kyrgyzstan Targets Wrong Enemy in Its Latest Border Crisis With Uzbekistan
Publication: Eurasia Daily Monitor Volume: 13 Issue: 63
By: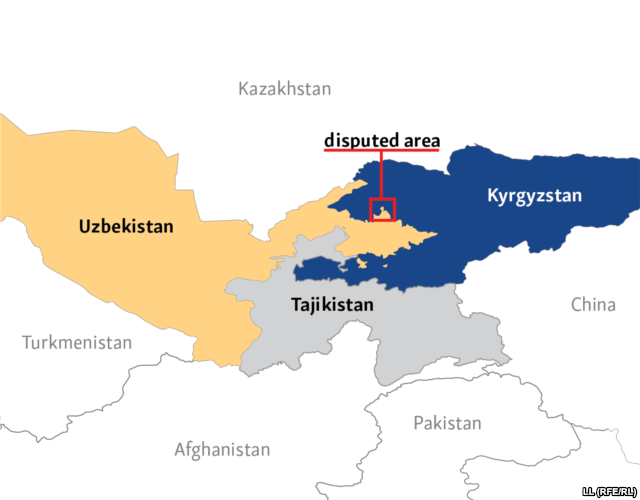 The Russian-led Collective Security Treaty Organization (CSTO) convened an extraordinary session, on March 22, at its headquarters in Moscow, at the request of the Kyrgyz Republic's government. Its members—Armenia, Belarus, Kazakhstan, Kyrgyzstan, Russia and Tajikistan—came together to discuss the latest border crisis between Kyrgyzstan and Uzbekistan. After two days of discussions, the CSTO secretariat expressed its concern over the latest crisis and agreed to dispatch its senior envoy, Armenian permanent representative Ara Badalyan, to study the circumstances on the ground (Kabar.kg, March 23).
According to Bishkek, the latest border crisis started on March 18, when Uzbekistan's military stationed two armored personnel carriers, a military truck and around 40 soldiers at one of the disputed areas along the two countries' shared border in the Ferghana Valley. Kyrgyzstani officials claimed these military actions were not agreed upon in advance by both governments, thus violating international law prohibiting the deployment of any troops to disputed areas pending their final demarcation (Kabar.kg, March 18).
According to Kurbanbai Iskandarov, Bishkek's special envoy on border issues, Uzbekistan's actions amounted to an attempted land grab. On the other hand, Tashkent explained that the increase in the military presence in the area was a temporary and routine security measure necessitated by the celebration of the Navruz spring festival. Uzbekistan, which usually closes or strengthens its borders during public holidays, denied that its military entered the disputed area (Sputnik.kg, March 18).
The latest border crisis received hardly any media coverage in Uzbekistan itself, but it generated a major showdown between the government and the extra-parliamentary opposition in Kyrgyzstan. Some of these opposition members accused the government of not being firm enough in defending Kyrgyzstan's national interests; while officials struggled to prevent the raucous opposition from provoking a real conflict with the neighboring country (Gezitter.org, March 28).
Amid this domestic confrontation, the story underwent an additional twist when Kyrgyzstan's State Committee for National Security claimed that it obtained secret telephone conversation recordings of some Kyrgyzstani opposition leaders purportedly discussing a plan to overthrow the government in Bishkek by inciting anti-government demonstrations (Gezitter.org, March 22).
Some Kyrgyz media also suggested that Navruz was just a diplomatically convenient excuse for Uzbekistani officials to justify the deployment of heavy military equipment and military personnel to the border, while the main worry was the possibility of political instability breaking out in the south of Kyrgyzstan where a disgruntled, non-systemic opposition was planning to hold a major anti-government rally in Jalalabad on March 24 (Vesti.kg, March 23).
To lend some credence to these claims, Uzmetronom.com, an unofficial Uzbek website widely believed to regularly receive sensitive information from Uzbekistan's security services, made a similar argument. The site claimed that the deployment of heavy military equipment to the border on the eve of Navruz was not only due to routine prophylactic measures but out of fear that Kyrgyzstan might again experience a forceful removal of a legitimate government through another revolution (Uzmetronom.com, March 28).
Furthermore, Uzmetronom.com also bragged that the sudden military deployment just days before the major opposition rally in southern Kyrgyzstan disrupted the Kyrgyzstani opposition's plans. The website alluded that the secret telephone recordings exposing the conspiracy to overthrow the government were first seized and made public by Uzbekistan's special services in order to prevent renewed bloodshed in the Kyrgyz Republic, which has already experienced two revolutions, in 2005 and 2010 (Uzmetronom.com, March 28).
Eventually, on March 26, after several days of negotiations between the heads of the two countries' border control agencies, the border crisis was resolved amicably. No shots were fired, and nobody was hurt. Meanwhile, following up on the allegations of a domestic opposition conspiracy to overthrow the legitimate government of Kyrgyzstan, at least three of the opposition leaders who figured in the secret telephone conversations were taken into custody while others went into hiding; their alleged planned anti-government rallies have been canceled (24.kg, March 24).
With the benefit of hindsight, it seems Kyrgyzstan's government might have targeted the wrong enemy in the latest border crisis with Uzbekistan. At the same time, the political damage from President Almazbek Atambaev's various fiery statements uttered during the crisis could have serious repercussions to Biskhek's already strained relations with Tashkent.
In the broader context, Kyrgyzstan's efforts to confront Uzbekistan by touting its CSTO membership has also demonstrated that Russia, as the only real military power behind this organization, might face a dilemma if such a crisis reoccurs in the future since both conflicting parties are officially considered Moscow's allies. Even though Uzbekistan withdrew from the CSTO in 2012, it still has a Strategic Partnership Agreement and a Treaty on Allied Relations with Russia, which are mentioned at every bilateral summit (Kommersant.uz, December 8, 2015).
During a press conference on March 24, President Atambaev was asked whether it was really necessary for the CSTO to become involved in Kyrgyzstan's latest dispute with Uzbekistan, since such border crises occur fairly regularly but are eventually always resolved through bilateral talks. He told reporters that these kinds of border conflicts sometimes involve violent shootouts and casualties, so it is always better to be safe than sorry. Moreover, he asserted that Bishkek expects its allies to come to its assistance only in the event of aggression (24.kg, March 24).
To the Kyrgyzstani officials' dismay, some Russian experts openly questioned the necessity of dragging the CSTO (read Russia) into a border dispute between Kyrgyzstan and Uzbekistan. According to Arkadiy Dubnov, a Kremlin-connected Russian expert on Central Asia, Bishkek's attempt to increase the stakes by trying to insert the CSTO into its border conflict with a neighboring state was not a wise decision. The Moscow-led alliance's involvement, he argued, will not help to resolve such disputes and might further complicate the already-tense relations and lack of trust between the leaders of Kyrgyzstan and Uzbekistan (Ng.ru, March 23).
It is somewhat ironic that of all the CSTO functionaries that might be picked to address the latest border dispute between Kyrgyzstan and Uzbekistan, the alliance secretariat specifically chose the Armenian permanent representative. Each of the Central Asian members of the CSTO—Kazakhstan, Kyrgyzstan and Tajikistan—had previously bluntly stated that they had no intention of ever coming to Armenia's assistance in its own territorial dispute with Azerbaijan (Times.am, December 28, 2015). Such statements, combined with the aforementioned negative arguments by Russian experts like Arkadiy Dubnov, thus raise serious questions about the possibility that the CSTO would ever come to aid of any of its members in a true time of need.