New Wings for the Ukrainian Air Force
Publication: Eurasia Daily Monitor Volume: 18 Issue: 124
By: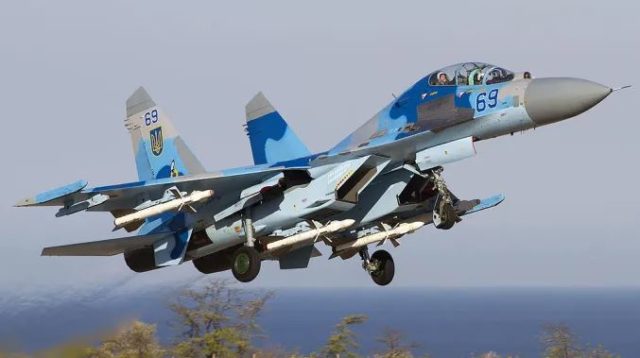 On July 20, Russian United Aircraft Corporation (UAC), Rostec and Sukhoi officially unveiled their newest single-engine fighter, nicknamed the "Checkmate," at the MAKS airshow (see EDM, July 22). According to UAC, the serial production of the Checkmate could be launched in 2026 (Life, June 20). Considering the delays in the development of Russia's other new fighter, the Su-57, that timetable sounds overly optimistic. Nevertheless, the propagandistic narrative serves to highlight the Kremlin's ongoing efforts to modernize the Russian Armed Forces, including the Air Force.
Effectively, this means mounting threats for the Ukrainian Air Force (Povitryani Syly Ukrayiny—PSU), which continues to suffer from outdated, mostly Soviet-era equipment. Currently, the PSU operates several modified variants of Su-24 (Fencer), Su-25 (Frogfoot), Su-27 (Flanker) and MiG-29 (Fulcrum) fighters, as well as Il-76 (Candid), An-24 (Coke), An-26 (Curl), An-30 (Clank) and Tu-134 (Crusty) transport aircraft. Its inventory additionally includes over a dozen helicopters (mainly for transport), including Mi-8 (Hip) and Mi-9 (Hip-G) models (Zsu.gov.ua, December 8, 2020).
In the worst condition are Ukraine's fighter jets. Even the newest among them were produced in 1990; and despite several modernizations, all are reaching the end of their operational lives. At the same time, most of the spare parts needed for their deep renovation are produced in Russian plants and, thus, have been unavailable since 2014. According to the commander of the PSU, Colonel General Serhiy Drozdov, after their most recent modernization, most of Ukraine's military jets still have another 10–15 years of operational life left, so this issue will need to be resolved no later than 2035. "This year is critical for us, but if some new options for modernization will appear, these terms could be revised," Drozdov noted. Right now, most of the upgrades to the Air Force's fixed-wing craft has involved new sighting and navigation systems and missiles (Facebook.com/kpszsu, July 27)
This problem was addressed in the military planning document "Vision for the Air Force 2035," presented by the PSU command in 2020 (Facebook.com/kpszsu, May 19, 2020). The paper lays out three key goals. First is the replacement of outdated Soviet-produced equipment, with newer, more unified options that can simplify personnel training and maintenance and would be amenable to possible further modernization. Second, is the acquisition of a new multirole jet to replace several types of warplanes in the PSU inventory, like its aging bombers, fighters and close-air-support (CAS) planes. Third, the document posits, thanks to the employment of more sophisticated equipment, some units will be reduced in number and their task redistributed to others. Finally, according to the "Vision," Ukrainian fighter jets will focus more on air defense. In the opinion of military expert Yuri Zbanatsky, strikes against ground targets will be delegated to other forces, such as artillery, tactical or short-range ballistic missile (TBM, SRBM) units, and unmanned aerial vehicles (UAV) (Mil.in.ua, May 20, 2020).
As stated in the PSU's 15-year planning document, the Air Force is considering the following options for the possible replacement of its old jets: the F-15EX, F-16 Block 70/72, and Saab JAS 39 Gripen. The procurement could be made in three five-year stages, up to 2035. Gen. Drozdov opined earlier this year that Ukraine could learn from the Polish experience of acquiring and further modernizing the F-16 (Army Inform, January 23). According to the Ukrainian Ministry of Defense, purchasing foreign jets could cost about 320 billion hryvna (ca. $11.9 billion). Yet the defense ministry insisted that the implementation of the "Vision" to 2035 will also require significant financial resources that go well beyond the current funding the defense sector receives from the state budget, which would not be possible under Ukraine's current medium-term financial and economic capabilities (Defense Express, February 8). For example, the entire 2021 state budget earmarked for military modernization and acquisition only totals 22.7 billion hryvna (ca. $0.84 billion) (Army Inform, December 16, 2020). Even if Ukraine were to find the required funds, such a decision would still be beholden to the actions of foreign lawmakers, many of whom will be hesitant to sign off on supplying lethal weapons to Kyiv either for fear of aggravating Russia or because of previous problems in Ukraine's defense modernization and acquisition programs (see Jamestown.org, July 16, 2021).
Consequently, the Ukrainian government will likely need to search for other, more creative ways to improve the capabilities of its fast-aging Air Force. According to Dr. Philip Karber, who heads Washington-based think tank The Potomac Foundation, one possible approach would involve a two-step process. The first step would require Ukraine to become a Strategic Non-NATO Ally of the United States. And second, the two countries would then need to develop and implement a special defense assistance plan similar to the US's Lend-Lease Plan for the United Kingdom in World War II. Karber recently pointed to remarks on Capitol Hill by Lieutenant General Mychailo Zabrodskyi, the former commander of the Ukrainian Air Assault Forces (Desantno-shturmovi viyska Ukrayiny—DShV) and now a member of the Verkhovna Rada (parliament). In essence, his proposal would be to trade US access to Ukrainian airbases in exchange for Washington modernizing Ukraine's Air Force by selling it F-15 jets at a discount (The Ukrainian Week, June 11).
Zabrodskyi believes that such an approach would benefit both countries. The US would secure a forward operational base near Russian territory, which could reduce Russia's relative air superiority over the North Atlantic Treaty Organization's (NATO) eastern flank. Whereas Ukraine would be able to more quickly and cheaply modernize its Armed Forces (Tyzhden, July 2). In an interview with this author, on June 17, Gen. Drozdov said that right now different acquisition options are under consideration and "Lend-Lease" could be among the possible frameworks (June 17). The same approach, he pointed out, could be applied to the problem of air-defense modernization (structurally part of the Air Force), since (for example) the acquisition of seven MIM-104 Patriot batteries normally costs around $4 billion. Therefore, boosting the capabilities of the Ukrainian Air Forces will requires not only sharply increased financial resources but also more active efforts by Kyiv's diplomats, superior lobbying abroad, and more focused political support from Ukraine's international partners.