NGO's Allege Kazakhstan Not Ready for OSCE Chairmanship
Publication: Eurasia Daily Monitor Volume: 6 Issue: 214
By: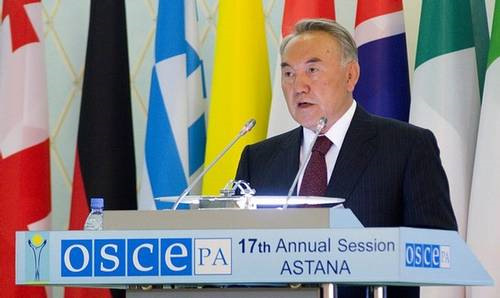 Less than two months before Kazakhstan takes over the chairmanship of the Organization for Security and Cooperation in Europe (OSCE), Kazakh NGO's are warning the international community about the rapidly worsening human rights situation in the country. Kazakhstan's ambition to become OSCE chairman was a project oriented at enhancing the country's international image and not its democratic achievements, most leaders conclude.
Kazakhstan's President Nursultan Nazarbayev often underscores the OSCE chairmanship as an important and distinct accomplishment for the country (Kazakhstan Today, November 13). However, although Kazakhstan has achieved certain results in developing democratic legislation, starting this year, the Kazakh government endorsed or considers endorsing a number of non-democratic legislative acts. These include the draft law on religious practices, regulation of internet-based mass media outlets, and legislation restricting freedoms of assembly. During a discussion organized by the Freedom House and Open Society Institute in Washington on November 18, five Kazakh NGO activists spoke about Kazakhstan's low readiness to take over the OSCE chairmanship.
Iva Dobichina, Freedom House Chief of Party in Kazakhstan, argued that the Kazakh government was unable to abide by the promise given by the then Kazakh Foreign Minister Marat Tazhin at the OSCE Madrid summit two years ago. The summit was held shortly before Kazakhstan was granted the chairmanship at the OSCE (www.zakon.kz, December 1, 2007). "All changes that were made since that meeting preserved the existing political structure and failed to open space for new policy alternatives," Dobichina commented. Moreover, the activist also claimed that the government began sending targeted messages to local NGO's to warn them of their need to comply with government policy.
According to Ninel Fokina from the Almaty Helsinki Committee, Kazakhstan's legislation is often tolerant towards religious and ethnic minorities (www.neonomad.kz, June 19, 2008). Yet in practical terms, the Kazakh government uses methods to control religious groups similar to those employed by Uzbekistan, Turkmenistan and Tajikistan. They include numerous raids of religious institutions, fines for failing to acquire registration, extradition of foreign missionaries, seizure of assets, and the prevention of the dissemination of religious literature. Government officials openly warn that religious pluralism in the country is part of the reason for religious extremism.
According to Fokina, the government pressures religious groups not belonging to the Spiritual Administration of Muslims or the Russian Orthodox Church (www.fergana.ru, June 8, 2007). "The government has tasked a number of institutions such as National Security Committee (KNB), General-Prosecutor, interior ministry and justice ministry with controlling these religious groups", explained the activist. The law on religion that was adopted by the Kazakh government earlier this year, but then rejected by the Constitutional Court under strong international pressure, is likely to resurface in 2011, according to Fokina.
Furthermore, Kazakhstan's laws on the mass media are among the strictest in the former Soviet Union, argues Tamara Kaleyeva from Adil Soz NGO. Six chapters in the Criminal Code allow the persecution of journalists, while the Administrative Code includes over ten chapters that permit closing any mass media outlet. Additionally, existing legislation does not regulate the size of compensation for journalistic libel, thus making any publishing house vulnerable to abrupt bankruptcy. In spite of pledges made by the Kazakh government to introduce greater media liberalization before being granted the OSCE chairmanship, yet another restrictive law on the mass media was passed recently. Since August, internet publications are defined as media outlets, thus subject to the existing media laws (www.internews.kz, June 29).
Zhemis Turmagambetova from Charter for Human Rights commented that Kazakhstan's civil society groups have been effectively collaborating with the government on legislation dealing with human rights and civic freedoms. However, she noted that the Kazakh government is yet to show whether it is willing to implement most legislative acts developed together with civil society.
Finally, Kazakh citizens must notify the government ten days in advance before holding demonstrations, according to Vera Tkachenko from the Legal Policy Center. NGO leaders, who protested against the unlawful treatment of human rights activist Evgeny Zhotis, arrested for killing a pedestrian in a car accident, were fined up to $120 for failing to acquire government permits for demonstrations (www.azattyq.org, September 29).
Meanwhile, the Kazakh government is busy planning initiatives to facilitate closer links with Europe and promised support for the E.U.'s policy in Central Asia as part of its OSCE leadership next year (www.gazeta.kz, November 16). However, the number of political and business prisoners is continuing to increase weeks before the country acquires this responsibility (www.vesti.kz, October 21). "Kazakhstan's chairmanship of the OSCE undermines the values of the organization, concludes Tkachenko, while Fokina agrees: "The Kazakh government thinks that it has deserved the OSCE position and has allowed negative tendencies to get out of control."