North Caucasus Demographics Show the Regional Administrations' Power to Skew Figures
Publication: Eurasia Daily Monitor Volume: 8 Issue: 67
By: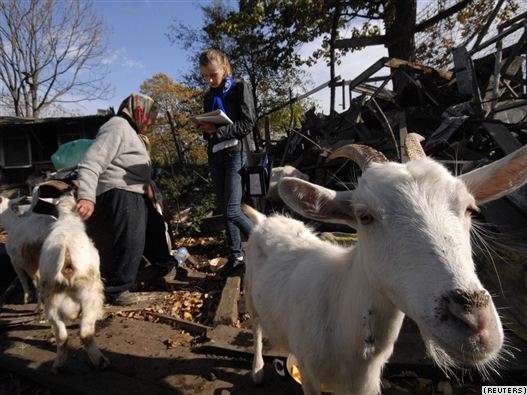 On March 28, the Russian state statistical service released the preliminary results of the 2010 census. The country's net population loss comprised 2.2 million people or 1.6 percent of the general population, which declined from 145.1 million in 2002 to 142.9 million in 2010. The Russian Federation continued to experience the same trends of the previous years, with very low birth rates, high mortality (especially among men) and a relatively low level of immigration (www.rg.ru, March 28).
The North Caucasus, on the contrary, showed a significant growth trend. The population of the North Caucasus Federal District reached 9.5 million in 2010, as it added 6.3 percent to its 2002 population. Dagestan and Chechnya became the two territories of the Russian Federation with the highest growth rate, 15.6 percent and 15 percent respectively. The city of Moscow, the most populous and affluent area of Russia that has a constant net inflow of migrants, came only third, with 10.9 percent population growth in 2002-2010. Karachaevo-Cherkessia's population grew by 8.9 percent in the same period – the fourth best result in the Russian Federation (www.kavkaz-uzel.ru, March 30).
The predominantly Muslim-populated republics of the North Caucasus have been known for high birth rates and low mortality, so substantial population growth was expected across the region. However, the 2010 census delivered some surprising results showing population declines. Ingushetia shed 11.6 percent of its 2002 population and is now estimated to have 415,000 people. Kabardino-Balkaria lost 4.6 percent of its population, which plummeted to 860,000 (https://www.gks.ru/bgd/free/b04_03/IssWWW.exe/Stg/d01/65oz-shisl28.htm).
All the North Caucasian republics have high rates of unemployment, causing a constant outflow of people, mostly to inner Russian regions. However, the migration from the North Caucasus is moderated by high levels of xenophobia in Russia, which keeps the migration levels at a relatively low level. According to the 2010 government strategy for North Caucasus development, the region's net loss of population due to migration in 2008 was 11,900, and almost all of it (9,800) was contributed by Dagestan. Dagestan's population grew from 2.5 million in 2002 to 3 million in 2010, which is an astonishing and suspiciously high spike of population. With no significant migration flows into Dagestan during this period, the growth is hard to explain. Prior to announcing the 2010 census results, the Russian statistical service estimate for the republic's population was only 2.7 million.
Chechnya's population added 200,000 in eight years and comprises now officially 1,275,000. It is widely believed that the republic's population was artificially increased during the 2002 census to conceal the massive loss of population during the Russian-Chechen war. The latest significant increase of Chechnya's population is probably a combination of a real inflow of Chechen refugees after 2002, primarily from Ingushetia, a high birth rate and a cumulative statistical addition of perceived population growth.
The unexpected growth of Karachaevo-Cherkessia's population from 440,000 in 2002 to 480,000 in 2010 appears to be flawed as well. According to the 2002 census, ethnic Russians comprised over one-third of the republican population. Ethnic Russians traditionally have a very low birth rate and have been reported leaving this small, impoverished republic in significant numbers. In fact, the Russian state statistical service documented a decreasing population trend in Karachaevo-Cherkessia up until 2009, when its population was estimated at 427,000 (www.gks.ru, accessed on April 4).
The governments of the North Caucasus republics habitually try to beef up the size of their populations. This is not only a matter of prestige, but under the current Russian system of state budget redistribution, also gives certain advantages in terms of receiving more funds to satisfy the needs of the supposedly bigger population. The scramble for greater population breaks down into separate city administrations and districts, especially in a diverse, multiethnic republic like Dagestan, where each city mayor and each ethnicity try to back up their social standing with impressive population figures. In Chechnya's case, the local administration's ambitions to have a sufficiently large population are matched by Moscow's anxiety to cover up the results of the devastating wars it inflicted upon this region.
The results of the 2010 census thus reflect not only the actual population growth or decline in a given North Caucasian territory, but the local administration's ability to defend a certain attractive population level. So the preliminary results of the 2010 census can be used to estimate the inner, bureaucratic solidarity of a given territory as well as its bargaining positions with Moscow. Chechnya occupies a special slot, since Moscow itself is interested in exaggerating its population. Dagestan appears to demonstrate unwavering strength in its bargaining positions with Moscow. On the contrary, Ingushetia's leader, Yunus-Bek Yevkurov, and his administration seem to be weak negotiators with Russia's bureaucrats. Karachaevo-Cherkessia demonstrated solidarity among its elites, while Kabardino-Balkaria's Arsen Kanokov seems to be insufficiently in control of his republic's statistics. North Ossetia's population stayed the same in the period between the two latest censuses. With the republic's low birthrate, this is probably a sign of the strength of the republican bureaucracy. The Russian statistical service's estimate of North Ossetia's population in 2009 was 700,000 – a figure 10,000 smaller than its official 2010 population.
The relative political weight of the volatile North Caucasian republics, as well as their high birth rates, allow them to manipulate the population figures to their advantage. In some cases, Moscow appears to have a vested interest in skewing the figures. Since the figures have become so politically sensitive and ingrained in socio-economic calculations, it is hard to roll them back to reality in order to make sound policy choices.