Ukrainian Former President Faces Charges Over Journalist Murder in 2000
Publication: Eurasia Daily Monitor Volume: 8 Issue: 67
By: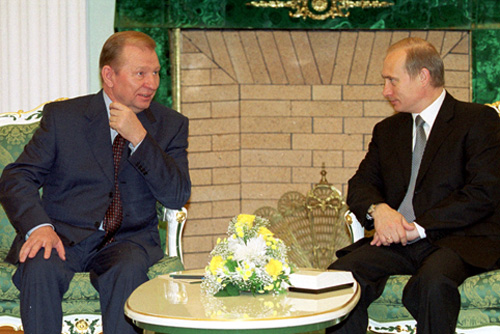 The Prosecutor-General's Office on March 21 launched an investigation against Leonid Kuchma, suspecting him of involvement in the murder of the opposition journalist Georgy Gongadze in 2000, Deputy Prosecutor-General Renat Kuzmin announced on March 22. The Prosecutor-General's Office on March 24 officially charged Kuchma, president from 1994 to 2004, with abuse of office which resulted in Gongadze's murder (Ukrainska Pravda, March 22, 24).
While Kuchma insists that he is not guilty, the Prosecutor-General's Office has regularly questioned him and has prohibited him from leaving Ukraine. The same measure was earlier applied to the former Prime Minister, Yulia Tymoshenko, who is suspected of corruption. Unlike Tymoshenko, Kuchma is not an oppositionist. He left politics in 2004, backed Viktor Yanukovych's presidential election bid in 2004 and hailed his election as president last year. The case against Kuchma could be an attempt by the authorities to give legitimacy to the Prosecutor-General's Office action against the opposition. By opening a criminal case against Kuchma who is perceived as Yanukovych's ally, the legal authorities most likely seek to demonstrate its impartiality to the West while the government is in the middle of difficult talks on political association and free trade with the European Union (EDM, March 30). Earlier this year, the European Union and the United States reacted to the prosecutor's actions against several former cabinet officials by warning Ukraine against selective justice. Several of them have been released from custody since then.
Whatever the authorities' motives may be, the case against Kuchma is a positive development. The scandalous secret recordings allegedly made a decade ago in Kuchma's office by security officer, Mykola Melnychenko, suggested that Kuchma, then Interior Minister Yury Kravchenko as well as former Kuchma aide and current parliament speaker, Volodymyr Lytvyn, might have been involved in Gongadze's murder. Ukrainian prosecutors in the early 2000's rejected the recordings as fake and dragged their feet over the investigation into Gongadze's murder. This prompted popular protests against Kuchma in the early 2000's which eventually brought Viktor Yushchenko to power as a result of controversial presidential elections in 2004. Kuchma by the end of his presidency turned into an international pariah while the subsequent governments' inability to solve Gongadze's murder further tarnished Ukraine's reputation.
The investigation was re-launched after Yanukovych's election as president last year. However, there were doubts that the real culprits would be punished, especially after the PGO's conclusion last year that Gongadze's murder had been commissioned by Kravchenko who committed suicide in 2005 (EDM, September 27, 2010). Hardly anybody in Ukraine thought Kuchma would ever be charged, and when it happened last month, it caught the country by surprise. Tymoshenko suggested this was a plan by Yanukovych to divert the nation's attention from economic problems (Channel 5, March 27). Lytvyn suggested this was the start of a campaign against him personally (UNIAN, March 24). Yushchenko said he did not believe that Kuchma could give orders to kill Gongadze (TVI, March 31). The local media also suggested that the case against Kuchma could be either an element of pressure on his son-in-law, the steel and media tycoon Viktor Pinchuk, by his business rivals, or an attempt to whitewash Kuchma once and for all by proving him not guilty (Ukrainska Pravda, March 23).
Yanukovych commented on the development only on March 28, while on a visit to Singapore. He said that all the i's should be finally dotted in Gongadze's case and rejected any political motives behind it (UNIAN, March 28). It is clear that Yanukovych sanctioned the actions against Kuchma. Since Yanukovych's election last year, his team, using the opposition's weaknesses, established control not only over the government, but also over parliament, the court system and the prosecutor's office. Viktor Pshonka, who was appointed as prosecutor-general last November, is Yanukovych's crony. However, Yanukovych risks opening a Pandora's Box.
Kuzmin made it clear that Kuchma faces the charges because the Prosecutor-General's Office finally recognized Melnychenko's recordings as evidence in the Gongadze case (Ukrainska Pravda, March 22). This in theory can lead to investigations not only against Kuchma but also against many other officials including Lytvyn, Prime Minister Mykola Azarov and Yanukovych who also committed illegal actions in the 2000's if all the recordings are to be trusted. Opposition people's deputy, Yury Hrymchak has filed a request with the Prosecutor-General's Office to investigate the recordings according to which more than a decade ago Azarov who then headed the tax service exerted pressure on the courts and the media. Moreover, Yanukovych who was then governor of the Donetsk Region exerted pressure on local courts (Ukrainska Pravda, March 25). Lytvyn allegedly suggested in a conversation with Kuchma, which Melnychenko claims to have recorded, that Gongadze should be punished for writing critical articles about the government
Meanwhile, Kuchma himself may escape scot-free. The Prosecutor-General's Office charged him not with Gongadze's murder but with abusing his office which led to Gongadze's murder. In this case, the statute of limitations reportedly expired given that more than ten years had passed (Ukrainska Pravda, March 23, 24). The person whom the Prosecutor-General's Office charged with killing Gongadze, former police General, Oleksy Pukach, faces life imprisonment. It is yet to be established whether he acted on orders from Kuchma or someone from Kuchma's entourage, and whether he killed Gongadze because he misinterpreted those orders.