Northern Cameroon Under Threat from Boko Haram and Séléka Militants
Publication: Terrorism Monitor Volume: 12 Issue: 1
By: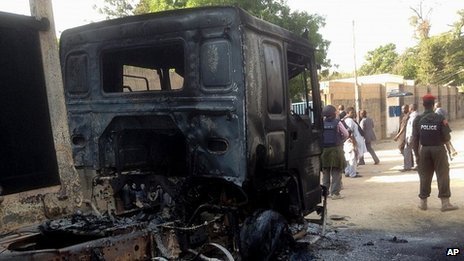 The Tenth Parallel North has been described as the "fault line where Islam and Christianity meet and clash." [1] In Africa, the Tenth Parallel passes west to east through Nigeria, Cameroon, the Central African Republic, South Sudan, Sudan and Somalia. Cameroon is the only one of these countries to avoid major ethnic, religious, sectarian or terrorism-related conflict in the last decade.
However, militants are now using Cameroon as a rear base for carrying out attacks in Nigeria and the Central African Republic (CAR). These groups include Boko Haram and Ansaru in northern Cameroon and (CAR) militants, including Séléka, in eastern Cameroon. Cameroon is likely to see new security threats spilling over into its territory from its two Tenth Parallel neighbors, as well as increasing pressures on the state from refugee flows into Cameroon from Nigeria and the CAR.
Boko Haram's Rear Base in Cameroon
In 2004, Boko Haram carried out its first organized attacks on Nigerian security forces in the Mandara Mountains, along Nigeria's border with Cameroon (News24.com [Kano], October 9, 2004). Five years later, in July 2010, Abubakar Shekau became the leader of Boko Haram and announced that "jihad has begun" from a hideout in Maiduguri, Borno State, 100 miles from the Cameroonian border in Nigeria (Daily Trust [Abuja], July 4, 2011; Ansar1.info, July 11, 2010).
Shekau's base is currently believed to be in Gwoza, Borno State, not far from the border with Cameroon. He reportedly received medical treatment in Cameroon after receiving an injury during an army raid on one of his bases (Vanguard [Lagos], August 25, 2013). However, Shekau mocked reports of his presence in Cameroon as well as the seven million dollar bounty on his head in a September 2013 Hausa-language video:
Imagine telling the whole world that I was injured and was taken to Amchide in Cameroon for treatment and that it was in Amchide that I died! As I talk to you now, I have never been to Cameroon in the whole of my life. It is only Allah that knows where I am (laughing). Obama, I learned you are giving one-billion, but I will not disclose where I am. Allah alone knows where I am (laughing) (
Daily Trust
[Lagos], September 25, 2013).
Since Shekau became Boko Haram leader, Boko Haram has consistently used Cameroon as a rear base for carrying out attacks in Nigeria. Most recently, on December 19, 2013, a convoy of Boko Haram militants crossed the border from Cameroon into Banki, Nigeria, and attacked the Kur Mohammed Barracks in Bama. Shekau said in a video that Boko Haram "destroyed 21 armored tanks and killed multitudes," while the Nigerian army claimed that 50 terrorists were killed (AFP, December 27, 2013). The Nigerian Air Force pursued Boko Haram as it retreated back to Cameroon and destroyed nearly 20 Boko Haram 4x4s. The air force also destroyed several villages where Boko Haram was hiding but failed to evacuate non-combatants, thus exacerbating the toll taken on civilians in the border region (Nigerian Tribune, December 28, 2013).
Operational Environment of the Border Region
The attack on the military barracks in Bama was particularly traumatic because it came only days after Boko Haram destroyed parts of the Maiduguri air base in a 300-militant attack. Local villagers in the border region reportedly saw Boko Haram militants entering Nigeria from Cameroon on the way to Bama. [2] Even after Boko Haram movements were reported to the security forces, Boko Haram was still able to travel far from major roadways on motorcycles and 4x4s to Bama, where they launched their attack.
One of the main difficulties for the Nigerian security forces in patrolling the border with Cameroon is a lack of infrastructure, which allows Boko Haram to set up bases and training camps in the desert or forested areas of the northern Nigerian-northern Cameroon border region or in the Mandara Mountains between Adamawa State, Nigeria and Adamawa State, Cameroon. Moreover, the people on both sides of the Nigerian-Cameroon border are from the same tribes and speak the same languages, while Nigerian security forces officers come from all over that country and lack sufficient knowledge of the human terrain to detect Boko Haram members.
The "Civilian Joint Task Force" in northeastern Nigeria is a mostly ethnic Kanuri vigilante group comprised of hundreds of lightly armed locals who oppose Boko Haram and whose families were victims of its attacks. Since May 2013, they provided the army's Joint Task Force (JTF) with an on-the-ground force that effectively detected Boko Haram members, but Boko Haram may have intimidated and deterred the vigilantes in late 2013 by massacring villagers where the group was operating (Daily Post [Lagos], September 17, 2013). Nonetheless, locals in the region report that each "job" given to the youth in the Civilian Joint Task Force is one less potential recruit for Boko Haram. [3]
Kidnappings in Cameroon
In addition to using Cameroon as a base to attack Nigeria and funnel weapons into the country, Boko Haram has also carried out two types of attacks on Cameroonian soil. First, Boko Haram has chased defectors who escaped to Cameroon and assassinated them. Cameroonian authorities, for example, reported on December 14, 2013, that Boko Haram members in Kousseri, located in Cameroon near the Chadian border, rode in on motorcycles and shot a former Boko Haram member (Camer.be, December 17, 2013). It is possible that this defector and others reported assassinated in 2011 and 2012 were from Ansaru, which in June 2012 claimed that Boko Haram's killing of members who left the group as well as the killing of innocent Muslim civilians were the reasons why Shekau was "inhumane" to the ummah (Muslim community) and was unfit to be the amir of Boko Haram (Desert Herald [Kaduna], June 5, 2012).
Second, Boko Haram has carried out kidnappings in Cameroon, possibly with support from Ansaru's skilled kidnappers, who prioritize operations over ideological or moral disputes with Shekau. In February 2013, for example, kidnappers took hostage a French family of seven on the Cameroon side of the border with Nigeria and brought the family back to Nigeria's Borno State. The kidnapping resembled Ansaru operations, which are known to target foreigners for ransom. Ansaru justifies such attacks as revenge against France for its "war against Islam" (Premium Times [Abuja], February 25, 2013). Subsequent proof-of-life images of the family came from Boko Haram and were transmitted in Shekau's name, possibly because Ansaru passed the hostages over to Boko Haram bases in Borno State.
More recently, in December 2013, Boko Haram kidnapped a French priest in Cameroon and claimed in a statement that it "coordinated" the kidnapping with Ansaru (AFP, November 15, 2013). Like the French family, the priest was taken back to Borno State, Nigeria and was freed after Cameroonian president Paul Biya intervened. According to French President François Hollande, Biya was "personally involved" in the negotiations, which resulted in Cameroon releasing at least one Boko Haram prisoner and, according to unconfirmed reports, also paying a ransom of several million dollars. (Radio France Internationale, December 31, 2013; Africa Review [Nairobi], January 7).
In the case of the French family, President Hollande also thanked President Biya for "playing an important role" in securing the freedom of the family by releasing Boko Haram prisoners in Cameroon and reportedly paying a $3.14 million ransom to Boko Haram, although the payment was intended to be confidential before Nigerian security sources made it public (Camerooninfo.net, April 22, 2013). Biya, who has expressed concerns about Islamic extremists and the growing Salafist movement in Cameroon to African and Western diplomats, may have overseen the arrest of Cameroonian Islamists and Boko Haram members in recent years (Cameroononline.org, January 11, 2012).
Shekau has not ordered attacks in Cameroon since 2010, except for targeting defectors who fled to Cameroon, there may be a new Boko Haram branch operating in Cameroon. If these defectors were Ansaru members, this would add further evidence of Ansaru operating – and carrying out kidnappings – with Boko Haram from Ansaru bases in Cameroon.
Séléka Spillover
The conflict in the CAR started in December 2012, when a coalition of rebel groups from the eastern CAR, called Séléka, attempted to overthrow the government of President François Bozizé in the CAR's capital of Bangui. Spillover from the conflict to Cameroon began surfacing about six months after Boko Haram's first kidnapping in northern Cameroon and the Séléka rebels advanced on Bangui in March 2013:
In August 2013, three Séléka commanders crossed into Cameroon to acquire supplies, but became drunk, clashed with a border guard and then, in what Cameroon called an "isolated incident," killed a border guard (Le Jour Online, September 16).

In September 2013, a former Chadian Séléka member, Abdoulaye Miskine

,

who helped Séléka take Bangui but left Séléka to form the Front Démocratique du Peuple

Centrafricain

(FPDC), was arrested in Bertoa – the same place where the border guard was killed – for plotting to "destabilize CAR from a rear base in Cameroon" (Journal de Bangui, September 19, 2013).

In November 2013, Cameroon's Defense Ministry reported that an "armed gang" of 400 gunmen entered Cameroon from the CAR and killed a Cameroonian soldier and a civilian while five members of the "gang" were killed (

Africa Review

[Nairobi], November 18, 2013). The FPDC denied that this attack was revenge for Miskine's arrest, despite intelligence reports that the attackers belonged to his group (

Le Messenger

[Douala], November 22, 2013).

On December 31, 2013, "Séléka forces" reportedly clashed with Cameroonian soldiers on the border, causing the deaths of four Cameroonian soldiers and three of the attackers, though the reason for the clash is unknown (PANA Online [Dakar], January 2).
While the identity and motivations of the attackers in these "armed gangs" and "Séléka forces" remained uncertain, they were armed with assault rifles, heavy machine guns, rocket launchers, four-wheel drive vehicles, GPS, night-vision field telescopes and satellite telephones. Moreover, according to a Cameroonian political analyst, the "mediocrity of the transport infrastructure" and the "low density of the population" in the Cameroon-CAR border regions "eased their deployment" (Le Messenger [Douala], November 22, 2013). With as many as 30,000 refugees from Boko Haram-related violence in Cameroon and 100,000 CAR citizens having fled the CAR to seek refuge in Cameroon and other neighboring countries, Cameroonian border authorities have been too overwhelmed to deal with security concerns (AFP, January 3; Nigerian Tribune, November 30, 2013).
Conclusion
Although the attackers from the CAR, including Muslims from Séléka, likely have little in common ideologically with Boko Haram, many of their weapons are the same. Their area of operations may also be different, but the same issues related to the free flow of weapons (particularly from Libya), unguarded borders and difficult terrain allow militants, poachers and other criminals to thrive in that environment.
As the conflict in the CAR continues, Boko Haram's anti-Christian "jihad" could resonate among Séléka militants, who have increasingly been fighting with Christian militias in the CAR. However, Arabic-speaking Ansaru militants, whose self-declared mandate is to "protect Muslims in Black Africa" and who have trained or studied in Sudan, would be more likely than grassroots Nigerian Boko Haram militants to travel to the CAR and fight alongside the Sudanese and Chadian Séléka militants. Thus, the "Boko Haram" members reported in western CAR who are "shocked following the destructions of mosques and Korans" may be connected to Ansaru cells in Cameroon rather than Boko Haram cells under Shekau in Borno State (Alwihda Online, November 24, 2013; Bangos Life Magazine Facebook Page, December 18, 2013).
Cameroon is therefore in the center of a rising tide of Islamism, religious violence, insurgency and border conflict sweeping Nigeria, the CAR and its other neighbors on the Tenth Parallel North. Moreover, northern Cameroon's lack of infrastructure and development relative to southern Cameroon, a growing Salafist trend and the narrative of a poorer "Muslim north" and a richer "Christian south" led by Paul Biya, a Christian and Africa's longest serving president, fits well with the narratives advanced by Boko Haram, Ansaru and possibly Séléka as well. If Cameroonians are recruited into these networks, they may form a movement of their own in coming years.
Jacob Zenn is an analyst of African and Eurasian Affairs for The Jamestown Foundation and consultant on countering violent extremism, international law of freedom of association, socio-cultural analysis for geospatial visualization.
Notes
1. Elisa Grizwold, The Tenth Parallel: Dispatches from the Fault Line Between Christianity and Islam, Picador, New York, 2011.
2. Author's phone interview with civilians in the Nigerian-Cameroonian border region, December 30, 2013.
3. Ibid.