Obama, Cameron Endorse Azerbaijani-Turkish Trans-Anatolia Gas Pipeline Project While BP Weighs Its Options
Publication: Eurasia Daily Monitor Volume: 9 Issue: 107
By: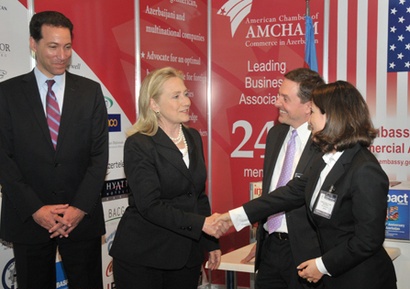 US President Barack Obama and British Prime Minister David Cameron have endorsed the Azerbaijani-Turkish project, Trans-Anatolia gas pipeline (TANAP), in their June 5 messages to Azerbaijani President Ilham Aliyev. The two messages were read out at the opening of the Caspian Oil and Gas conference in Baku on the same day. Obama's message states that building the TANAP pipeline can open the way for Caspian gas directly to Europe, and establish Azerbaijan as a key factor in European energy security. In a similar vein, Cameron notes that building the TANAP pipeline can make the Southern Gas Corridor to Europe a reality. Obama and Cameron both stress the goal of diversifying gas supplies in Europe [i.e, reduce dependence on Russia] through this project (Today.Az, June 5).
This move is unprecedented for both the Obama White House and the British government. The White House's endorsement reflects, first, the intrinsic merits of Azerbaijan's TANAP initiative; second, the urgency of turning it from an agreement of intent into a binding agreement between Azerbaijan and Turkey; and third, the approaching deadlines for decisions on the future of the Nabucco project and on investment to expand gas production at the Shah Deniz offshore gas field in Azerbaijan. Seldom since the 1990s (and never under the current administration), has the US White House interceded so directly and publicly for a specific Caspian energy project, or so explicitly linked it with European energy security. Cameron's parallel message reflects some of the same considerations; but London presumably also looks out for the interests of British Petroleum (BP), the project-operating company at Shah Deniz.
The Trans-Anatolia pipeline is planned to be built from the Georgian-Turkish border to the Turkish-Bulgarian border, mainly financed by Azerbaijan. This project has replaced the Nabucco project on Turkish territory, necessitating a continuation pipeline into EU territory. The Nabucco consortium proposes the continuation pipeline Nabucco-West (an abridged version of the original project), to run from Bulgaria to the continental gas hub at Baumgarten near Vienna. According to the Nabucco company at the opening of the Baku oil and gas conference, "all six Nabucco shareholders [companies] support the project's new conception" (Trend, June 5).
Recent comments from some BP representatives have been interpreted as undermining TANAP and its continuation into Europe though Nabucco-West. Responding to questions raised by those comments on Nabucco-West, US State Department spokeswoman Victoria Nuland stated, "We strongly support Nabucco, a very important project to bring supply diversification" (Trend, May 27).
Azerbaijan initiated TANAP with Turkey because it needs a dedicated pipeline, with future expandable capacity, for Azerbaijan's "non-Shah Deniz" gas and Turkmen gas transit, as well as a direct physical link with Europe. Two strategic rationales meet in this project: Azerbaijan's long-term national development and the diversification of supplies to Europe (supported also by the United States). Reaching the Baumgarten hub through TANAP's continuation as Nabucco-West is Azerbaijan's preferred option, as things now stand. Azerbaijan, Turkey, Washington, apparently now Britain and certainly the European Commission all favor the Trans-Anatolia pipeline project out of strategic considerations.
BP's signals, however, seem contradictory on TANAP's continuation into Europe and even on TANAP itself. Some BP officials apparently view TANAP's strategic rationale and BP's short-term corporate interests as mutually conflicting. BP's interests are comparatively more limited in time and scope: a prompt transportation solution for the BP-led Shah Deniz project, enabling an investment decision for Phase Two of production there. That would result in no more than 10 billion cubic meters (bcm) of gas annually for export to Europe. With this limited volume, BP can make a case against the expense of building dedicated pipelines. It does not share Azerbaijan's national-strategic interests in that regard, nor Brussels' or Washington's concerns about a meaningful diversification of supplies to Europe.
Prioritizing its own interests with a quick-fix transportation solution, BP proposes to use existing pipelines for exporting limited volumes of Azerbaijani gas from the BP-led Shah Deniz project. Rather than building a new, dedicated pipeline corridor, BP suggests using and connecting the existing pipelines between Turkey and Central Europe. Such a solution, however, would only accommodate modest volumes of Azerbaijani gas, well below the country's export potential to Europe. It would be insufficient for transporting future gas from Azerbaijan's other projects ("non-Shah Deniz gas"), and would lack capacity for transiting Turkmen gas in the future.
BP suggests using Turkey's state-owned Botas transmission pipelines, instead of building the Trans-Anatolia pipeline. For a European continuation, BP proposes a combination of existing and new pipeline sections, from Bulgaria into Central Europe, under the common name South-East Europe Pipeline(s) (SEEP), instead of a dedicated Nabucco-West. No details have been disclosed about SEEP beyond this general concept. These are BP's proposals, not those of Shah Deniz consortium members. BP also considers (along with the Shah Deniz consortium in this case) the option of exporting Shah Deniz gas to Italy, instead of the route from Bulgaria into Central Europe. BP's choices and decisions seem far from final, however; and Cameron's public endorsement of TANAP might help clarify BP's options.