OIL TANKER SHIPMENTS — THE SHORT-TERM DEFAULT FOR TRANS-CASPIAN OIL
Publication: Eurasia Daily Monitor Volume: 3 Issue: 120
By: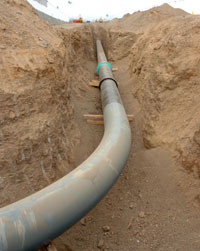 The agreement to connect Kazakhstan with the Baku-Tbilisi-Ceyhan oil transport system, signed by the Kazakh and Azeri presidents on June 19, brings the Caspian basin's eastern shore into the East-West energy corridor. This move took eight years of American political and energy diplomacy to accomplish, from the 1998 Ankara and 1999 Istanbul declarations on creating the East-West energy corridor — signed by the then-presidents of Azerbaijan, Georgia, Kazakhstan, Turkey, Turkmenistan, and Uzbekistan, at U.S. President Bill Clinton's urging and in his presence — before Azerbaijan's State Oil Company and KazMunayGaz began their negotiations between in November 2002. The final negotiations were helped along in recent weeks by U.S. Energy Secretary Samuel Bodman in Astana, Azerbaijani President Ilham Aliyev in Washington, U.S. Vice President Richard Cheney in Astana, and President George W. Bush's letter on this issue, read by Deputy Assistant Secretary of State Matt Bryza to the oil and gas conference in Baku earlier this month (see EDM, March 15, May 1, 3, 8, June 19).
The June 19 framework agreement signed by Nazarbayev and Aliyev on the trans-Caspian oil transport system leaves open the mode of transportation after the initial phase of that system. Shipment by tankers, although a poor mode for the system's mature phase, is the default mode in the initial phase. Two options are available at present within that constraining framework.
The first option relies on the existing fleets of small-capacity oil tankers owned by shippers in Azerbaijan and Kazakhstan. As a rule, these are Soviet-era vessels of the "river-and-sea" type, originally designed for service in the former Soviet Union's inland and coastal waters, with a capacity of less than 10,000 tons. Unsurprisingly, shipping interests favor tanker shipment, rather than a seabed pipeline, as the final choice for the trans-Caspian oil transport system.
The Caspian Shipping (Caspar) company in Azerbaijan is the clear leader in this area, with almost 40 oil tankers carrying small-time volumes for big-time fees from the eastern shore to Baku. Caspar president Aidyn Bashirov proposes to acquire additional tankers in order to serve the trans-Caspian oil transport system and even to involve shipping companies from other countries in the oil tanker line between Kazakhstan and Azerbaijan, once the oil shipment volumes rise toward the first-stage target of 20 million tons (Interfax, May 11). Even if companies from "other countries" — these can only be Russia and Iran — become involved, Caspar would presumably cement its leadership in this business.
For their part, Kazakh officials favor building onsite in Kazakhstan a fleet of five tankers of medium capacity — 60,000 to 65,000 tons each — for a shuttle line to Baku. However, building shipyards on this scale, the tankers, and the necessary port terminals would require prohibitively high investments in this land-locked sea and would also delay the full-scale operation of the transport system. Meanwhile, government officials from both countries agree that the tanker transport system would be reserved exclusively to shipping and port operating companies from Kazakhstan and Azerbaijan, pending a decision on a pipeline.
A decision is also pending on the choice of the tanker port in Kazakhstan. The options are to expand the existing, congested Aktau port by adding a tanker terminal or to build a new port in Kuryk, where the location is more favorable.
According to the project's feasibility assessment in 2004, a seabed pipeline becomes commercially profitable at an annual volume of 20 million tons of oil transported. However, oil price dynamics since that time and into the foreseeable future suggest that the profitability threshold has descended below 20 million tons for a seabed pipeline.
Commercial production at the Kashagan field is expected to start in 2009 at an annual rate of 7 million tons ("early oil"), rising to 13 million tons annually by 2011 and reaching 50 million tons per year after 2015. Thus, tanker transportation will be neither sufficient nor cost-effective after 2012-2013. It would even become an obstacle to the pipeline project by splitting volumes and creating an entrenched vested-interest constituency.
Moreover, this transport system ought to offer an outlet also for U.S. and other Western oil-producing companies in the Caspian Pipeline Consortium (CPC), which constantly faces extortionate Russian demands on the CPC pipeline from Tengiz (Kazakhstan) to Novorossiysk (Russia). Those Russian demands are often effective due to the CPC's lack of an alternative outlet. Thus, plans for the Kazakhstan-Azerbaijan pipeline should envisage taking part of the Tengiz output as well.
While relying on tanker shipments for the initial phase of the transport system, Azerbaijan and Kazakhstan as well as their partners ought to make clear their political and strategic choice for a seabed pipeline and launch the planning process.