Olympic Successes Raise Kazakhstan's Prestige
Publication: Eurasia Daily Monitor Volume: 9 Issue: 152
By: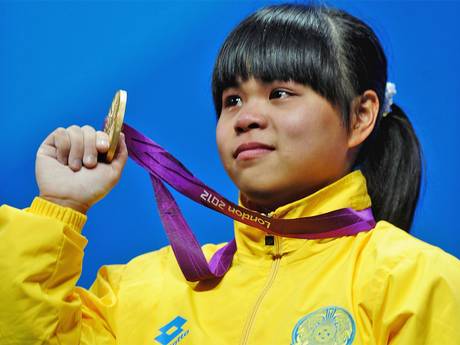 "Sky of golden sun, Field of golden seed, Legend of courage – Take a look at my country! From ancient times, our heroic glory emerged." These first words of Kazakhstan's national anthem should have put the world on notice that the Kazakhstani Olympic team was out for gold at the 2012 Summer Olympics in London.
Even so, Kazakhstan's surprising success at the Games is offering the country an unanticipated opportunity to raise its international status, a core goal of the country's diplomacy. Kazakhstan is currently at the same level as traditional sporting powers Italy, Germany and Russia in the medals ranking, an achievement few sports experts predicted even a few weeks ago.
Since independence, the government has launched a sustained campaign to elevate its global presence. This effort has included highlighting its rapidly developing economy, political stability, and fascinating culture and national identity. It has also launched major global security and economic initiatives, as well as sought leading posts in prominent international institutions. And, like other countries, Kazakhstan has sought to achieve success in international sporting events.
The Kazakhstani national team's first appearance at the Olympic Games was in 1996. Since then, Kazakhstan has participated in four Summer Games and has won a total of 39 medals. At the Beijing Olympics four years ago, Kazakhstan's team performed well, winning two gold, four silver, and seven bronze medals, which placed Kazakhstan 29th in the overall country ranking (Kazakhstan National Olympic Committee, 2011).
In early July, President Nursultan Nazarbayev made clear to the national Olympic team that their country wanted them to do as well this year. He told them that the Olympics are more than just a sports competition – the country's image and reputation was at stake. The President expressed high hopes for the athletes' performance, noting that much attention and resources have been devoted to sports development in Kazakhstan. "This is your opportunity to show that it is not in vain that your country has been supporting you, and that you have not been training in vain either" (today.kz, July 4).
Nazarbayev's reference to the state's support of its Olympic hopefuls was apt. The government has initiated the construction of more than one hundred health and fitness facilities nationwide (Gazeta.kz. July 17). Elaborate Olympic centers have been established in Astana, the capital, and in Almaty, the country's largest city. The government is also creating a research institute on athletics issues. According to Nazarbayev, the activities of the institute will focus on issues of anti-doping, so that Kazakhstani athletes may avoid the problems associated with using hazardous substances to boost their performance (kursiv.kz, July 4).
Kazakhstani business and national corporations have been providing considerable support to the national sports team. For example, the National Welfare Fund Samruk-Kazyna is the official partner of the entire Kazakhstani national team for the London Olympic Games. Three months before the competition, Samruk-Kazyna provided around $6.7 million for the team's preparation and attendance at the Olympics. Meanwhile, the weightlifting team is supported by the ENRC Corporation (sports.gov.kz, July 4). Kaztransgas sponsors free style wrestling (wrestling.kz/ru, no date).
In addition to seeking a good performance and medal count by its athletes, the Kazakhstani government devoted lavish resources to the opening ceremony parade. The team's ceremonial uniforms were designed by a famous Kazakh designer, Kuralai Nurkadilova, and reportedly cost around $800,000 (Vlast, May 21). The president also went to London to attend the games.
Kazakhstan's National Olympic Committee Vice President Pavel Novikov admitted that it is difficult to tell exactly how much has been invested in preparation for the Olympics, but he confirmed that the government is the leading sponsor. According to Novikov, the government provided everything to the athletes to ensure their utmost preparedness, including kazy (dried horsemeat sausage, which drew media attention in London after people began searching for the reasons of the team's remarkable success. The director of the center for sports medicine and rehabilitation said that Kazakhstan's "athletes are used to these products (kazy and zhaya) and associate them with home; therefore these high quality products provide a sort of psychological support even" [nur.kz, July 25a].
In the end, Kazakhstan sent 115 athletes to participate in 25 sports in the 2012 Olympic Games (Kazworld.info, July 16). Kazakhstani athletes set out to London with the goal of winning at least thirteen medals, three of them gold (Alex Walters, "Nation prepares for gold," Kazakhstan Edge, no date).
The country started very strong, with two gold medals in the first two days of the competition, followed by a golden winning streak in weightlifting. The Kazakhstani government is making sure that all the winners are properly honored in order to encourage young athletes to achieve more in coming years as well as consolidate the national identity and unity. For instance, Maiya Maneza and Zulfiya Chinshanlo, who both competed in weightlifting, were awarded $250,000 each immediately after they won gold medals, an impressive sum when the nominal monthly income of the population is about $320 (Christian Science Monitor, August 6). Winners of silver medals receive $150,000, while athletes that win bronze medals receive $75,000. These are the highest prize money amounts among all the former Soviet states (sport.gov.kz, July 14).
The medal-winning athletes, all ethnically non-Kazakhs, became celebrities at home and are being received with great honor and celebration as they return from London. For instance, hundreds of people gathered at Almaty airport to greet Ilya Ilyin who won gold in weightlifting, and his arrival was carried by all the government TV channels (BBC, August 7).
This ethnic diversity is a valuable symbol for a country that is home to multiple ethnicities, languages and religions. And neighboring nations such as Russia and China are able to cite, and sometimes claim, the medal winners as their own.
For example, some Chinese commentators highlighted that medal-winners Maneza and Chinshanlo are ethnic Chinese and had been developed and trained by the PRC sports system. Aleksey Kryuchkov, acting head of the body in charge of Kazakhstan's national teams, pointed out that, "We led them to this victory for a whole Olympic cycle, and before that they were already members of our national team" (ktk.kz/ru, August 1). China's emphasis on winning sports competitions, which was also very strong in the former Soviet Union, also results from a desire to highlight the country's national achievements and culture.
The Kazakhstani government, like others with immigration rules rewarding people with special talents, sometimes grants citizenships for perspective sportsmen from foreign countries (gazeta.kz, July 11). Svetlana Podobedova, who won Kazakhstan's third weightlifting gold medal, competed for Russia until 2006 before joining the Kazakhstani team in 2009. "I am grateful I could compete," she told the media. "In 2008, Russia did not allow me to go to [the Olympics in] Beijing, but Kazakhstan gave me a chance." Still, like most athletes in her situation, she stressed that "I do not feel any offences against Russia […] and I want to thank Russia and Kazakhstan because both countries prepared me well" (Reuters, August 3).
Kazakhstan's harmonious multiethnic makeup is emphasized and celebrated in the national discourse as a rightful achievement. Elsewhere, Eurasia is a region often plagued by ethnic conflicts. The Kazakhstani team has already outperformed its own goal for gold medals this summer. And the wrestling and boxing finals are still ahead.