One Belt, One Road: Russian Dreams Exceed Reality
Publication: Eurasia Daily Monitor Volume: 14 Issue: 74
By: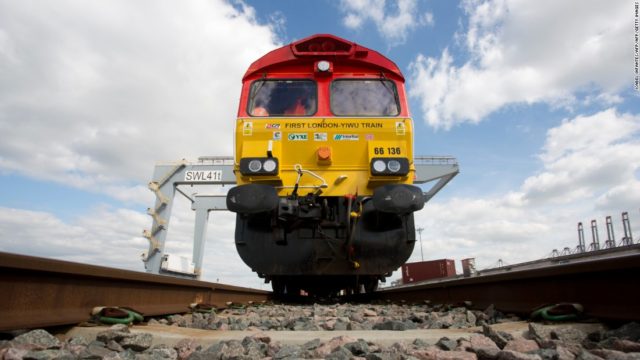 Russian President Vladimir Putin made another trip to China last month (May 14–15) to address the Belt and Road Forum. But his speech at the summit's opening highlighted that Russia and Chi­na ascribe completely different meaning to Beijing's ambitious One Belt, One Road (OBOR) initiative.
The Russian president perceives the OBOR (a collection of trans-continental transit mega-projects designed to connect the markets of East Asia with Europe) first and foremost as an "integrationist" enterprise. He praises the concept of "Eurasia" over precise economic proposals, calling simply for producing a "foundation for a larger Eurasian partnership" (Kremlin.ru, May 14). Thus, what Putin actually hopes to achieve by supporting the development of the OBOR is, arguably, to bring both the Russian Far East and Central Asian states closer to Moscow: politi­cally in the latter case and economically in the first. Chinese leaders, on the other hand, envision another project: they wish to facilitate the development of China's Western provinces through growing exports (Cbbc.org, accessed June 6; World Financial Review, January 25, 2015). The Russians want an "ever closer union" with Eurasian post-Soviet states, i.e. are process-focused; the Chinese are looking for new markets, i.e. are results-driven. This makes the two visions incompatible.
When the Russians first began discussing their country's role as a Eurasi­an transit state, they bet on the Trans-Siberian Railway. This railroad's capacity is around 85 million metric tons (Mt) per year, of which around 15 percent may be reserved for transit flows. The price of shipping a 20-foot container to Europe by rail is around $6,300–$8,000, while by sea—$2,500–$4,000. The difference is considered "the price of urgency": a presumptive 20-day delivery by land versus a 45-day delivery by sea (Svobodnaya Pressa, December 2, 2014). But the problem lies not only in the price or even the timing—the most crucial factor is the limited capacity.
Beijing expects the OBOR predominantly to serve the developmental needs of China's westernmost provinces, especially the Xinjiang Uyghur Autonomous Region, which, in ten years, might beco­me bigger in economic terms than all five post-Soviet Central Asian countries combined. As a consequence, the Chinese will be unable to use the Trans-Siberian Railway—which lies 1,600 kilometers to the north of Urumqi—because of this railroad's insufficient extra capacity. Southwestern China will be connected to the world by a highway from Yunnan province to the newly con­structed port of Kyauk Phyu, on Myanmar's Bay of Bengal, which will allow Chinese ships to navigate to Europe without having to pass through the crowded Malacca Straits (Mizzima, December 17, 2016). Therefore the transcontinental part of the OBOR will almost certainly begin on the China-Kazakhstan bor­der, near Dostyk, and should ultimately be capab­le of transporting at least 60 Mt of goods annually. The Kazakhstani authorities promised to increase the ca­pacity to 45 Mt per year by 2020 and to additionally secure an annual 22 Mt turnover at their main Caspi­an port of Aktau by 2022 (RBC, May 25, 2015).
Russian has long wanted a major trans-Eurasian OBOR highway originating in China to pass through Kazakhstan, lead northward to Orenburg, Kazan and Nizhny Novgorod, bypass Moscow via the newly constructed Central Ring Road and proceed either across Belarus to Poland or via St. Peters­burg to Finland (Transportrussia.ru, accessed June 6). Moscow's strategy behind this proposal was clear: to strengthen the unity of the biggest members of the Eurasian Economic Union (EEU) and to showcase the benefits of this bloc to the outside world (goods shipped across the Eurasian landmass would need to cross only two borders—between China and the EEU and between the EEU and the European Union) (Vz.ru, April 4, 2015). But herein lies a problem: in the last decade, Russia built only 1,900 km of quality highways throughout the country. Even the 521 km Moscow bypass, projected to be completed in 2018, in actuality is only expected to become fully operational in 2025 (Journal-gorproekt.ru, May 12). Moreover, the constructi­on costs are astronomically high; the Moscow bypass alone will cost around $25 billion or $50 million per kilometer (Mosaica.ru, May 16), which may exceed any reasonable expectations for affordable overland transit costs across Russia.
Therefore the option to ship goods from Xinjiang to Kazakhstani or Turkmenistani ports on the Caspian Sea and then, via Azerbaijan and Georgia, to Turkey looks more pro­mising. The first train from China to Europe via Kazakhstan and Georgia made the journey in 16 days in 2015 (Svoboda.org, December 2, 2015). Moreover, the Italian company InfraEngineering recently proposed to build a trans-Caspian bridge for just $14 billion, which would carry a multi-lane road and railway as well as an oil and a natural gas pipeline (Totoholding.it, "Caspian Sea Viaduct," accessed June 6). If this plan becomes a reality, the OBOR will become a real venture that binds together Central Asian countries with the South Caucasus and Turkey. In this case, China may be able to pull the Turkish go­vernment fully onboard as the project's main backer since Ankara tends to consider both Azerbaijan and the Central Asi­an republics as naturally falling within Turkey's sphere of influence.
A third option also exists to build a modern highway from China to Pakistan, to take Chinese goods either to the port of Gwadar, on the Arabian Sea, or once again to Turkey and Europe via Iran. This route, in fact, became partially operational last November (Asia Times, November 16, 2016). Nevertheless, fully pursuing this op­tion will be challenging because of the contested so­vereignty over Kashmir and the unpredictability of Iran's future stance vis-à-vis the Western powers. Therefore, more competition can be expected between Moscow's and Ankara's visions for the future deve­lopment of regional transit routes.
For now the Russian proposals look weak. The Kremlin lacks the resources to build the necessary infrastructure, even over the next ten years. Still, Moscow will certainly insist that Russian companies have a prominent role in building the roads and bridges that fall under the OBOR umbrella. Of course, no one actually knows how endu­ring the Moscow-led EEU may be: although both its principal non-Russian members, Kazakhstan and Belarus, have significant Russian minorities, their authoritarian leaders are aging, and these countries' pro-Russian policies might change. Furthermore, while the Chinese government seems to have limited lob­by­ing capacity over Moscow, Beijing has been able to obtain major concessions from the Central Asi­an capitals when it comes to their involvement in the OBOR projects (see EDM, May 24). As a result, Russian dreams of joining the Chinese OBOR initiative exceed Russia's real capacities to meet its challenges.