Opposition to OSCE Police Forces Grows in Kyrgyzstan
Publication: Eurasia Daily Monitor Volume: 7 Issue: 155
By: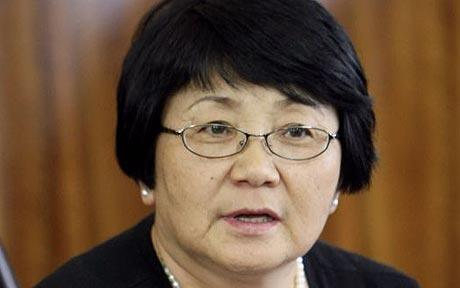 More Kyrgyz political activists are speaking out against the prospective deployment of the Organization for Security and Cooperation in Europe's (OSCE) 52-member Police Advisory Group. Infringement of the country's sovereignty, limited capacity to improve the situation in southern Kyrgyzstan, and the potential for increased instability are cited as arguments against the OSCE mission. A group named "Kyrgyzstan against foreign forces," even threatened to block Osh airport when OSCE forces arrive in the city (www.akipress.kg, August 4).
Yet, to others the OSCE's presence instantly reminds them of the Balkan States, where an international presence is seen as the cause, and not a solution to instability. "The consequences of their deployment are unpredictable. Central Asia might turn into a Eurasian Balkans, like the prominent US strategist Brzezinski once predicted," said Bakyt Dzhumagulov, leader of a youth organization (www.24.kg, August 4). Dzhumagulov plans to join protests against the Police Advisory Group organized by several opposition movements. The leaders of the protest accuse Kyrgyz President, Roza Otunbayeva, of taking a unilateral undemocratic decision to deploy OSCE forces, despite support for the initiative being restricted to the defense and interior ministers.
To many observers in Kyrgyzstan, such widespread resistance to an OSCE mission is reminiscent of a similar public outcry about the possibility of joining the World Bank's Heavily Indebted Poor Countries' (HIPC) initiative in 2006-2007. Various civil society groups and politicians vehemently opposed the initiative, claiming that it infringed Kyrgyzstan's sovereignty and preferring the country to deal with its own economic problems without pervasive international intervention.
Although the HIPC's main goal is to write off part of Kyrgyzstan's external debt and reform the economic and administrative sectors, the initiative turned into a matter of international cooperation preferences and domestic disputes over national identity. Then, an argument in support of HIPC was presented as a lack of patriotism and offering support for Western influence in the country. However, as former President, Kurmanbek Bakiyev's, leadership turned ever more corrupt, more activists in Kyrgyzstan began to think that the HIPC was a missed opportunity. For Kyrgyzstan, where most citizens fear a renewal of violence, a 52-member contingent of a predominantly Western organization seems an inadequate response to the situation on the ground. Rather, a "few hundred well-armed men" in the style of the Russian-led Collective Security Treaty Organization (CSTO) annual drills would really make a difference in southern Kyrgyzstan, one Kyrgyz political analyst told Jamestown. For many, a credible peacekeeping force must be more proactive and have authority over local law-enforcement by their sheer numbers, experience and political support.
Felix Kulov, a former KGB general and currently the head of the Ar-Namys party, was the first to criticize the OSCE to deploy unarmed personnel. According to Kulov, Osh law-enforcement structures will be more concerned with guarding the "foreigners" than responding to the situation on the ground. Kulov's views found support among other political observers.
Meanwhile, most Kyrgyz experts warn that more violence is likely to break out before the elections tentatively scheduled for October. "Potential for conflict among the political parties is extremely high, because the parties have acquired their own paramilitary wings that have weapons, and they may be tempted to challenge the election results by armed confrontation," warned Mars Sariyev, a Kyrgyz political analyst (www.akipress.kg, August 3). However, experts seek domestic solutions, drawing on previous experiences in dealing with difficult situations, rather than appealing for the international community's support. Some suggest the elections must be postponed until next spring.
Such a negative perception of the OSCE's presence might potentially undermine the organization's efforts to conduct an investigation into the violence in June. Vice-chair of the OSCE Parliamentary Assembly, Kimmo Kiljunen, will lead the investigation starting this month. The investigation's findings are likely to be ready by the end of this year. Yet, it remains to be seen if the OSCE's findings and recommendations will be accepted by the wider Kyrgyz public.
Voices in support of an OSCE police presence include NGO activists, who claim that only those interested in chaos and weak state control in southern Kyrgyzstan, are opposed to the deployment of an external peacekeeping mission. "By exploiting myths that the OSCE is a threat to [Kyrgyzstan's] sovereignty and using anxiety, fear and mistrust of the population, some [political forces] in fact want to achieve the collapse of the Kyrgyz state," several NGO activists wrote in a recent public statement (www.24.kg, August 3).