OWNERSHIP OF UKRAINE'S TRANSIT SYSTEM — MAIN STAKE IN THE GAS DISPUTE WITH RUSSIA
Publication: Eurasia Daily Monitor Volume: 2 Issue: 234
By: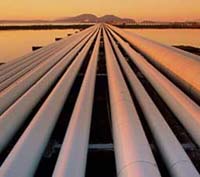 The barely hidden stake has now surfaced in full view in the Russia-Ukraine confrontation over gas prices and transit. The main stake is ownership of Ukraine's transit pipelines that carry Russian gas to Europe. Moscow appears willing to accommodate Kyiv on the gas price if Kyiv accepts the understandings signed in 2002-2003 on turning Ukraine's transit system into a Russian-Ukrainian consortium, possibly with token German participation.
Should Gazprom will stop delivering gas to Ukraine in compensation for the latter's transit services, Ukraine would lose 24-25 billion cubic meters of gas in 2006. Gazprom intends to pump 112 billion cubic meters of gas to European countries (excluding Ukraine's compensation share).
On December 13-15, Gazprom stepped up the pressure by threatening to stop supplying gas to Ukraine as of January 1, unless Ukraine bows to Russia's financial terms: more than tripling the price of gas, from $50 to $160 per 1,000 cubic meters, with payments in cash. Moreover, Gazprom now warns that it might increase the price to $220 "taking into account latest market trends." Gazprom chairman Alexei Miller, vice-chairman and Gazexport general director Alexander Medvedev, and Gazprom spokesman Sergei Kuprianov are all making televised statements to this effect for maximum political impact in Ukraine.
The same officials, along with the Kremlin special envoy for relations with the European Union, Sergei Yastrzhembsky, are publicly accusing Ukraine of intending to "steal" gas from the transit pipelines, thus "blackmailing" European countries and "holding European consumers hostage." In such "theft" occurs after January 1, Moscow warns, Ukraine will be responsible for the resulting shortfall in supply to European consumers.
Such arguments are designed to turn the EU and certain European governments against Kyiv and consent to Russian co-ownership of Ukraine's transit pipelines, ostensibly to ensure reliability of supplies to Europe. In their public statements, Miller and other Russian officials indicate that the "consortium" proposal is the way out of this situation.
Kyiv's position — as publicly presented by Prime Minister Yuriy Yekhanurov, National Security and Defense Council Anatoly Kinakh, and Fuel and Energy Minister Ivan Plachkov — includes the following elements:
1) Ukraine does not accept the 2002-2003 "consortium" scheme; this could only apply to newly constructed pipelines on Ukrainian territory.
2) Continuation of the status quo on supply and transit after January 1, 2006, based on the terms valid in 2005, until new contracts are negotiated and signed by Kyiv and Moscow during the course of 2006.
3) In the absence of contracts for 2006, Ukraine will continue to transit the full volume of Russian gas destined for European countries after January 1. However, Ukraine could in that case unilaterally retain part of the Europe-bound Russian gas as due compensation for Ukraine's continuing transit service. If so, Gazprom's actual deliveries to European consumer countries would fall considerably below the volumes stipulated in the supply contracts for 2006.
4) Kyiv seeks a gradual transition to Gazprom-demanded "market prices," stretching until 2009 or 2010. In that case, Ukraine would compensate Gazprom for the lost profits. That compensation would take the form of creating a Russian-Ukrainian joint company on a parity basis, for marketing Russian and Russian-transited Central Asian in Ukraine. This proposal would seem to involve turning Ukraine's internal gas distribution network into a Russian-Ukrainian enterprise, with a corresponding income transfer from Ukraine to Russia.
5) While the above proposal does not seem to affect Ukraine's gas transit system, a parallel proposal mooted by Kinakh would do so. Short of turning the transit system into a consortium, it would establish joint trust management by Ukraine, Russia, and an unnamed third party
(Interfax-Ukraine, UNIAN, RTR Russia Television, NTV, December 13-15)