Pakistani Taliban Continue Their Campaign against Sufi Shrines
Publication: Terrorism Monitor Volume: 9 Issue: 16
By: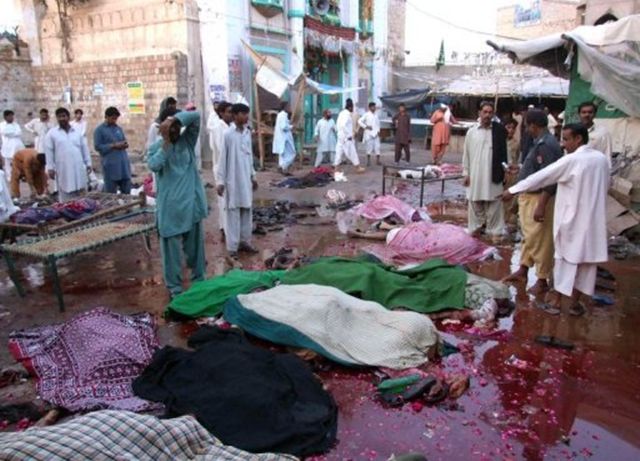 In troubled Pakistan, sacred spaces such as Sufi shrines have increasingly been the target of bloody attacks by Taliban and al-Qaeda militants. The Taliban-Deobandi school of Islam perceives Sufi practices such as devotional whirling dances, the veneration of Sufi saints and other rituals as being un-Islamic and against the tenets of the religion.
On April 3, a twin suicide attack outside the revered shrine of 13th century Sufi saint Sakhi Sarwar (a.k.a. Ahmed Sultan) in the Dera Ghazi Khan district of Punjab province claimed nearly 50 lives, including women and children. The attacks targeted a crowd gathered outside the shrine for the annual Urs festival and left more than 100 people injured (Pakistan Observer [Islamabad], April 3; Express Tribune [Karachi], April 4).
The Tehrik-e-Taliban Pakistan (TTP) claimed responsibility for the attack: "Our men carried out these attacks and we will carry out more in retaliation for government operations against our people in the northwest," Ehsanullah Ehsan, a Taliban spokesman, told the media by telephone (Reuters, April 3; The Nation [Lahore], April 4).
A month before the Sakhi Sarwar incident, a similar attack took place at a mosque located in the compound of Akhwand Panju Baba's shrine in the Nowshera district of Khyber Pakhtunkhwa province (Daily Times [Lahore], March 5). The militants struck while a charity meal was being distributed among hundreds of people after the Friday prayers. Nearly ten people were killed and more than 40 sustained injuries.
The Sakhi Sarwar and Akbarpura incidents were the latest in a string of deadly attacks that have targeted some of the most venerated Sufi religious sites in Pakpattan, Lahore, Peshawar, and Karachi. There have been four major attacks on Sufi sacred sites in the last year alone:
• A remote-controlled device was triggered on February 3, while food was being distributed among the devotees outside the Baba Haider Saieen shrine in Lahore, Punjab. At least three people were killed and 27 others injured in the incident.
• The tomb of Baba Fariddudin Ganj Shakkar in Pakpattan was attacked on October 7, 2010. Six people were killed and 15 others injured.
• Taliban militants blew up the Mian Umar Baba shrine in Peshawar on June 22, 2010. No fatalities were reported (Express Tribune, June 22, 2010).
• Multiple bomb attacks on July 1, 2010 at the Data Darbar Sufi shrine in Lahore killed 45 people and injured 175. Unusually, the Tehrik-e-Taliban Pakistan (TTP) denied any involvement in this triple suicide bombing. TTP spokesman Azam Tariq said to the media: "We are not responsible for these attacks, this is a conspiracy by foreign secret agencies, you know we do not attack public places. We condemn this brutal act. Our target is very clear and we only attack police, army and other security personnel" (The Nation, July 2, 2010).
In Peshawar itself, at least four major Sufi landmarks were targeted between 2007- 2009. These included:
• The shrine of Abdul Shakoor Malang Baba was demolished by explosives on December 18, 2007.
• Lashkar-e-Islam killed ten villagers in a rocket attack on the 400-year-old shrine of Hazrat Abu Saeed Baba on March 3, 2008.
• The shrine of Shaykh Omar Baba was destroyed on May 8, 2009.
• The shrine of the most famous Sufi Pashto language poet, Rahman Baba, was razed to the ground by Taliban militants on March 5, 2009, partly because local women had been visiting the shrine (see Terrorism Monitor Brief, March 19, 2009).
Besides Sufi places of worship, pro-Taliban Sunni militants often target cultural symbols of the Ahmadiya and Shi'a communities across Pakistan. A late May 2010 attack on the Ahmadiya place of worship in the Model Town and Garhi Shahu areas of Lahore left more than 100 worshippers killed and scores injured. The Punjab chapter of the TTP claimed responsibility for the two attacks (The News [Karachi], May 29).
Meanwhile, Behram Khan, the mastermind of the twin suicide attacks at Sakhi Sarwar, was arrested along with five others from the Mamond district of Bajaur tribal agency (The News, April 11). His arrest came after the Pakistan agencies extracted information about the Taliban's future plans from a surviving would-be suicide bomber in the Sakhi Sarwar incident. According to the teenaged suspect, identified as Omar Fidai (a.k.a Fida Hussain), around 300 more boys have been trained for similar suicide attacks across Pakistan and Afghanistan. He claimed to have undergone training in the Mir Ali area of North Waziristan tribal area along with hundreds of juvenile suicide bombers. He is also reported to have revealed that Arabs, Uzbeks and Tajik nationals are amongst the terrorists currently holed up in the area and ready to unleash mayhem in Pakistan (Dawn [Karachi], April 8).
Other than the juvenile jihadis brainwashed and indoctrinated to die for Islam through martyrdom, what is also alarming is the graffiti supporting shrine attacks and praising al-Qaeda and the TTP that has surfaced on the walls of many towns in Dera Ghazi Khan (Express Tribune, April 10). These "writing on the wall" campaigns spread chills down the spine of secular locals or those who practice liberal strands of Sufi Islam, as well as the local administration, which is often accused of having a lackadaisical attitude towards the safety and security of minority sects and communities.