Pakistan's Dual Counter-Terrorism Challenges: Tehreek-i-Taliban Pakistan's Merger and Cross-Border Campaign from Afghanistan
Publication: Terrorism Monitor Volume: 19 Issue: 6
By: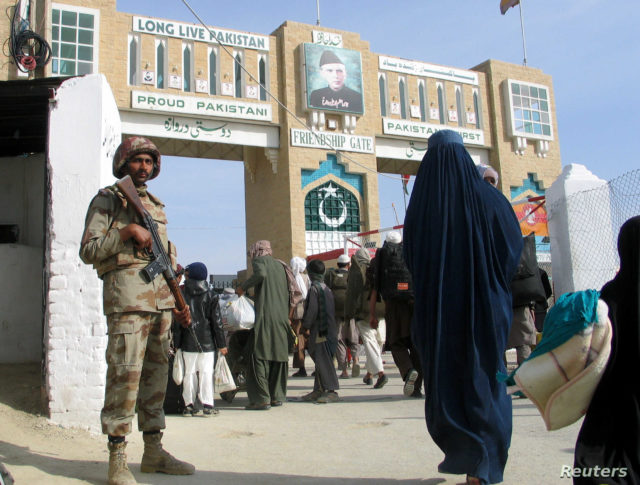 On February 26, Nooristan, known as Hasan Baba, was killed by Pakistani security forces. He was a commander of the Tehreek-i-Taliban Pakistan (TTP), who had been involved in the murder of more than 50 security forces personnel since 2007. His death represented one of Pakistan's landmark achievements in its war on terrorism.
An improvised explosives device (IED) expert and trainer, Hasan Baba joined the TTP's Baitullah Mehsud faction in 2007 and carried out several terrorist attacks in tribal areas bordering Afghanistan. These included the rocket attack on Shakai military camp that killed seven soldiers in 2009; an ambush on a military convoy that killed six soldiers in 2010; and  another ambush on the Pakistani Frontier Corp (FC) convoy using an IED that killed three in 2011 in the Khaisura area of North Waziristan (Dawn, February 26).
The TTP itself has carried out hundreds of terrorist attacks across Pakistan and had killed over 80,000 Pakistani civilians and soldiers since the beginning of the insurgency to 2014. The operation Zarb-e-Azb launched by Pakistan's armed forces in 2014, however, successfully reduced the footprint of the TPP and allied terrorist groups from the country's northwestern tribal areas bordering Afghanistan (Pakistan Today, June 17, 2020). Despite this, Pakistan has increasingly shown concern about the growing TTP presence in neighboring Afghanistan, where the TTP took refuge to escape counter-terrorism actions by the Pakistani security forces under the Zarb-e-Azb operation (Dawn, July 29, 2020).
TTP Merger Increases Threat to Pakistan
The TTP has also emerged as a greater threat to Pakistan as a result of the merger of its splinter groups in Afghanistan, which the UN monitoring team mentioned in a February 3 report. The TTP accordingly carried out more than 100 cross-border attacks in a three month period between July and October last year (Dawn, February 7). The merger, which led to the TTP restarting activities inside Pakistan, included Jamat-ul-Ahrar (JuA) and Hizb-ul-Ahrar (HuA).
Pakistan alleged that the reunification of TTP, JuA, and HuA was backed by Afghanistan's National Directorate of Security (NDS) and India's Research and Analysis Wing (RAW). Islamabad claimed that NDS and RAW intervened in August 2020 to break the deadlock in the merger talks among the three groups (Express Tribune, August 19, 2020). According to Pakistan, Ehsanullah Ehsan, the former TTP spokesman, confessed to authorities that the TTP held financial links to NDS and RAW, which were financing the group's terrorist attacks (The News, February 16, 2020). Last year, Pakistan claimed in a dossier that it had "proofs of Indian financial and material sponsorship" of not only JuA and TTP, but also the Baluchistan Liberation Army (Dawn, November 15, 2020). Such "proofs" do not, however, appear to have been presented publicly for evaluation.
JUA had broken away from the TTP in 2014 after infighting over the succession of TTP leader Hakimullah Mehsud. HuA, for its part, was a splinter group of JUA. Both JuA and HuA are believed to be based in Afghanistan's eastern provinces of Nangarhar, Kunar and Khost. (Dawn, August 18, 2020). The most notable attack attributed to HuA was the May 2018 attack on Data Darbar (meaning shrine) in Lahore, which killed at more than a dozen people (Dawn, November 30, 2019).
Pakistan's Counter-Terrorism Challenges
The writ of the Pakistani government has been restored in areas bordering Afghanistan, especially compared to past years when the TTP conducted attacks on a daily basis (Times of Islamabad, June 12, 2016). Despite this, the escape of Ehsanullah Ehsan from military custody last year raised serious questions of the capacity and competency of Pakistan's security agencies. The Pakistani army, however, carried out an investigation into the matter and held some military officers accountable for the escape of the former TTP spokesman (BBC Urdu, February 24).
Critics nevertheless have questions about the entire episode starting from Ehsanullah Ehsan's arrest in 2017 to his escape in January 2020 from military custody (Dawn, February 26). The drama has been shrouded in controversy, and the military establishment has not shared with the public the names and ranks of those who were responsible for the escape. This is notable considering Ehsanullah Ehsan has claimed major terrorist attacks in Pakistan, including the killing of 132 innocent schoolchildren in the Army Public School attack in Peshawar in December 2014 (Dawn, December 17, 2014).
What is clear is Ehsanullah Ehsan escaped from the military custody due to a serious security lapse on the part of security agencies, if not some other conspiracy. It is generally believed that he was being pampered by the authorities even while in his custody. Ehsan, for example, was allowed to give interviews to Pakistani TV channels (SAMAA TV, February 16). Such a security lapse, moreover, puts a question mark on the country's ability to undermine the TTP altogether.
Conclusion
Pakistan still needs to track down elements within the military establishment that have been acting as facilitators for the militant groups, like those responsible for Ehsanullah Ehsan's escape. Bringing such elements to justice would make the country's counter-terrorism operations against TTP and other militant groups more credible and possibly lead to further success. Peace and stability in Afghanistan, meanwhile, is key to the success of any Pakistani counter-terrorism agenda in Pakistan as well.