Papal Visit to Mongolia Touches on China, Russia and Future of Roman Catholic Church
Publication: Eurasia Daily Monitor Volume: 20 Issue: 142
By: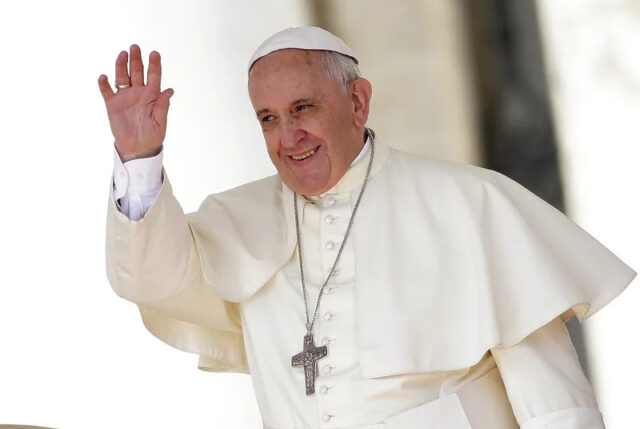 At the beginning of September 2023, Pope Francis embarked on a four-day trip to Mongolia. The visit marked the 43rd foreign journey he has made since beginning his pontificate (Business-gazeta.ru, September 10). The Holy Father used the occasion to outline his views on the proper role of the Catholic Church in relations with national governments and other faiths. The Pope also boosted the status of Giorgio Marengo, who has been part of the Roman Catholic Church in Mongolia since 2001, by giving him a prominent role during the visit. Marengo is currently the youngest member of the College of Cardinals and, like Pope Francis, an Italian who has played key roles in countries other than his homeland.
This particular visit was always more about Mongolia's two giant neighbors than about Mongolia itself. The geopolitics of the church's relationship with China and Russia have received the most attention for their immediate impact. Nevertheless, the ultimate meaning of the Pope's visit to Ulaanbaatar may be far more about the impact of his call for a more tolerant, non-Western Catholicism.
Pope Francis made clear even before he arrived in Mongolia that his visit was first and foremost about his hopes to achieve a new and more open agreement with China. While flying to Ulaanbaatar, he sent a special greeting to Beijing and the "noble" Chinese people, asking Chinese Catholics to be "good Christians and good citizens." Upon his return to Rome, the Pope immediately dispatched a senior Vatican emissary to Beijing (EurAsia Daily, September 4; Nezavisimaya gazeta, September 12).
In recent months, the Chinese government has cracked down on the limited autonomy of the Catholic Church. Within China, the church officially numbers six million but is generally assumed to have more than twice the number of followers (Ucanews.com, accessed September 14). Chinese Communist Party officials have increasingly insisted that the church parrot the party line. Beijing, for example, has pointedly named bishops without referring them to the Vatican for approval. As a result, the 2018 accord between the Vatican and Beijing is increasingly becoming a dead letter. That agreement had granted the Vatican a say in naming Chinese bishops and the Pope veto power of candidates. The Catholic Church has little ability to change this situation given that it does not have diplomatic relations with Beijing, retaining them instead with Taiwan. Pope Francis has long hoped to go to China, and his visit to Mongolia was clearly intended to facilitate that dream. But it is far too early to conclude that it has had much success. Beijing seems likely to continue its harsh course rather than make any concessions (Mongoliaweekly.org; Iarex.ru, September 2).
Moscow was the other focus of the papal visit. While there are far fewer Catholics in the Russian Federation than in China—150,000 according to current estimates—Russia and the Vatican do share diplomatic relations with an apostolic nunciature in Moscow and a Russian embassy at the Holy See in Rome. Ties remain problematic because both the Moscow Patriarchate and the Kremlin view the Catholic Church as an agent of the West and believe that the Moscow Patriarchate should define religious life in Russia rather than sharing it with other faiths. (Earlier, Pope Francis had tried to concede slightly toward Russia on that point but was widely criticized and soon backed off.)
The Pope would also like to visit Moscow before the end of his pontificate. However, the Kremlin is reluctant, and prospects look bleak for such a trip. Pope Francis hoped to change this by capitalizing on Mongolia's potential role as a mediator, something he referred to as "the mysticism of the third neighbor" (Vatican.va, September 4). But again, there is little evidence that this effort has been successful. Instead, Russian officials have been complaining about the Pope's support for democracy, religious freedom and inter-religious cooperation in Mongolia. Some commentators even suggest that he is behind the Western effort to organize a "color revolution" there and spread these ideas into the Buddhist areas of the Russian Federation (Asiarussia.ru; Ruskline.ru, September 4; Nezavisimaya gazeta, September 5; Ulan.mk.ru, September 6; Business-gazeta.ru, September 10; RIA Novosti, September 13).
The Pope's broader use of Mongolia to advance his vision of a Catholicism that is more liberal, tolerant and especially non-Western has received less attention. While the future of the Catholic Church will increasingly be defined by its burgeoning membership in Africa, it is less certain that the church will grow in Asia at the same rate. Nonetheless, Pope Francis, who at the age of 86 is certainly focused on the future, clearly hopes that it will. He talked passionately about that while in Ulaanbaatar. He even suggested that the Mongol Empire was a model for the future, at least in part because the Mongols were extremely tolerant of religious diversity. The Holy Father concluded that the Mongolians today could once again play a leadership role in promoting regional cooperation (Radio1.news; Osnmedia.ru, September 2).
Pope Francis is taking steps to ensure his vision will continue after he passes from the scene. He has now appointed more than two-thirds of the cardinals who will select his successor upon his death or resignation. The apostolic prefect of Ulaanbaatar, Marengo, was one of these appointments. Created cardinal in August 2022, he has won papal support for his enthusiastic conviction that Catholicism can and must work closely with Buddhism and other Eastern religions (Rossaprimavera.ru, September 4). This support, of course, does not mean that Marengo will necessarily succeed Pope Francis as head of the church; however, it does suggest that cardinals with sentiments similar to Marengo's may have an advantage in the future conclave. If so, Marengo or someone of his generation and background could extend Pope Francis' approach well into the future. Should that happen, the papal visit to Mongolia may well be remembered less for its impact on China and Russia than on the future of the Roman Catholic Church's engagement with other faiths and governments across the globe.