Paradoxes of Belarus's Geopolitical Situation
Publication: Eurasia Daily Monitor Volume: 11 Issue: 196
By: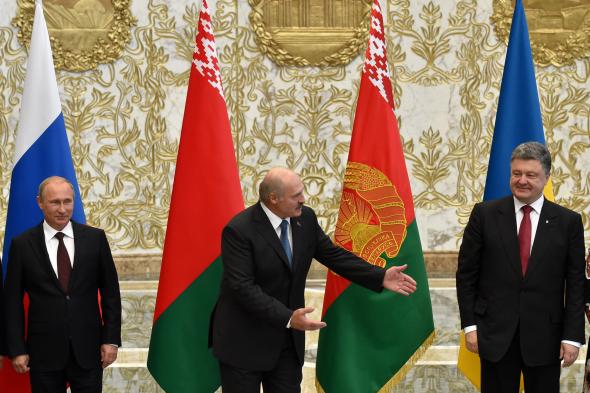 There is something ironic, if not outright paradoxical, about the current configuration of Belarus's international relationships. On its western flank, the situation appears quite negative. Notably, the European Union has extended its sanctions for another year (Tut.by, October 30), and the top United States diplomat in Minsk averred there has been no breakthroughs in bilateral relations (Belorusskie Novosti, October 30). And yet, there are many indications of the relationships with the West actually being on the mend. On Belarus's eastern flank, it is the other way around. Relations with Russia are as tight as ever; and yet there are indications of Moscow's irritation over even the slightest expressions of Belarus's own voice. In response, a new effort has emerged in Belarus that aims to allay Moscow's fears.
Among the indications of the improvement in Belarus's relations with the West are unusually friendly pronouncements of French, US, and Polish diplomats, the renewed hope of a credit line from the International Monetary Fund (IMF), the upcoming visit of the Lithuanian prime minister to Mogilev to participate in the Belarusian-Lithuanian economic forum (Delfi.lt, October 30), and Minsk's mild reaction to the extension of EU sanctions. Eric Fournier, a department director in the French Ministry of Foreign Affairs, opined that France and Belarus should begin an "intense political dialogue" (Belta, October 30). The US Charge d'Affaires in Minsk, Scott Rauland, welcomed the addition to the staff in the embassy's consular service in Minsk and revealed that the US delegation that visited Minsk in September (see EDM, September 15) was the highest-level one in five years. He also praised Belarus's road infrastructure and Belarus's peace efforts in Ukraine (Belorusskie Novosti, October 30). Poland's Deputy Foreign Minister Tomasz Orlowski paid an official visit to Minsk, following which he expressed his satisfaction with the talks he conducted with Belarus's Foreign Minister Vladimir Makei. Orlowski also praised Minsk's mediation in the Ukrainian crisis and the fact that Belarus's authorities allowed the Polish consulate to outsource its visa issuing business to regional representatives (Tut.by, October 28). Meanwhile, the IMF mission arrived in Minsk to study the possibility of resuming a standby credit line (Belta, October 28). Finally, the Belarusian Ministry of Foreign Affairs' recent statement decrying the extension of European sanction against Belarus was actually couched in relatively conciliatory terms (while also welcoming the deletions from the EU list of certain sanctioned Belarusian citizens and enterprises) (Bdg.by, October 30).
On the eastern flank, the Moscow-led Eurasian Economic Union will come into force on January 1, 2015, and Alyaksandr Lukashanka has assured all sides that Russia and Belarus will enter the New Year with the lightest burden of mutual problems ever (Tut.by, October 21). And yet, bilateral tensions are often caused by seemingly innocuous developments. For example, Russia's information agency Regnum published an angry rebuke to the alleged convergence of interests between the Lukashenka government and "Belarusian nationalists." The rebuke was in response to Lukashenka assuming an allegedly pro-Ukrainian stance in the conflict between Russia and Ukraine and even due to the fact that Lukashenka used the Belarusian language in some of his recent speeches. Furthermore, the Belarusian president allegedly identified his country with the Grand Duchy of Lithuania in his press conference for Russian journalists, suggesting that some Russian regions used to belong to Belarus (see EDM, October 24); and he reportedly instructed the Belarusian KGB to treat local "Russian activists" as saboteurs (Regnum, October 30).
Even the fact that Lukashenka's administration issued an apology to the "nationalists" for using Russian triggered a reprimand from Regnum (Regnum, October 30). The gist of the matter was that Rygor Kastusyou, a deputy chairman of the Belarusian Popular Front and a former presidential hopeful, sent a Belarusian-language letter to the presidential administration suggesting some appointments at the raion-level administration in the town of Shklov (incidentally, a hometown of both Kastusyou and Lukashenka) and received a Russian-language response. Kastusyou then filed a complaint referring to Belarus's state law about official languages, which grants Russian and Belarusian equal rights. He subsequently received a Belarusian-language apology (Svaboda, October 29)—not a ground-breaking event by any stretch of the imagination. Perhaps a more serious and down-to-earth development has been a press release by Rosselkhoznadzor, a Russian state controller of agricultural imports, that Belarusian exports are going to be the focus of its intense scrutiny. The Russian authorities suspect that the import of banned food products from the EU continues through Belarus (Izvestia, October 29).
In response to Moscow's anger at Belarus's suspected geopolitical "infidelity," several noteworthy publications appeared recently, aimed specifically at allaying such Russian fears. Thus, writing for a Russian media outlet, Kirill Koktysh, an ethnic Belarusian and an associate professor at Moscow's Institute for Foreign Relations, finds it absolutely normal that Belarus's position in regard to the crisis in Ukraine does not quite match the position of either side of the conflict. And it is due to this impartiality of the government in Minsk that Belarus was able to become a peace broker, he asserts (Vzglyad, October 17). Whereas, Piotr Petrovsky, an analyst affiliated with the government-friendly think tank Citadel, bemoans the corrosion of mutual trust between Russia and Belarus because "some marginal and dangerously provocative" Russian voices cast doubt on the very existence of Belarusians as a separate people who have the right to enjoy their statehood. In defense of this view, Petrovsky came up with four theses that, if adhered to, he believes can calm Russian-Belarusian relations. First, interpretations of history and current inter-state relations should remain separate. Second, Belarusian identity is separate from Russian but is not anti-Russian. Third, Minsk's foreign policy is not anti-Russian either, but it pursues Belarus's national interest. Fourth, demands of blanket privatization emanating from some members of the Russian government and some Russian oligarchs have little to do with economic integration, but instead aim to raid and seize Belarusian assets—something equivalent to what occurred in Russia itself in the 1990s (Citadel, October 30).
It is unclear if such explanations will, indeed, satisfy Moscow. But the problems in the bilateral relationship that they highlight are at least as real as the ongoing normalization of Belarus's ties with the West.