Parallel Worlds in Belarus's Public Politics
Publication: Eurasia Daily Monitor Volume: 18 Issue: 48
By: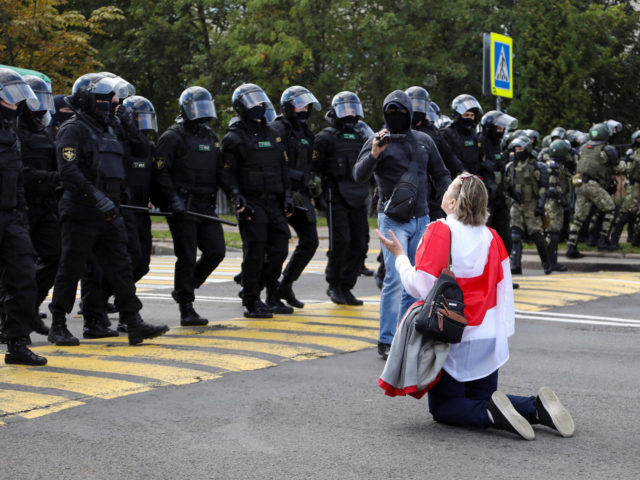 Signs of the Belarusian government's rising self-confidence in the face of domestic protests and Western reproaches have been multiplying in recent weeks. First of all, arrests of opposition activists continue.  Thus, on March 16, the authorities in Minsk apprehended two women, 32 and 42 years old, for exhibiting "unregistered symbols" (apparently, white-red-white flags) in public places (Belta, March 16). On March 17, four people were arrested in Grodno and charged with operating certain Telegram channels (Belta, March 17). Additionally, the Belarusian Investigative Committee made public meticulously detailed charges levied against the blogger Anton Motolko, who has been out of Belarus since July 9 but is still active online, with 140,000 subscribers to his blog (Naviny, March 19). Second, the High-Tech Park in Minsk recently declared that, in 2020, it earned its highest export revenues ever, worth $2.7 billion—25 percent more than it brought in over the course of 2019 (Sputnik.by, March 14). And that is despite all the talk about fleeing high-technology firms. Third, on March 20, President Alyaksandr Lukashenka declared that he had never promised his Russian counterpart, Vladimir Putin, that Belarus would be conducting constitutional reform; rather, he just shared his plans with the Kremlin leader casually, as befits friends. However, "we will never kneel down even in front of friends," Lukashenka added, in a manner rather reminiscent of the pre–August 2020 period, when the geopolitical situation was quite different from what it is today (Tut.by, March 20).
At the same time, according to a fresh report from Belarus's Ministry of Defense, during joint training of the Russian and Belarusian military, "the issue of redeploying Russian equipment to Belarusian airfields [had been] worked out." This is notably still short of a full-fledged permanent Russian airbase in Belarus, which Lukashenka rejected back in 2015; but that latest announcement does testify to tightening coordination between the two militaries. Earlier this year, the Belarusian air force command declared a huge purchase of Russian military equipment, including S-400 and Pantsir air-defense systems, Su-30 multi-role fighters, Mi-35 attack helicopters, and advanced radars—so huge it could be considered a deal of a century if Belarus were to pay market prices, which it will not (Vzglyad, March 18).
Apparently having heaved a sigh of relief over the suppressed uprising, Moscow is replacing its ambassador to Minsk, until now Dmitry Mezentsev. A political heavyweight, Ambassador Mezentsev, has just been appointed the new secretary of the Russia-Belarus Union State to take over from the retiring 77-year-old Grigory Rapota (TASS, March 19). Yevgeny Lukyanov, who heretofore worked as Russia's top diplomat to Latvia, will be dispatched to the Belarusian capital.
In a peculiar way, even the United States' Deputy Assistant Secretary of State for Europe and Eurasia George Kent has corroborated Russia's preeminent role in Belarus. In his interview to the Belarusian Service of Radio Liberty, Kent underscored that "we are not trying to turn Belarus away from Russia. In fact, polls show that the vast majority of Belarusians want closer relations with Russia, and what happened in Belarus was not geopolitics, it was not about choosing between East and West, between the United States and Russia… Given the history of close relations, Belarus and Russia will inevitably continue to have close relations, but we would certainly like Russia to play a positive role in Belarus" (Svaboda.org, March 16).
Against the backdrop of the regime's growing assertiveness at home and simultaneous tightening of Russian-Belarusian ties, the latest initiative by Svetlana Tikhanovskaya, the exiled former presidential hopeful and the nominal leader of the opposition, makes for a somewhat odd impression. And so do the abundant enthusiastic appraisals of this initiative in the opposition media and on social networks. Namely, on March 18, Tikhanovskaya issued a video-recorded appeal for the start of negotiations between the opposition and the authorities, with the Organization for Security and Cooperation in Europe (OSCE) as the mediator. She also asked Belarusians to use the Golos social media platform to vote for this proposition (Tut.by, March 18). About 1.5 million opposition-minded Belarusians are registered on Golos, and 400,000 voted in favor before the authorities made access to the site difficult on March 19 (Deutsche Welle—Russian service, March 19). In her appeal, Tikhanovskaya for the first time referred to herself as the "leader elected by the Belarusian people."
Why would Lukashenka accept Tikhanovskaya's proposal, and what is her initiative's real meaning? Opinions vary. Thus, Valery Kovalevsky, the exiled opposition leader's foreign affairs representative, believes that Minsk will have to negotiate because of strong international pressure (Naviny, March 19). A similar assertion was expressed by Alexander Dobrovolsky, yet another of Tikhanoskaya's advisors and a veteran of the Belarusian opposition. Such negotiations will occur anyway, he declared (Naviny, March 19). In contrast, Pavel Sverdlov, the editor-in-chief of Euroradio, a Minsk-based US-funded media outlet, thinks the Golos online poll stunt lowered the benchmark for what it means to be in the opposition. Whereas, before, you had to participate in street rallies, perhaps go on strike, stop paying for utilities, etc., now you can just use a computer mouse to vote (Facebook, March 18). Pavel Bykovsky, an opposition-minded media analyst suggests there is bureaucratic logic behind the appeal: evidence of some activity is better than nothing (Belorussky Partizan, March 18). The political analyst Andrei Kazakevich, meanwhile, thinks that the petition is an attempt at political mobilization prior to March 25, which the opposition celebrates as Freedom Day (Svaboda.org, March 18). However, Piotr Rudkosky, the head of the Minsk-based and Western-financed Belarusian Institute of Strategic Studies, truly hit the mark. Alongside domestic mobilization, Rudkovsky saw the principal goal of the appeal to grab the attention of the protest movement's Western sponsors (Svaboda.org, March 18). In his most extensive interview to Tut.by, Franak Viachorka, Tikhanovskaya's chief advisor, confirmed the mobilization objective of the appeal. Moreover, he expressed his belief that negotiations with the government will somehow begin in May; that some unidentified representatives of the ruling elite, including some military officers, are in touch with the Coordination Council headed by Tikhanovskaya; and that, "together with the US ambassador to Belarus, Julie Fisher, we are preparing" Tikhanovskaya's trip to the US and her meeting with President Joseph Biden (Tut.by, March 19).
By most indications, the two flanks of Belarus's political scene are like self-contained parallel universes. Considering that one of them is backed by state institutions and is closely allied to Russia whereas the other is administered by exiles in the West, it is hard to see how the latter can gain the upper hand in the foreseeable future.