Party of Regions Claims Tymoshenko Attacks Freedom of Speech: Déjà Vu?
Publication: Eurasia Daily Monitor Volume: 6 Issue: 180
By: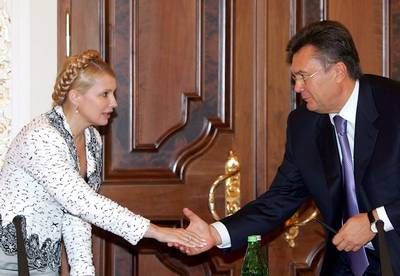 The Pechersky district court in Kyiv on September 22 banned "any unfair advertisement" against Prime Minister Yulia Tymoshenko. This prompted Viktor Yanukovych, her main rival in the run-up to the January 17 presidential election, to accuse Tymoshenko of infringing freedom of speech. Ironically, it was Yanukovych's team that was accused of this ahead of the previous election in 2004. The semi-official instructions to journalists on how to cover political events, imposed by the administration of the then President Leonid Kuchma, who viewed Yanukovych as his successor, sparked journalist protests in the fall of 2004, which were a core element of the Orange Revolution that brought Viktor Yushchenko to power as president and Tymoshenko as prime minister.
The court ruled on a lawsuit filed by Tymoshenko's Fatherland Party against an entrepreneur accused by the party of producing a video to compromise Tymoshenko. The court's wording was significant as it ruled that unfair advertisements against Tymoshenko are "anti-social in nature, discredits Tymoshenko, increases social tension and causes other negative consequences" (Ukrainska Pravda, September 24). A newspaper linked to Yanukovych's Party of Regions (PRU) admitted that the PRU was behind the video, which claimed that Tymoshenko does not deliver on her promises. The video reportedly mocked Tymoshenko's main campaign slogan "She Works," which is frequently used in her own advertisements (Segodnya, September 25).
The PRU's initial reaction came from the party's unofficial spokeswoman Hanna Herman who claimed that the verdict was "an unprecedented offensive against freedom of speech [which means that] censorship is returning to Ukraine" (Ukrainska Pravda, September 24). Yanukovych claimed that the ban on unfair advertisements against Tymoshenko meant that Ukraine was returning to totalitarianism. He repeated the allegation that is often leveled against Tymoshenko by her rivals that she indirectly controls the judiciary, thus violating the balance of power (www.partyofregions.org.ua, September 25). This allegation was prompted by the fact that the Supreme Court is chaired by Tymoshenko's ally Vasyl Onopenko.
PRU deputy Olena Lukash appealed against the court's ruling on September 25 (Kommersant-Ukraine, September 28). Nonetheless, it was Lukash who defended Yanukovych in the courts as his lawyer when the 2004 election results were disputed. The PRU also appealed to the international community, just like its opponents did five years ago. Yanukovych told the Yalta European Strategy international forum that the court had effectively "banned people from telling the truth" (ICTV, September 26). The PRU complained against the verdict to the European Commission, the Council of Europe and the Reporters without Borders human rights watchdog (www.partyofregions.org.ua, September 25, 28).
President Viktor Yushchenko and Parliamentary Speaker Volodymyr Lytvyn, whose bloc is part of the pro-Tymoshenko coalition, effectively sided with the PRU. Yushchenko's aide Maryna Stavniychuk suggested that the verdict banning unfair advertising against Tymoshenko "looked like an infringement of freedom of speech" (Ukrainski Novyny, September 25). According to Lytvyn: "This showed that the court has joined the presidential election campaign." Lytvyn also criticized Tymoshenko for spending too much on her advertising campaign and accused her of violating the law according to which political advertising is illegal until the official start of the election campaign on October 20 (TVI, September 27).
Actually the law is openly violated by many candidates including Yanukovych. Tymoshenko's team argued that her media campaign was not political but "social," meaning that they "foster [the government's] communication with the community" and that Ukrainian television had broadcast them for free (Ukrainska Pravda, July 8). Tymoshenko said that the "She Works" billboards were paid for by the Fatherland Party, and therefore they were also "social" (UNIAN, August 5). This prompted suspicions that Tymoshenko's team had used taxpayers' money. Yushchenko's ally people's deputy Andry Paruby officially requested that the prosecutor-general's office investigates the sources of financing of Tymoshenko's advertisements. He suggested that public money might have been used (Ukrainski Novyny, September 15).
Meanwhile, the PRU has not escaped accusations of violating freedom of speech. Savik Shuster, the anchorman of the "Shuster Live" political show on Ukrainian television, complained of pressure from the PRU over his September 25 broadcast, which featured Tymoshenko. Shuster apparently did not want to invite PRU deputies, who acted as Tymoshenko's main opponents in the show. He wanted Yanukovych to be her opponent in a broadcast debate, but he failed to appear; in place of their tongue-tied leader, the PRU reportedly imposed several PRU deputies as guests on the show and wanted the air time to be shared equally between them and Tymoshenko (Interfax-Ukraine, September 28; Segodnya, September 29).
Yanukovych's opponents might argue that the very fact that Shuster, who sympathizes with Tymoshenko, anchors a political show on a TV channel that belongs to the oligarch Rinat Akhmetov (a supporter of Yanukovych), shows that freedom of speech still exists in Ukraine. However, this is an achievement that the country owes to Yanukovych's opponents in the 2004 election. It remains to be seen whether the court-imposed ban on advertisements hostile to Tymoshenko is only an episode in the election campaign or a harbinger of what is to come if the international community does not pay more attention to the Ukrainian election and journalists do not display solidarity as they did in 2004.