Turkey Pursues an Intermediary Role Between Iran and the West
Publication: Eurasia Daily Monitor Volume: 6 Issue: 180
By: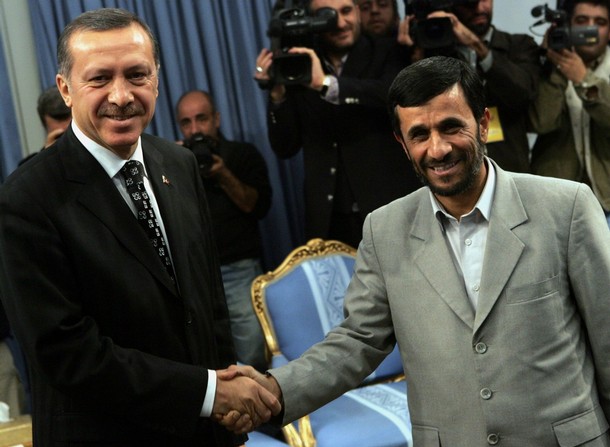 Ankara will intensify its diplomatic efforts this month in order to extend Turkey's foreign policy preferences into regions that it considers as its primary interest zone. Turkish Foreign Minister Ahmet Davutoglu said that he expects October to be a "month of peace," while Turkey facilitates peace in the Middle East, the South Caucasus and the Balkans (Today's Zaman, October 1). On October 8-9 Turkey will host a trilateral meeting between the Turkish, Bosnian and Serbian foreign ministers to consider a new initiative toward establishing lasting peace in Balkans. The meeting will be the first step toward forming better relations between Serbia and Turkey. On October 25 the Turkish President Abdullah Gul will visit Serbia to restore Turkey's relations with Serbia.
In addition to the Balkans, members of the Turkish government will travel to other regional capitals to promote Turkey's foreign policy perspective in the Middle East and the South Caucasus. On October 25 Erdogan and Davutoglu along with other cabinet members will visit Iraq to attend the second joint cabinet meeting between the Turkish and Iraqi governments. At that meeting terrorism, energy, investment and transportations issues will be discussed. The significance of the trip lies in its detail. The meeting between the trilateral mechanism, which was established between the United States, Turkey and Iraq in order to combat Kurdistan Workers' Party (PKK) terrorism, will be held in Arbil, the capital of the Kurdish Regional Government (KRG) in northern Iraq (Anadolu Ajansi, September 30). Ankara has long attempted to ignore the existence of the KRG in Iraq and has preferred instead to establish direct relations with the central government in Baghdad. Thus, the meeting between the U.S., Iraq, including KRG officials, and Turkey will be the first direct diplomatic relations between the KRG and the Turkish government.
In late October Erdogan will visit Pakistan and Iran to discuss regional issues -especially Iran's ambition to be a nuclear power. During his recent visit to New York Erdogan and President Barack Obama held a brief meeting to discuss regional issues. The Turkish press emphasized that Obama and Erdogan discussed regional problems including Iran's desire to develop nuclear weapons. On his return to Turkey Erdogan stated that Ankara opposed the idea of military intervention in Iran. He suggested that the international community should explore other options, including breaking off diplomatic relations, as possible ways to dissuade Iran from pursuing its nuclear ambitions (Anka, September 27). Erdogan once again stressed Ankara's aim to act as a mediator between Iran and the West. He said that, "as a result of Turkey's efforts, Iranian and E.U. officials will meet in October. Turkey is ready to act positively if there is any request for further assistance" (Anka, September 27).
It appears that Erdogan and the Iranian President Mahmoud Ahmadinejad will continue to discuss the issue during Erdogan's visit to Tehran. Ahmadinejad, following his meeting with Erdogan in New York in the context of the U.N. General Assembly in late September, stated that "we will continue to explore the issues that we have discussed when Erdogan visits Tehran at the end of October" (Hurriyet, September 25).
Regarding the nuclear issue, Davutoglu echoed Erdogan's earlier statement: "Sanctions would hurt the Iranian people as well as Iran's neighbors, including Turkey. Therefore, we will intensify our diplomatic efforts in order to prevent the option of sanctions." He also noted that he had talked with the Iranian Foreign Minister Manouchehr Mottaki on September 28 and added that Tehran has assured the international community that it will work with the U.N. nuclear watchdog, the International Atomic Energy Agency (IAEA) (Today's Zaman, October 1).
In addition to Ankara's pro-active diplomatic initiatives on the Balkans and Middle East, one major diplomatic breakthrough that might occur later this month relates to Turkish-Armenian rapprochement. It is now widely expected that Ankara and Yerevan will sign a protocol in Zurich on October 10 that will re-establish their diplomatic relations. However, the agreement must be ratified by the countries' parliaments in order to take effect, and a potential stumbling block is the continued disagreement over the tragic events of 1915.
The critical issue in Turkish-Armenian normalization is how Azerbaijan might react to the rapprochement. Gul and Azerbaijan's President Ilham Aliyev will meet in Azerbaijan's Nakhchivan province on October 2-3 to discuss these issues. The date of this meeting is important because Aliyev and the Armenian President Serzh Sargsyan will also meet on October 7-8, just two days before the signing ceremony between Turkey and Armenia (Zaman, September 29). Meanwhile, Sargsyan will try to build support to establish ties with Turkey among members of the influential Armenian diaspora in the U.S., Lebanon and France (Haberturk, October 1), which suggests that after signing the protocol Turkish-Armenian relations could develop rapidly.