Passions Over Belarus's Would-Be Rapprochement with the West
Publication: Eurasia Daily Monitor Volume: 10 Issue: 74
By: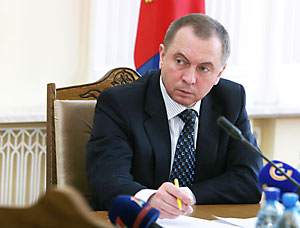 There has been no breakthrough. Neither Alyaksandr Lukashenka nor (at least) his foreign minister has received an invitation to the September 2013 summit of the European Union's Eastern Partnership (EaP) in Vilnius. Yet, it exceedingly looks like Minsk's lasting efforts to unfreeze its relationships with the West are going to bear fruit. The frequency of Belarus's bilateral contacts with Western countries has been increasing, as has the intensity and even ferocity of debating them in the Belarusian non-governmental media. Just in April, Belarus's Foreign Minister Vladimir Makei met with his Latvian counterpart in Vitebsk; and Makei's deputy, Elena Kupchina met with a number of EU dignitaries in Brussels, including Stefan Fule, European Commissioner for Enlargement and European Neighborhood Policy (https://euroradio.fm/ru/report/elena-kupchina-vstrechalas-v-bryussele-so-shtefanom-fyule).
Earlier, a deputy foreign minister of Poland hinted at the possibility of removing Makei from the EU's visa ban list (https://news.tut.by/politics/338549.html), and Justas Paleckis, the European Parliament's rapporteur on Belarus, referred to Minsk's readiness to release the remaining political prisoners (see EDM, March 29). As for Minsk, in addition to its earlier steps, like allowing the wife of exiled opposition figure Andrei Sannikov to visit him abroad and dropping the court case against Andrzej Poczobut (see EDM, April 5), the state body in charge of investigating financial crimes informed Valer Bulgakau, editor-in-chief of the periodical Arche, that there would be no criminal proceedings against him. Arche is the flagship publication of the Belarusian cultural nationalists. In September 2012, Bulgakau was accused of illegal entrepreneurial activity and the bank accounts of Arche were frozen (https://www.charter97.org/ru/news/2013/4/11/67853/). Bulgakau promptly left Belarus and is now considering a return.
After meeting his Belarusian counterpart on April 10, Latvian Foreign Minister Edgars Rinkevics asserted the importance for the EU to sustain a dialogue with Belarus about political freedoms and rights. "My colleague and I had an open exchange of opinions on [sustaining a mutual dialogue]. I see an opportunity for achieving progress in this field through building a constructive dialogue between the EU and Belarus. Latvia is prepared to facilitate this dialogue," stressed the Latvian foreign minister. He also commended the decision by Belarus to allow the Swedish embassy to reopen in Minsk (https://www.mfa.gov.lv/en/news/press-releases/2013/april/11-2/).
On April 18–19, Prime Minister Mikhail Myasnikovich of Belarus is taking part in the ninth Belarusian-Lithuanian economic forum in Klaipeda, Lithuania, alongside his Lithuanian colleague Algirdas Butkevicius (https://news.tut.by/economics/343540.html). While Latvia and Lithuania have long been advocating the resumption of EU-Belarus contacts, the European Parliament's conference devoted to the modernization of Belarusian society, which took place on April 9, demonstrated a broader consensus about those contacts. The conference was organized by the European People's Party, the "first-ever transnational political party to be formed at the European level," which brings together center and center-right pro-European political forces (https://www.eppgroup.eu/menu/about).
In conjunction with that conference, three figures in the Belarusian opposition, Alyaksandr Milinkevich, a 2006 presidential hopeful and the leader of the For Liberty movement; Uladzimer Neklyaev, a 2010 presidential candidate and the leader of the Speak the Truth campaign; as well as Ales Yanukevich, the leader of the oldest opposition party, Belarusian Popular Front, made a joint statement in favor of the resumption of EU-Belarus dialogue at the official level. According to this statement, "Only a return to a fully-fledged dialogue and cooperation between Belarus and the EU will considerably broaden our country's and its society's possibilities for modernization and for building a democratic order" (https://nn.by/?c=ar&i=107799&lang=ru). At the conference itself, Milinkevich averred that European "sanctions do not release political prisoners, they only magnify anti-Western attitudes, diminish the influence of the democrats, and accelerate the economic annexation [of Belarus] by Russia" (https://naviny.by/rubrics/eu/2013/04/10/ic_articles_627_181419/).
The statement by the three opposition figures was repudiated by two political emigrants, Andrei Sannikov and Zianon Pazniak (the founder of the Belarusian Popular Front, Pazniak has been residing in Poland and the United States since 1996). They accused its authors of a desire to legitimize the Lukashenka regime (https://naviny.by/rubrics/opinion/2013/04/12/ic_articles_410_181438/).
While everyone who has advocated facilitating a dialogue between Minsk and the West since 1996 has been similarly reproached, Valery Karbalevich of Radio Liberty believes that this time the situation is different. First, the leaders of the Belarusian opposition have lost their reputation in the eyes of the European politicians. Case in point: During the run-up to the 2006 presidential elections in Belarus, Milinkevich was received in European capitals (i.e., in Warsaw, Paris and Berlin) at the highest level and was treated "almost like a head of state," but no 2010 presidential hopeful elicited a similar attitude in the EU. Second, the emigrant wing of the Belarusian opposition has expanded and that has led to even less unity and more acrimony within the opposition (https://www.svaboda.org/content/article/24953973.html).
Indeed, according to Alexander Feduta who is now second in command in Neklyaev's Speak the Truth campaign, the labels that are used while debating the aforementioned joint Milinkevich- Neklyaev-Yanukevich statement, as well as against its detractors, include "traitors" and even "enemies of the people"—the infamous Stalinist moniker affixed by the Soviet officialdom to the victims of bloody purges of the 1930s. Feduta believes that such passions should be tempered because the members of the opposition share common goals (https://naviny.by/rubrics/opinion/2013/04/12/ic_articles_410_181438/).
"A dialogue between the EU and Belarus has not yet begun, but the infighting in the opposition is in full swing," writes Alexander Klaskovsky, a veteran journalist. Unlike Feduta, Klaskovsky believes that the opposition's internecine battles are caused by divergent interests of the opposition groups. During rapprochements between Belarus and the West, certain groups gain influence, whereas other groups gain influence during the cold war phases (https://naviny.by/rubrics/eu/2013/04/10/ic_articles_627_181418/).
According to Marina Adamovich, "Europeans have become confused and no longer know which of the Belarusians they should listen to" (https://euroradio.fm/report/maryna-adamovich-eurapeycy-uzho-zablytalisya-u-tym-kago-z-belarusau-sluhac). Adamovich is the wife of Mykola Statkevich, a 2010 presidential hopeful who is still in jail because he declined to ask Lukashenka to pardon him.
If Adamovich's words are on target, then the dialogue between Minsk and Brussels will, indeed, soon restart because there is just one entity in Belarus with a cohesive message and the ability to make decisions. Whether one likes it or not, this entity is President Lukashenka's government.