Kazakhstan Expands Security and Economic Cooperation with Afghanistan
Publication: Eurasia Daily Monitor Volume: 10 Issue: 74
By: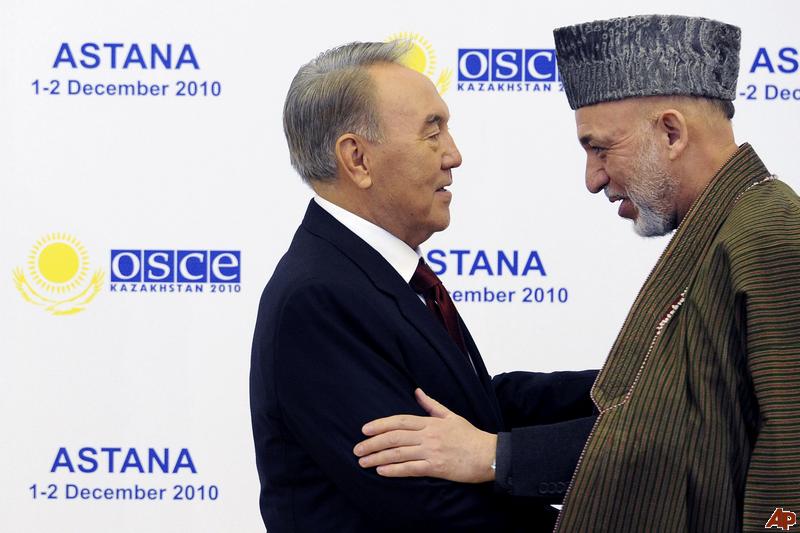 On April 17, the Kazakhstani government withdrew a proposed bill supporting the International Security Assistance Force in Afghanistan (ISAF) from the Majilis, but the foreign ministry was quick to explain that Kazakhstan had no plans to reduce its support for international efforts to stabilize Afghanistan. It was only recalling the bill from parliament because the decision of many ISAF members to accelerate their troop withdrawals from Afghanistan had made its terms out of date (Trend, April 17).
Indeed, on April 10, Kazakhstani Defense Minister Adilbek Dzhaksybekov paid his first official visit to Afghanistan, where he met with his Afghan counterpart and other senior Afghan officials. According to the Kazakhstani Ministry of Defense, they discussed how Kazakhstan's defense industry could help repair and modernize Afghanistan's military equipment. Dzhaksybekov invited Afghani representatives to participate in Kazakhstan's KADEX arms exhibit next year as well as send observers to the Steppe Eagle 2013 tactical peacekeeping exercises that will occur in August in Kazakhstan. The parties are considering the possible training of Afghan servicemen in Kazakhstan's military educational institutions (Trend, April 10).
Kazakhstanis are eager to end the war in Afghanistan and reconstruct and integrate its economy with the rest of the region. Kazakhstani national security experts note that proximity alone ensures that civil strife, state failure, organized crime, and other problems in Afghanistan will radiate outward to contaminate nearby countries, even those such as Kazakhstan that do not share a common border with Afghanistan (Asylbek Mendygaliyev, Astana Times, February 2013). Kazakhstani leaders have joined others in expressing concerns that the West will once again abandon Afghanistan, outsourcing the management of a pivotal failed state to regional players. A week before the North Atlantic Treaty Organization's (NATO) May 2012 summit in Chicago, Foreign Minister Yerzhan Kazykhanov published an article in the Western media that warned NATO not to overlook "the continuing fragility of Afghanistan and the threats that it still poses to its own people, its immediate neighborhood and the wider region" (Real Clear World, May 18, 2012).
The Kazakhstani government assists Afghanistan through various means, ranging from direct aid, to bilateral projects with a third country, to multilateral mechanisms such as regional security institutions. For example, Kazakhstan directly provides Afghanistan with subsidized food, fuel, agricultural seeds and other vital supplies; trains Afghan internal security personnel; and offers hundreds of educational scholarships to Afghan students. Kazakhstan has also been contributing to Afghanistan's economic reconstruction by enabling Afghan economists, engineers and other civil specialists to take classes in Kazakhstan's higher educational institutions. Kazakhstan has supported various Afghan infrastructure projects, including by financing the construction of bridges, schools, hospitals, water supplies and the "Kunduz-Talukan" road (Trend, May 22, 2012; Kazakhstani Embassy in the United States).
A recent priority has been to increase bilateral trade and investment. Two-way trade amounted to only $321 million in 2012 (BNews.kz, March 14). Yet, Kazakhstan provides Afghanistan with some 70 percent of its wheat, while Kazakhstani investors are interested in developing Afghanistan's mineral wealth. In 2012, the two governments signed an agreement providing a more secure legal foundation for mutual investment (Outlook Afghanistan, November 26, 2012). Kazakhstani and Afghan business leaders have been holding regular business-to-business meetings under the auspices of the Kazakhstan-Afghanistan business forum to learn more about possible profitable collaboration. They are opening business centers in both countries to provide more information about mutual trade and investment opportunities (Trend, March 14). Kazakhstani President Nursultan Nazarbayev, his Afghan counterpart Hamid Karzai, and other senior officials from both states regularly visit each other's countries or meet at regional and international gatherings.
During the past decade, Kazakhstan has played a critical role in multilateral efforts to stabilize Afghanistan. Since the early 2000s, Kazakhstan has allowed NATO warplanes to fly through its airspace without cost in support of operations in Afghanistan and provides them with emergency landing and refueling rights on its territory. Since 2009, Kazakhstan has permitted NATO countries to send non-military supplies to their contingents serving in the NATO-led ISAF mission through its rail and road networks. In addition, Kazakhstan supports international efforts to strengthen the Afghan National Security Forces (ANSF) and supports ISAF's training mission for the ANSF with money, personnel and other resources (Kazakhstani Embassy in the United States).
Kazakhstan has also cooperated with non-NATO governments and institutions to try to promote Afghanistan's economic recovery as well as resist the spread of Afghanistan's terrorism and narcotics problems. Kazakhstani leaders often discuss how to help Afghanistan at various bilateral and multilateral meetings. For example, this issue was a major agenda item at last year's presidential summit between Nazarbayev and Islam Karimov of Uzbekistan (Uzbekistan National News Agency, September 8, 2012). Many joint Chinese-Kazakhstani security declarations also cite their common concern about nontraditional security threats related to Afghanistan (Chinese Ministry of Foreign Affairs, April 17, 2009). Moreover, Kazakhstan and Russia cooperate closely to counter Afghan-origin narcotics that are trafficked northward through their adjoining territories and onward to European markets. Kazakhstani analysts are calling on the Russia-led Collective Security Treaty Organization (CSTO) to strengthen its counter-narcotics efforts as well as its Afghan-related contingency planning to deal with future Afghan scenarios (Asylbek Mendygaliyev, Astana Times, February 2013). Astana supported the decision of the Shanghai Cooperation Organization (SCO), Eurasia's other major regional security institution, to grant Afghanistan formal observer status last June (CaspioNet, June 8, 2012). Furthermore, Kazakhstan works closely with Turkey in the Conference on Interaction and Confidence Building Measures in Asia (CICA) to create a benign security environment that would contribute to a peaceful and stable Afghanistan. Finally, Kazakhstan provides Afghanistan with grain donations through international organizations such as the UN Food and Agriculture Organization and World Food Program (Kazpravda, May 22).
Kazakhstan is likely to increase its engagement with these non-NATO governments and institution as Western governments continue to reduce their military presence and other activities in Afghanistan and the greater Central Asian region.